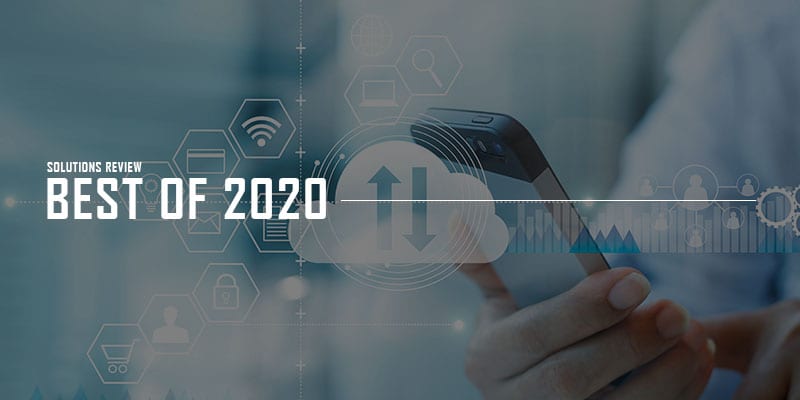 Solutions Review's listing of the best managed mobility service providers is an annual sneak peak of the solution providers included in our Buyer's Guide and Solutions Directory. Information was gathered via online materials and reports, conversations with vendor representatives, and examinations of product demonstrations and free trials.
The editors at Solutions Review have developed this resource to assist buyers in search of the best enterprise mobility management software to fit the needs of their organization. Choosing the right vendor and solution can be a complicated process — one that requires in-depth research and often comes down to more than just the tool and its technical capabilities. To make your search a little easier, we've profiled the best enterprise mobility management software providers all in one place. We've also included platform and product line names and introductory software tutorials straight from the source so you can see each solution in action.
Note: Companies are listed in alphabetical order.
Solution: Fujitsu Managed Mobile
Description: Fujitsu offers a cloud-based, modular service for managing and securing mobile devices and supporting mobile users. The service enables IT managers to implement their mobile strategy, fully mobilize sensitive business applications and embrace BYOD. Fujitsu makes information available whenever and wherever it is required while safeguarding enterprise governance; the enterprise-grade scalable solution is wrapped with Fujitsu Managed Services to provide quality-assured delivery for its users.
Solution: IBM Managed Mobility Services
Related Solutions: IBM MaaS360, MobileFirst for iOS
Description: IBM offers managed mobility services to help customers build and manage enterprise mobility and device-choice initiatives for increased security and productivity. The services enable IT teams to provide a consumer-like experience to its employees in a secure and cost effective way. IBM Managed Mobility Services streamline and personalize the delivery, set-up, configuration, security, management, and support of devices in the enterprise across all device types and operating systems for both corporate-owned or employee-owned devices.

Solution: Mobile Solutions Managed Mobility
Related Solutions: Mobile Solutions MAX
Description: Mobile Solutions provides managed mobility services to help enterprises manage mobile devices from the procurement stage all the way to decommissioning. The company offers device configuration including application installation, end-user quick-start guides, accessory kitting, and united endpoint management enrollment. Mobile Solutions also delivers real-time analytics to ensure users make intelligent business decisions; the vendor's user-friendly portal provides IT teams with visibility of carrier and data usage.
Solution: itrac360
Description: Stratix itrac360 is a managed mobility service platform that helps users design, deliver and manage enterprise mobile programs to meet end user expectations. The platform's mobile endpoint management capabilities provide real-time visibility and control to your entire mobile fleet with mobile device management support services for IT. With itrac360, users gain the visibility, oversight and control to know where all their mobile devices are and how much they cost, as well as advanced analytics and data to inform business decisions.
Solution: Telefonica Enterprise Managed Mobility
Related Solutions: Mobile Voice and Data, A2P
Description: Telefonica is an enterprise managed mobility service provider that focuses on reducing mobile complexity and boost productivity for mobile workers. The services allow enterprises to enable remote access to business tools enables your staff to continue working and collaborating, wherever they are. Telefonica's managed mobility solution removes the challenges of managing hundreds of device types, countless cost plans, and currencies across multiple communication providers in different countries.
Solution: Vision Wireless Mobile TEM
Description: Vision Wireless is a mobile telecom expense management  The company provides increased visibility and control over company-sponsored mobile devices, combined with detailed analysis, reporting, and optimization of your company's wireless telecom expenses – all from a single portal. Vision Wireless manages all aspects of the TEM function, including carrier data management, invoice audit, usage management, dispute management and resolution, business intelligence/reporting/analytics, wireless expense optimization and cost allocation.
Solution: Vodafone Enterprise Managed Mobility
Description: Vodafone is an enterprise managed mobility that provides a secure mobile infrastructure for a user's business. The vendor ensures that users have a comprehensive mobility strategy in place, with the right policies, process and support to allow their organisation to be secure and to embrace change. Through Vodafone's managed mobility service approach, the company specializes in outsourcing and supporting the management of mobility infrastructure, allowing users to redeploy value IT resources and assets into new areas.
Solution: Zebra Workforce Connect
Related Solutions: Zebra Mobility DNA
Description: Zebra Workforce Connect is a enterprise managed mobility solution that helps enterprises connect workers and mobile devices. The solution provides access to enterprise data and applications, plus PTT calls, PBX calls and enterprise-class secure messaging. With Workforce Connect, users can connect their entire workforce with robust push-to-talk services over cellular and WiFi networks. Zebra delivers voice features to the same mobile computers that a workforce is using to access your line-of-business applications.
---
---