We listed the best Internet of Things (IoT) security books on Amazon that you should consider adding to your reading list.
The adoption of Internet of Things (IoT) devices is increasing as cloud solutions become more powerful and capable to handle always-connected devices. IoT security, in particular, is a critical topic as businesses continue to deploy IoT devices into their infrastructure. There are few resources that can match the in-depth, comprehensive detail of one of the best IoT security titles on Amazon.
The editors at Solutions Review have done much of the work for you, curating this list of the best IoT security titles on Amazon. These books have been selected based on the total number and quality of reader user reviews and ability to add business value. Each of the titles listed in this compilation meets a minimum criteria of a 4-star-or-better ranking.
Below, you will find a library of titles from recognized industry analysts, experienced practitioners, and subject matter experts spanning the depths of IoT device security and management. This compilation includes publications for practitioners of all skill levels.
Note: Titles are listed in no particular order.
7 IoT Security Books for Your Bookshelf
---
OUR TAKE: This is a book designed for IT security engineers and professionals such as penetration testers, security architects, and ethical hackers. The authors, Brian Russel and Drew Van Duren, have a combined 40+ years in IoT and security solutions.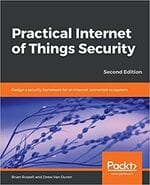 Description: In this second edition, you will go through some typical and unique vulnerabilities seen within various layers of the IoT technology stack and also learn new ways in which IT and physical threats interact. You will then explore the different engineering approaches a developer/manufacturer might take to securely design and deploy IoT devices. Furthermore, you will securely develop your own custom additions for an enterprise IoT implementation. You will also be provided with actionable guidance through setting up a cryptographic infrastructure for your IoT implementations. You will then be guided on the selection and configuration of Identity and Access Management solutions for an IoT implementation.
---
OUR TAKE:
Perry Lea, a veteran technologist with over 30 years of experience, wrote this book to provide architects, system designers, technologists, and technology managers with an introduction to IoT and edge computing.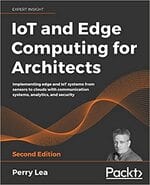 Description: Industries are embracing IoT technologies to improve operational expenses, product life, and people's well-being. IoT and Edge Computing for Architects, Second Edition encompasses the entire spectrum of IoT solutions, from IoT sensors to the cloud. It examines modern sensor systems, focusing on their power and functionality. It also looks at communication theory, paying close attention to near-range PAN, including the new Bluetooth® 5.0 specification and mesh networks. Then, the book explores IP-based communication in LAN and WAN, including 802.11ah, 5G LTE cellular, Sigfox, and LoRaWAN. It also explains edge computing, routing and gateways, and their role in fog computing.
---
OUR TAKE: David M. Wheeler, Damilare D. Fagbemi, and JC Wheeler provide a look into IoT security and privacy that balances informative practical knowledge with personal experience and discussions on the benefits and cautions associated with IoT.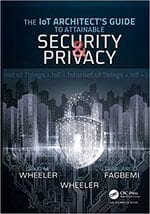 Description: This book describes how to architect and design Internet of Things (loT) solutions that provide end-to-end security and privacy at scale. It is unique in its detailed coverage of threat analysis, protocol analysis, secure design principles, intelligent loT's impact on privacy, and the effect of usability on security. The book also unveils the impact of digital currency and the dark web on the loT-security economy. It's both informative and entertaining. We wrote this book not only to be a valuable security and IoT architectural resource for you but also to be an enjoyable read. With that in mind, we've added personal experiences, scenarios, and examples designed to draw you in and keep you engaged. If you have a vested interest in IoT systems that preserve security and uphold privacy, this book is for you.
---
OUR TAKE:
Parisian author Wiem Tounsi, PhD, has written several research papers for high-level international journals and has been an invited keynote speaker at several major scientific conferences.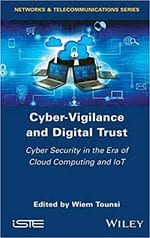 Description: Cyber threats are ever-increasing. Adversaries are getting more sophisticated and cyber criminals are infiltrating companies in a variety of sectors. In today's landscape, organizations need to acquire and develop effective security tools and mechanisms – not only to keep up with cyber-criminals but also to stay one step ahead. Cyber-Vigilance and Digital Trust develops cybersecurity disciplines that serve this double objective, dealing with cyber security threats in a unique way. Specifically, the book reviews recent advances in cyber threat intelligence, trust management, and risk analysis, and gives a formal and technical approach based on a data tainting mechanism to avoid data leakage in Android systems. Wiem Tounsi, PhD, is Head of the Managed Security Services and R&D division at Axians Cybersecurity Paris, France.
---
OUR TAKE:
Sravani Bhattacharjee, data communications technologist and former technology leader at Cisco, collaborates with Industrial IoT innovators to provide whitepapers as well as editorial and technical marketing content on industrial IoT.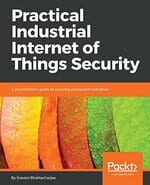 Description: You'll work with practical tools to design risk-based security controls for industrial use cases and gain practical know-how on the multi-layered defense techniques including Identity and Access Management (IAM), endpoint security, and communication infrastructure. Stakeholders, including developers, architects, and business leaders, can gain practical insights in securing IIoT lifecycle processes, standardization, governance and assess the applicability of emerging technologies, such as blockchain, Artificial Intelligence, and Machine Learning, to design and implement resilient connected systems and harness significant industrial opportunities.
---
OUR TAKE:
This book is designed for strategists, developers, architects, and managers who want to understand IoT devices and platform security. It covers an in-depth overview of a multitude of security solutions.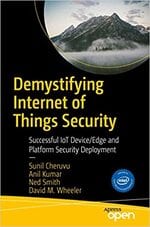 Description: Break down the misconceptions of the Internet of Things by examining the different security building blocks available in Intel Architecture (IA) based IoT platforms. This open access book reviews the threat pyramid, secure boot, chain of trust, and the SW stack leading up to defense-in-depth. The IoT presents unique challenges in implementing security and Intel has both CPU and Isolated Security Engine capabilities to simplify it. This book explores the challenges to secure these devices to make them immune to different threats originating from within and outside the network. The requirements and robustness rules to protect the assets vary greatly and there is no single blanket solution approach to implement security. Demystifying Internet of Things Security provides clarity to industry professionals and provides and overview of different security solutions.
---
OUR TAKE: Filled with tutorials and technical knowledge, this is a must-have resource for organizations who want to these their IoT security readiness.
Basic knowledge of Linux command line, TCP/IP, and programming is recommended before reading this book.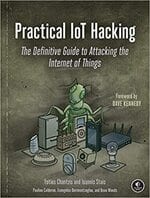 Description: Drawing from the real-life exploits of five highly regarded IoT security researchers, Practical IoT Hacking teaches you how to test IoT systems, devices, and protocols to mitigate risk. The book begins by walking you through common threats and a threat modeling framework. You'll develop a security testing methodology, discover the art of passive reconnaissance, and assess security on all layers of an IoT system. Next, you'll perform VLAN hopping, crack MQTT authentication, abuse UPnP, develop an mDNS poisoner, and craft WS-Discovery attacks. You'll tackle both hardware hacking and radio hacking, with in-depth coverage of attacks against embedded IoT devices and RFID systems.
---
Solutions Review participates in affiliate programs. We may make a small commission from products purchased through this resource.
---
Looking for more info on the benefits of mobility management? You should check out our free Mobility Management Buyer's Guide. We profile the top vendors in the mobility management field, list their key capabilities, and determine our Bottom Line for each.
Check us out on Twitter for the latest in Enterprise Mobility news and developments!
Latest posts by Daniel Hein
(see all)