Solutions Review compiles the best mobile device management books that any IT administrator needs to add to their reading list.
Knowing how to properly manage and secure your mobile devices is critical for IT administrators and engineers. Books, whether hardcover or digital, are an excellent source for people looking to learn about a specific field of technology, and mobile device management is no exception. We've listed the top mobile device management books that you should add to your reading list. These books are intended for beginners and experts alike and are written by authors with proficiency and/or recognition in the field of mobile device management.
Looking for more information on mobile security and mobility management vendors? Our free Buyer's Guide contains profiles of the top vendors in the mobility management field and their key features and functions. It also lists questions you should ask yourself and prospective vendors before you choose a solution.
by Afif Osseiran, Jose F. Monserrat, Patrick Marsch, Mischa Dohler, and Takehiro Nakamura
"Global research efforts are summarised, and key component technologies including D2D, mm-wave communications, massive MIMO, coordinated multi-point, wireless network coding, interference management and spectrum issues are described and explained. The significance of 5G for the automotive, building, energy, and manufacturing economic sectors is addressed, as is the relationship between IoT, machine type communications, and cyber-physical systems."
---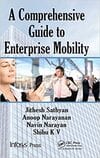 by Jithesh Sathyan, Anoop Narayanan, Navin Narayan, and Shibu Kizhakke Vallathai
"Although enterprise mobility is in high demand across domains, an absence of experts who have worked on enterprise mobility has resulted in a lack of books on the subject. A Comprehensive Guide to Enterprise Mobility fills this void. It supplies authoritative guidance on all aspects of enterprise mobility―from technical aspects and applications to implementation. The book introduces basic concepts such as enterprise mobility adoption strategy and user requirements in mobility. Illustrating the technical aspects of enterprise mobility, it analyzes the key features and challenges in developing mobility solutions for various domains."
---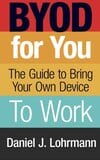 by Daniel J. Lohrmann
"BYOD for You: The Guide to Bring Your Own Device to Work is the perfect e-book to quickly provide the answers to your specific work-related situation. You'll learn the basics of BYOD and the terms you need to know; how you can address the company policy, including legal, financial, security, privacy, and ethical concerns associated with BYOD; and proactive steps you can take with your iPhone, iPad, Blackberry, Windows, or Android-enabled devices to help your career."
---
by Jack Madden and Brian Madden
"In this book, you will learn how MDM really works, what it does well, and what its limitations are; why IT's mindset has to evolve from locking down devices and networks to making data and applications accessible in a safe way; why the real challenge isn't personal devices, but mixing work and personal apps and data on a single device, regardless of whether they're personally-owned or corporate-deployed; how mobile app management works, and why (despite challenges) it may be the best approach for keeping corporate data secure."
---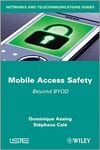 by Dominique Assing and Stéphane Calé 
"The safety control of remote access has become a strategic issue for all companies. This book reviews all the threats weighing on these remote access points, as well as the existing standards and specific countermeasures to protect companies, from both the technical and organizational points of view. It also reminds us that the organization of safety is a key element in the implementation of an efficient system of countermeasures as well. The authors also discuss the novelty of BYOD, its dangers, and how to face them."
---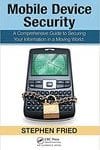 by Stephen Fried
"Explaining how mobile devices can create backdoor security threats, Mobile Device Security: A Comprehensive Guide to Securing Your Information in a Moving World specifies immediate actions you can take to defend against these threats. It begins by introducing and defining the concepts essential to understanding the security threats to contemporary mobile devices, and then takes readers through all the policy, process, and technology decisions that must be made to create an effective security strategy."
---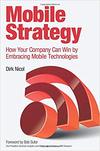 by Dirk Nicol
"Mobile Strategy gives IT leaders the ability to transform their business by offering all the guidance they need to navigate this complex landscape, leverage its opportunities, and protect their investments along the way. IBM's Dirk Nicol clearly explains key trends and issues across the entire mobile project lifecycle. He offers insights critical to evaluating mobile technologies, supporting BYOD, and integrating mobile, cloud, social, and big data. Throughout, you'll find proven best practices based on real-world case studies from his extensive experience with IBM's enterprise customers."
---
by SC Moatti
"SC Moatti […] gives businesses and professionals simple ways to thrive in this modern-day "gold rush." More than a book on technology, this is a book about human nature and what matters most to us. Moatti shows that because mobile products have become extensions of ourselves, we expect from them what we wish for ourselves: an attractive body, a meaningful life, and a growing repertoire of skills. She has created an all-encompassing formula that makes it easy for any business to develop a strategy for creating winning mobile products."
---
by VIAVI Solutions
"Technology vendors, network equipment and device manufacturers, and service providers worldwide have begun offering 5G products and services – yet 5G technical standards are still being finalized. This book explores the new 5G revolutionary architecture and describes how each segment of the 5G network is redesigned to provide the promised characteristics and benefits, as well as offer new use cases and applications that define the sixth technological evolution era."
---
by Jim Doherty
"Wireless and Mobile Device Security explores the evolution of wired networks to wireless networking and its impact on the corporate world. Using case studies and real-world events, it goes on to discuss risk assessments, threats, and vulnerabilities of wireless networks, as well as the security measures that should be put in place to mitigate breaches. The text closes with a look at the policies and procedures in place and a glimpse ahead at the future of wireless and mobile device security."
---
Solutions Review participates in affiliate programs. We may make a small commission from products purchased through this resource.
---
Looking for more info on the benefits of mobility management? You should check out our free Mobility Management Buyer's Guide. We profile the top vendors in the mobility management field, list their key capabilities, and determine our Bottom Line for each.
Check us out on Twitter for the latest in Enterprise Mobility news and developments!
Latest posts by Daniel Hein
(see all)