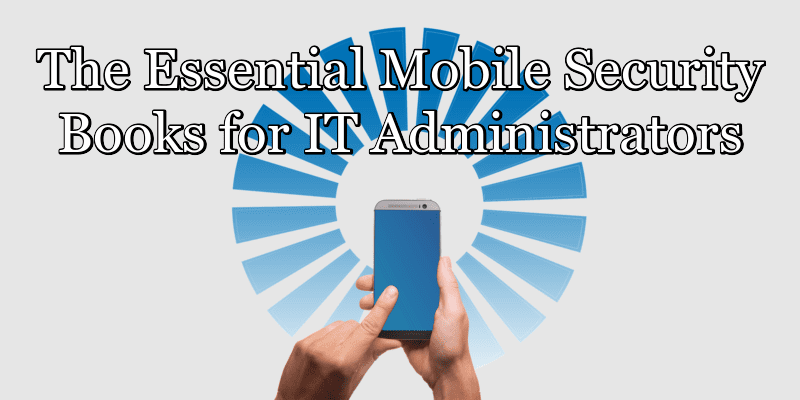 Solutions Review compiles the most essential books on mobile security that any IT administrator needs to add to their reading list.
An increasing number of mobile devices and mobile solutions are being deployed in the business world. Mobile security solutions allow companies to maintain control over their mobile devices by delivering security policies and monitoring mobile solutions. Books, whether hardcover or digital, are an excellent source for people looking to learn about a specific field of technology, and mobility management is no exception. We've listed the top mobile security books that you should add to your reading list. These books are intended for beginners and experts alike and are written by authors with proficiency and/or recognition in the field of mobility management.
Looking for more information on mobile security and mobility management vendors? Our free Buyer's Guide contains profiles on the top vendors in the mobility management field and their key features and functions. It also lists questions you should ask yourself and prospective vendors before you choose a solution.
by Jack Madden and Brian Madden
"In this book, you'll will learn how MDM really works, what it does well, and what its limitations are; why IT's mindset has to evolve from locking down devices and networks to making data and applications accessible in a safe way; why the real challenge isn't personal devices, but mixing work and personal apps and data on a single device, regardless of whether they're personally-owned or corporate-deployed; how mobile app management works, and why (despite challenges) it may be the best approach for keeping corporate data secure."
---
by Yuri Diogenes and Jeff Gilbert
"Learn how to use Microsoft's breakthrough Enterprise Mobility Suite to help securely manage all your BYOD and company-owned mobile devices: Windows, iOS, and Android. Two of the leading mobile device management experts at Microsoft show you how to systematically help protect employee privacy and corporate assets without compromising productivity. You'll find best practices, step-by-step guidance, and real-world scenarios for every stage of planning, design, deployment, and administration."
---

by Neil Bergman, Mike Stanfield, Jason Rouse, and Joel Scambray
"Hacking Exposed Mobile: Security Secrets & Solutions covers the wide range of attacks to your mobile deployment alongside ready-to-use countermeasures. Find out how attackers compromise networks and devices, attack mobile services, and subvert mobile apps.[…] This cutting-edge guide reveals secure mobile development guidelines, how to leverage mobile OS features and MDM to isolate apps and data, and the techniques the pros use to secure mobile payment systems."
---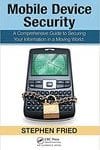 by Stephen Fried
"Explaining how mobile devices can create backdoor security threats, Mobile Device Security: A Comprehensive Guide to Securing Your Information in a Moving World specifies immediate actions you can take to defend against these threats. It begins by introducing and defining the concepts essential to understanding the security threats to contemporary mobile devices, and then takes readers through all the policy, process, and technology decisions that must be made to create an effective security strategy."


by Rich Campagna, Subbu Iyer, and Ashwin Krishnan
"Mobile devices have essentially replaced computers for corporate users who are on the go and there are millions of networks that have little to no security. This essential guide walks you through the steps for securing a network and building a bulletproof framework that will protect and support mobile devices in the enterprise. Featuring real-world case scenarios, this straightforward guide shares invaluable advice for protecting mobile devices from the loss of sensitive and confidential corporate information."
---
Mobile Security: How to Secure, Privatize, and Recover Your Devices
By Timothy Speed, Darla Nykamp, Mari Heiser, Joseph Anderson, and Jaya Nampalli
"The threat of hacking may be the most damaging on the internet. Mobile technology is changing the way we live, work, and play, but it can leave your personal information dangerously exposed. Your online safety is at risk and the threat of information being stolen from your device is at an all- time high. Your identity is yours, yet it can be compromised if you don't manage your phone or mobile device correctly."
---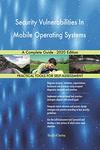 by Gerardus Blokdyk
"What are the operational costs after Security vulnerabilities in mobile operating systems deployment? Against what alternative is success being measured? […] This exclusive Security Vulnerabilities In Mobile Operating Systems self-assessment will make you the credible Security Vulnerabilities In Mobile Operating Systems domain expert by revealing just what you need to know to be fluent and ready for any Security Vulnerabilities In Mobile Operating Systems challenge."
---
by Jim Doherty
"Wireless and Mobile Device Security explores the evolution of wired networks to wireless networking and its impact on the corporate world. Using case studies and real-world events, it goes on to discuss risk assessments, threats, and vulnerabilities of wireless networks, as well as the security measures that should be put in place to mitigate breaches. The text closes with a look at the policies and procedures in place and a glimpse ahead at the future of wireless and mobile device security."
---
Solutions Review participates in affiliate programs. We may make a small commission from products purchased through this resource.
---
Looking for more info on the benefits of mobility management? You should check out our free Mobility Management Buyer's Guide. We profile the top vendors in the mobility management field, list their key capabilities, and determine our Bottom Line for each.
Check us out on Twitter for the latest in Enterprise Mobility news and developments!
Latest posts by Daniel Hein
(see all)