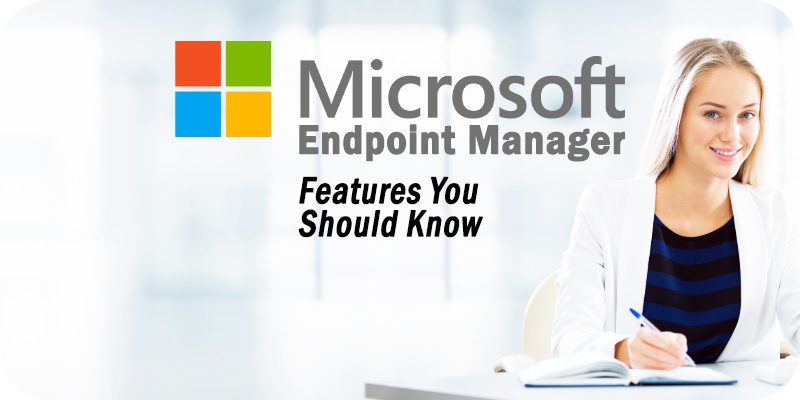 The editors at Solutions Review have compiled a list of the best management features available as part of the Microsoft Endpoint Manager product offering.
Managing devices and users is a fundamental task for IT teams as digital traffic continues to be an essential portion of business operations. Yet without the proper tools and insights, it can become a nightmare to keep track of everything occurring on your website. Endpoint management vendors have trended towards unified management solutions that allow users to serve all of their devices at the same time.
Microsoft Endpoint Manager combines a number of solutions designed to give companies a flexible path towards total cloud management. By providing cloud security across endpoints, comprehensive Windows 10 management, and a maximum return on investment, the platform brings top endpoint security capabilities to diverse BYOD and cloud environments. Below, we've listed the top management features and solutions available through Microsoft Endpoint Manager.
The Microsoft Endpoint Manager Features You Should Know About
---
Microsoft Intune is the platform's solution for cloud-based mobile device management, mobile application management, and cloud-based PC management. Also a part of Microsoft Enterprise Mobility + Security (EMS), Intune delivers security and access control features for devices and applications in your infrastructure. You can manage enrolled devices, inventory all devices currently on your infrastructure, configure the health and security of devices, push certificates to devices, check device and user compliance, and remotely wipe sensitive data from lost or stolen devices.
---
Microsoft Endpoint Configuration Manager can configure client and managed devices as well as run and monitor management tasks. Through this solution, administrators can change how frequently the devices communicate with the site, set up software updates, and whether or not users can enroll mobile devices into Configuration Manager. You can also define which client configuration settings that your organization wants to monitor.
---
For device onboarding, Windows AutoPilot gives administrators the tools to easily set up and pre-configure new devices. With AutoPilot, users can automatically connect devices to Active Directory or mobile device management services like Intune, as well as auto-assign devices to configuration groups based on device profiles. AutoPilot can also reset, repurpose, and recover devices if you desire to bring in a previously used or malfunctioning device.
---
Endpoint Analytics delivers insight into user experience to help IT administrators discover where devices aren't performing well for employees and clients. The solution detects areas where user experience has regressed, analyzing user impact of configuration changes. With this, your company can not only improve user productivity but also reduce IT support cost by reducing the number of support tickets.
---
Microsoft Defender for Endpoint is an agentless, cloud-powered security solution designed to protect the devices on your infrastructure. The solution applies top threat optics and intelligence backed by world-class security expertise to keep your endpoints protected from threats. Microsoft Defender delivers automated security by going from alert to remediation in minutes to help users discover vulnerabilities in real-time.
---
Azure Active Directory (AD) is a multi-tenant, cloud-based identity and access management service designed to prohibit unauthorized access to resources. IT administrators can control access to applications and app resources based on business requirements. Azure AD can also automate user provisioning between existing Windows Server AD and a company's cloud applications.
---
Solutions Review participates in affiliate programs. We may make a small commission from products purchased through this resource.
---
Looking for more info on the benefits of mobility management? You should check out our free Mobility Management Buyer's Guide. We profile the top vendors in the mobility management field, list their key capabilities, and determine our Bottom Line for each.
Check us out on Twitter for the latest in Enterprise Mobility news and developments!
Latest posts by Daniel Hein
(see all)