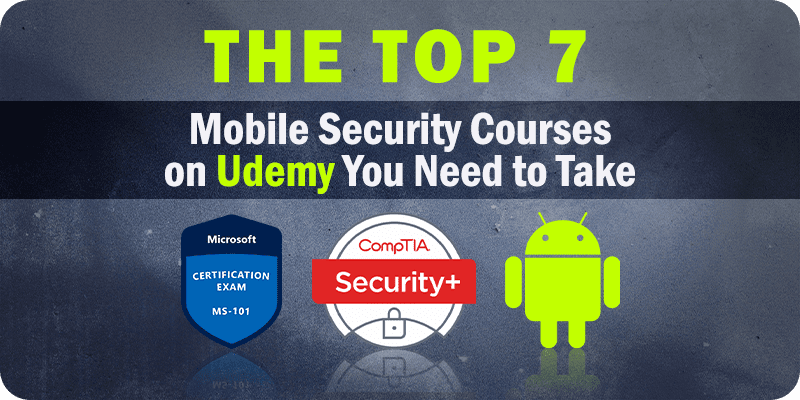 Solutions Review listed the top seven mobile security courses you can take on Udemy right now that every mobility professional should consider taking.
Are you a mobile security professional looking to gain new knowledge in securing mobile devices or brush up your skills? Do you want to earn a security certification but you don't know how to prepare yourself for the exams? Online courses offered through websites like Udemy allow enterprise mobility professionals to practice their mobile security knowledge and sharpen their skills through digital lectures and interactive guides.
Below, we've listed seven mobile security courses you can take on Udemy right now that are great resources for networking professionals. We've also included links to the courses on Udemy's website where you can enroll into any course you want. Udemy gives you lifetime access to each course you sign up for, and all courses are backed by Udemy's 30-day money back guarantee.
Note: Prices of courses may vary. Companies are listed in alphabetical order.
Created by: Skylines Academy
Length: 6 hours
Cost: $95 USD*
You can become a Microsoft 365 administrator expert with the Microsoft MS-101 certification for Microsoft 365 Mobility and Security, and this course can help you pass the certification exam. You'll learn how to implement modern device services, manage Microsoft 365 governance and compliance, and deploy Microsoft 365 security and threat management. This course is designed for IT admins and pros who have Microsoft 365 experience who have already taken and passed the MS-100: Microsoft 365 Identity and Services exam.
---
Created by: Eslam Medhat
Length: 1.5 hours
Cost: $100 USD*
With this course by Eslam Medhat, students can practice mobile application hacking and penetration testing against a number of real world mobile applications for Android. With 90 minutes of video and 18 accompanying articles, students will understand the types of vulnerabilities that affect mobile applications and have the practical knowledge to attack and exploit them. At the end of the course, you'll learn how to fuzz mobile apps, how to build your own mobile app security home lab, how to practice on real world applications, and how to perform penetration tests.
---
Created by: Paratosh Kumar
Length:1.5 hours
Cost: $70 USD*
The Mobile Application Security and Penetration Testing course teaches students about the security issues in mobile applications and devices, as well as learning how to conduct a penetration test. The course covers flaws in Android applications due to insecure coding practices, performing end-to-end app security testing, and input validation and access control issues, among other topics. Paratosh Kumar recommends this course for app developers, as well as other IT professional and security enthusiasts, who want to understand mobile app security.
---
Created by: Gabriel Avramescu
Length: 6 hours
Cost: $95 USD*
Through this course, Gabriel Avramescu will teach you how to audit your mobile applications and perform penetration tests for Android apps. Students will perform real world attacks on Android devices and apps to explore certification pinning bypass and malware analysis. This course is designed for security professionals, amateurs, mobile application developers, and security enthusiasts alike. You'll gain access to six hours of on-demand video, as well as over 40 additional companion resources that can be accessed at any time.
---
Created by: FlipCortex
Length: 3 hours
Cost: $70 USD*
Want to learn how to reverse engineer Android applications from scratch in less than three hours? FlipCortex has you covered with its course on Android malware reverse engineering. This course covers topics in mobile security, ransomware decryption tools, static analysis, dynamic analysis, and app development fundamentals. In the course, after setting up your lab, you'll develop a basic Android application, analyze it, and then analyze real ransomware and develop a decryption tool to fight against it.
---
Created by: Chad Russell
Length: 2.5 hours
Cost: $95 USD*
For IT and mobile security professionals looking to earn the CompTIA Seucrity+ certification, this course will help you pass the "Application, Data and Host Security" section of the exam. The course is designed for absolute beginners and IT professionals looking to move into the cybersecurity field — no prior security or programming experience is required. Chad Russell goes over how to secure hosts, databases, and applications (including mobile device security topics) using security industry best practices.
---
Created by: Cyber Security Online Training
Length: 5.5 hours
Cost: $50 USD*
This course teaches students the art of system and mobile hacking through ethical techniques designed to help IT professionals secure devices. If you take this course, you'll learn how different tools and techniques work in the real world, how to test your system's security, how to hack a computer, and how to protect mobile devices from external threats. Cyber Security Online Training recommends this course for anyone who wants to learn system and mobile security or who wants to know more about cybersecurity.
---
Solutions Review participates in affiliate programs. We may make a small commission from products purchased through this resource.
---
Looking for more info on the benefits of mobility management for your company's mobile devices? You should check out our free 2020 Mobility Management Buyer's Guide. We profile the top vendors in the mobility management field, their key capabilities, and our Bottom Line for each.
Check us out on Twitter for the latest in Enterprise Mobility news and developments!
Latest posts by Daniel Hein
(see all)