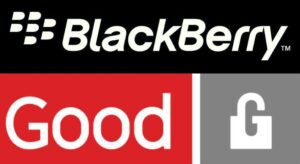 BlackBerry has just announced that they will buy Good Technology for a cool $425 million. Although BlackBerry hasn't been making waves in the smartphone community in recent years, the Canadian mobility giant has been focusing on developing more advanced multiplatform EMM solutions, something Good Technology is currently a leader in.
Although this isn't set in stone, BlackBerry expects to close the deal as soon as November and is looking to turn a profit right away. Good Technology has always done well in the Gartner Magic Quadrant and have been a leader in the EMM and MDM space for years.
Good Technology CEO Christy Wyatt says, "As I am sure you have heard by now, Good is about to enter into the next exciting chapter of our journey as we join BlackBerry in the coming weeks. Over the past few weeks, I have worked closely with BlackBerry's leadership team to bring together the top innovations and best practices from both companies and I personally have been delighted to see exactly how well suited our teams and products lines are.   As two independent providers we have both invested in enterprise-grade solutions for the world's largest companies and governments.  However together, we believe we will be even better positioned to deliver the industry's best security and full lifecycle mobility management to drive success of your mobile initiatives."
Read Christy's full statement here.
Companies' buy each other all the time but what makes this transaction particularly interesting is the fact that both BlackBerry and Good Technology have a history of bullying each other. The Verge has dug up some aggressive and pretty amusing press releases under the name #BBFactCheck. BlackBerry in the past has taken Good Technology press releases where Good presents themselves to be a step up from BlackBerry, and marked it up with their version of the story.  Theses releases can be seen here and here.
This is a very exciting move in the MDM and EMM world as this acquisition could seriously make waves in the industry. Both BlackBerry and Good Technology have some of the highest reputations in MDM and EMM, and we can't wait to see what happens next.