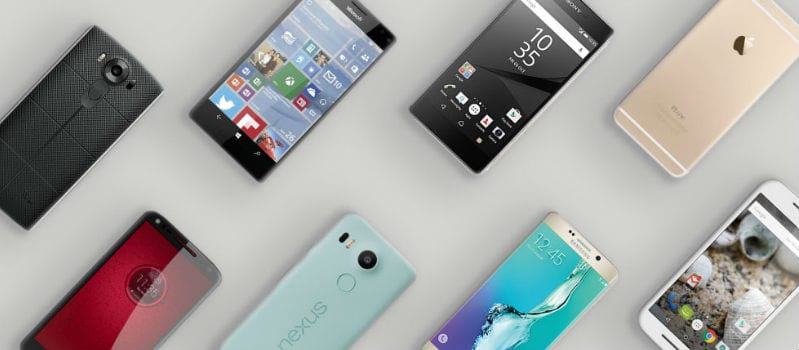 While these devices may be top of the line in the consumer market, they all have mobile device management capabilities that typical users will never even know about or touch on. These devices are getting more and more powerful, and while your company may be focused on just one kind of device and operating system, it's important to understand what each of these devices is capable of and what kind of mobile security they provide.
None of these phones are bad choices and they are all supported by most mobile device management and BYOD policies. The iOS vs Android debate can be put to rest on the notion that with the right mobility management deployment, one is not less secure than the other. However, when it comes to certain industries and jobs, certain devices may prove slightly more useful than others.
If BYOD is not what you're looking for, a COPE (company owned; personally enabled) or COBO (company owned; business only), then you are at liberty to choose what device you want your employees using. If you're interested in your employees all using the same device the most important things to consider are; the industry you're in, the types of jobs your employees are performing and what your employees want to use.
Let's break down the current OSes and their flagship devices to see how to best utilize each device and get a little insight on what to look for and why. Here's a list of the top six vendors and their flagship smartphones for mobile device management:]
iOS
Apple has made some serious improvements on the MDM side with iOS 9.3 and these mobile security features are best utilized in the iPhone 6. Some MDM features include; app trust security, initiation of software updates via MDM, app entitlements, app extensions, encryption, per-app VPN, system software authorization and single sign-on. The iPhone 6 and iPhone 6 Plus have to same MDM features and are both top of the line devices with their iPhone 6 Plus being bigger and slightly more powerful.
Businesses tend to lean towards iPhones when choosing devices for their employees because of the secure reputation and usability that appeals to users from all backgrounds, ages professional levels. If your business operates on OS X then it makes sense to keep with iPhones. I would describe iPhones as the most neutral choice; they're going to do everything you want them to do, people like them and like to use them and they are the most universally accepted device when it comes to app developers and mobility management vendors. They're great solid phones, that are reliable, functional and powerful.
Android
Android phones are known for being more customizable and offer a bigger variety in devices than iOS solely based on the fact that Google allows different companies to operate on their Android OS. This is an important factor to consider if you want your employees to be using the same OS, but have the option of choosing from a number of devices. There's also the latest release from Samsung, the Galaxy S7 to consider.
In industries where employees are active and dealing with more hazardous conditions, like a warehouse or construction site, the actual device itself needs to be able to stand up to more then just normal, office-level wear and tear. The Galaxy S7 is waterproof up to impressive depths and a time and it;s made with Gorilla glass, making it more durable than any other smartphone on the market.
However there's more to it than just a device. The fact that Android is an open sourced OS has been and continues to be a cause of concern for enterprise mobility. Google has worked to make sure that the Android OS is as safe as it possibly can be without compromising the freedom and creativity of being open source.
The freedom and ability to customize can also work for industries or jobs where containerization some of the more technical jobs may be better suited to Android phones, where they won't be held back by the OS. Like I stated above, it's important to see what the employees need and want to use. Along with the Samsung devices, LG, Nexus and HTC all have powerful Android phones that are worth considering as well.
Windows 10 and BlackBerry
Believe it or not, there are most OS options than just iOS or Android. Microsoft has taken over one of the toughest and most notorious mobile hardware developers, and has been working with them to develop the Lumia series for Windows 10 Mobile. BlackBerry has been one of the most, if not the most, secure operating systems in the history of mobile device management and they are still going. Theses are two dark horses that can't be ruled out just yet.
Windows 10 Mobile is has it's benefits, especially if your business operates strictly on Windows. No, Windows 10 is not like the Windows Phone operating system. Microsoft listened to the general dislike of the tiles and while it's still different looking than the iOS or Android UI, it's not something that you'll have to get too used to. Windows 10 Mobile is more reminiscent of Windows 10 desktop and is part of a much bigger picture. Microsoft is currently creating a single sign-on service across all Windows run devices that come under a single user. That way, a user can be working at their desk, get a call and immediately get up to address the situation without having to transfer what they were working on because it's already on the device, from the desktop. This would work especially well for users who are up and away from their desk a lot, going to meetings and interacting with other employees.
BlackBerry is still kicking with their own OS, even though they have some of their hardware running Android now, like the Blackberry Priv. Other devices, like the BlackBerry Leap, are still running the ever secure, BlackBerry OS, BlackBerry 10.3. We can't forget two very important facts; one: BlackBerry is started it all with their smartphones back in the early to mid 2000's and was the only option for a while. After the consumerization of IT and subsequent adoption of iPhones and other Android devices in the workplace, BlackBerry devices fell by the wayside and haven't been too popular in the consumer or enterprise environment since. But there are certain environments where BlackBerrys still have value and that's in industries where there is an unusually high number of hackers trying to get data, or industries where the device isn't going to be needed for power, as much as for secure messaging and organization.
Like I mentioned above, what is presented here is general information, but do not take the opinions of employees lightly. There will always be some employees in favor of one OS over any other based on personal preference, so it's important to take all of these factors into consideration. When in doubt, try and develop a BYOD policy for OSes supported by your Enterprise Mobility Management Solution.