Mobile Enterprise Application Development Trends – An Appcelerator Survey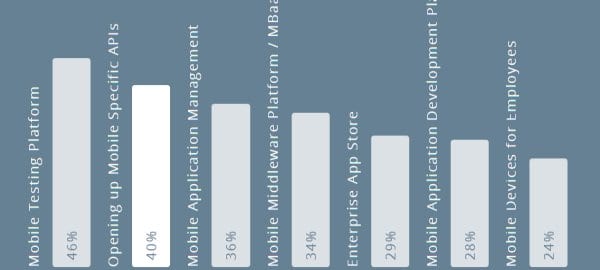 From August 12 – 23, 2013, mobile enterprise application platform provider Appcelerator conducted a survey of 804 companies to learn more about their mobile solutions strategies.  The survey covered topics ranging from enterprise mobile app deployment, implementation, and management.  Appcelerator, which polls enterprise mobile app developers quarterly to study industry trends, conducted the survey with mobile app development.
60 percent of the companies surveyed were North American based and 21 percent were European companies.  More than half (53 percent) of the companies surveyed were small businesses with under 99 employees. 14 percent of the companies surveyed have over 10,000 employees.  In terms of the types of industries that were surveyed, nearly half (49 percent) of respondents identified their companies as software & information technology.  This category was followed by telecom, media, & entertainment (11 percent), and financial services (10 percent).  The survey respondents were composed of eleven different professional positions including IT Director/Manager (21 percent), CEO (20 percent), and Development Director/Manager (13 percent).
1. 85 percent of organizations do not have a mobile strategy director.
2. 62 percent of respondents said their companies support three or more mobile devices.
3. 90 percent of respondents said they were "very interested" in building apps for iOS devices, compared to 71 percent for Android phones or HTML5 mobile apps (60 percent) or Android tablets (59 percent).
4. The respondents were equally divided when asked about whether their company was planning to write apps that would be offered through a private app store.  Half said yes and the other 50 percent said no.
Click here to read more key findings surrounding mobile enterprise application development from companies engaged in enterprise mobility.