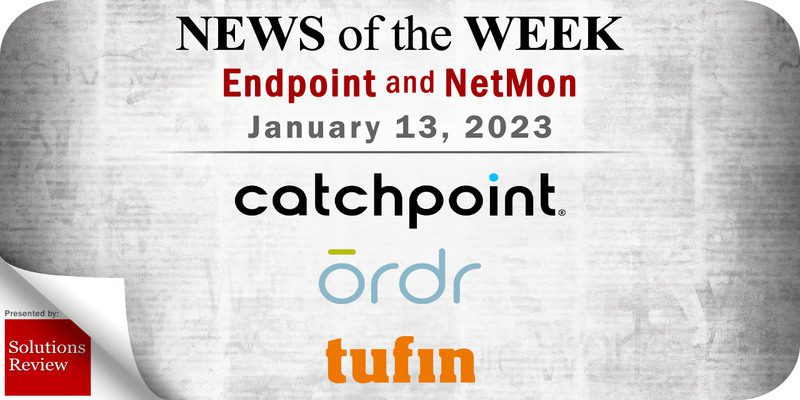 The editors at Solutions Review have curated this list of the most noteworthy endpoint security and network monitoring news for the week of January 13. This curated list features endpoint security and network monitoring vendors such as Catchpoint, Ordr, Tufin, and more.
Keeping tabs on all the most relevant endpoint security and network monitoring news can be a time-consuming task. As a result, our editorial team aims to provide a summary of the top headlines from the last month in this space. Solutions Review editors will curate vendor product news, mergers and acquisitions, venture capital funding, talent acquisition, and other noteworthy endpoint security and network monitoring news items.
Endpoint Security and Network Monitoring News for the Week of January 13
---
Catchpoint Announces "World's First" BGP Monitoring Solution
Catchpoint, a cybersecurity solutions provider, released major enhancements to its Network Experience solution. These enhancements include network reachability, engineering & traffic routing improvements, as well as comprehensive monitoring for SASE, VPN, and the entire Internet stack. Catchpoint's Internet Performance Monitoring Platform helps IT teams identify and mitigate BGP incidents, including hijack attempts and routing issues, with the industry's broadest network of vantage points in the world drawing on real-time BGP monitoring
Ordr and GE HealthCare Collaborate to Help Healthcare Providers
Ordr, an OT security solutions provider, announced this week that it is collaborating with GE HealthCare to offer customers a solution leveraging Ordr's platform for health systems. The solution addresses critical patient care challenges across three key stakeholder groups: biomedical and healthcare technology management (HTM) teams, giving them the granular visibility as well as performance and utilization insights they need to improve medical device management; IT teams, helping them to monitor network connectivity and performance, while mapping device communications flows; and security teams, helping them to identify, prioritize, and self-manage responses to vulnerabilities, threats, or anomalies.
Traceable AI Addresses Newest FFIEC Compliance Guidelines
Traceable, an API security and observability company, announced it is providing the necessary API security measures to enable FDIC-insured financial institutions to meet the latest Federal Financial Institutions Examination Council (FFIEC) cybersecurity compliance mandates. On October 3, 2022, the FFIEC announced a significant update to meet cybersecurity mandates for financial institutions. This update explicitly calls out APIs as a separate attack surface in regulatory guidelines that represents a significant shift in compliance trajectories, and highlights the increased threats that APIs pose.
Axis Security Research: "65 Percent of Organizations Plan to Adopt SSE"
Axis, in partnership with Cybersecurity Insiders, released "industry-first" data with its 2023 Security Service Edge (SSE) Adoption Report. This report distills insights from 355 cybersecurity professionals on the migration from legacy access solutions such as Virtual Private Networks (VPNs) in light of the new hybrid workplace and the rapidly growing SSE market. With 88 percent of organizations supporting a hybrid or remote work model, it's clear that the way people work has changed, thus organizations are realizing that the means in which secure access is achieved must also adapt.
NetSPI Acquires nVisium
NetSPI, a leader in enterprise penetration testing and attack surface management, announced the acquisition of nVisium to further scale its offensive security solutions and address heightened demand for human-delivered penetration testing. nVisium will support NetSPI's continued efforts to deliver strategic security testing solutions to enterprises. nVisium is an authority in security testing, with an impressive track record of delivering cloud and application pentesting to Fortune 500 companies and well-known brands such as Carfax, 1Password, Bluescape, Deltek, EAB, and Trimble.
Tufin Names Raymond Brancato CEO
Tufin, a solutions provider for network security policy management and continuous compliance automation, announced this week that it has appointed Raymond Brancato as Chief Executive Officer (CEO), effective immediately. Raymond has more than 27 years of experience developing and executing go-to-market strategies in the technology industry and will be taking the lead role at the company to guide it through its next phase of growth and beyond. He succeeds Ruvi Kitov as CEO, who is retiring from the role after 19 years of dedicated leadership. Ruvi will continue to serve on Tufin's Board of Directors and as a senior advisor to Raymond during the transition and to the company on an ongoing basis.
---
Expert Insights Section
Watch this space each week as Solutions Review editors will use it to share new Expert Insights Series articles, Contributed Shorts videos, Expert Roundtable and event replays, and other curated content to help you gain a forward-thinking analysis and remain on-trend. All to meet the demand for what its editors do best: bring industry experts together to publish the web's leading insights for enterprise technology practitioners.
How Observability Helps Organizations Shift Left Effectively
Investment in much of the technology market has cooled recently over concerns about high-interest rates and a possible recession. But at least one area appears to be poised for growth: observability, where half of the respondents to a recent IDC survey expect budgets to grow over the next few years. Why? Because unified observability can help enterprises achieve their goals of shift-left in NetOps as well as in DevOps to improve performance, increase productivity and boost customer satisfaction. It can help companies thrive in challenging times.
The 8 Best Courses to Become an Ethical Hacking Expert in 2023
Perhaps you're looking to expand your knowledge, build up your resume, or even take a new direction in your cybersecurity career. Whatever the reason, here are eight courses to help get you started on the path to becoming an ethical hacking expert. Online courses offered through websites like Udemy, Udacity, and LinkedIn Learning allow cybersecurity professionals to practice their ethical hacking knowledge and sharpen their skills through digital lectures and interactive guides.
20 Cybersecurity Predictions from Industry Experts for 2023
As part of the fourth annual Solutions Review #InfoSecInsightJam, we called for the industry's best and brightest to share their Identity Management, Endpoint Security, and Information Security predictions for 2023 and beyond. The experts featured represent some of the top Cybersecurity solution providers with experience in these marketplaces, and each projection has been vetted for relevance and ability to add business value.
---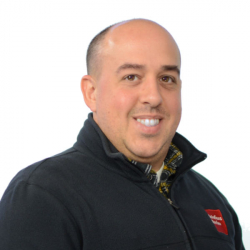 Latest posts by Mike Costello
(see all)