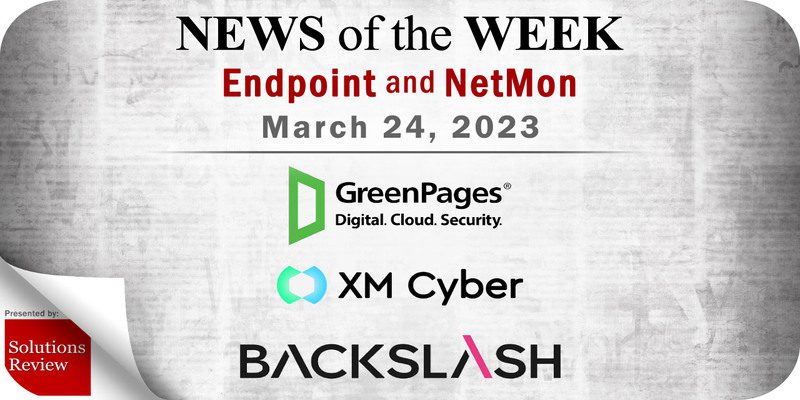 The editors at Solutions Review have curated this list of the most noteworthy endpoint security and network monitoring news for the week of March 24. This curated list features endpoint security and network monitoring vendors such as GreenPages, XM Cyber, Backslash Security, and more.
Keeping tabs on all the most relevant endpoint security and network monitoring news can be a time-consuming task. As a result, our editorial team aims to provide a summary of the top headlines from the last month in this space. Solutions Review editors will curate vendor product news, mergers and acquisitions, venture capital funding, talent acquisition, and other noteworthy endpoint security and network monitoring news items.
Endpoint Security and Network Monitoring News for the Week of March 24
---
GreenPages Promotes Chief Revenue Officer Joshua Dinneen to President
This week, GreenPages, a managed service provider, announced the promotion of Chief Revenue Officer (CRO) Joshua (Josh) Dinneen to President. Dinneen will remain CRO and will continue to report to CEO Ron Dupler. With nearly 25 years of technology industry experience, Dinneen has spent the past two decades in increasingly responsible positions at leading national managed service providers and IT services firms. He joined GreenPages as President of Strategic Services in 2018 following GreenPages' acquisition of Norwell Technology Group (NTG), where Dinneen served as President and CEO. A year later, Dinneen was named President of Sales and Marketing and in March of 2021, was promoted to CRO.
Orca Security Appoints Co-Founder Gil Geron as CEO
Orca Security, a cloud security solutions provider, announced this week the appointment of co-founder Gil Geron as CEO. With this move, Orca co-founder Avi Shua will transition to the newly-created position of chief innovation officer and will remain on the board of directors. The executive-level moves come amidst significant company momentum. Orca secured a patent for its agentless SideScanning technology, was recognized as a top startup employer by Forbes, and was named the AWS Global Security Partner of the Year. Gartner recognized Orca Security as a representative vendor for CNAPP in its 2023 Gartner Market Guide for Cloud-Native Application Protection Platforms, while Frost & Sullivan honored Orca with the 2023 Customer Value Leadership Award (CNAPP). With its strategic partnership with ThreatOptix to deliver agent-based protection of cloud-native applications, as well as Data Security Posture Management, Cloud Cost Optimization and ChatGPT integration, Orca's platform advancements continue to grow.
XM Cyber Announces Acquisition of Confluera
XM Cyber, a hybrid cloud security solutions provider, announced today the acquisition of Confluera, a cyber attack detection and response for the cloud platform. XM Cyber now offers a comprehensive CNAPP (Cloud Native Application Protection Platform) solution using its unique attack path modeling to prioritize and assess real risk to the critical assets in the cloud environment. The acquisition of Confluera comes less than a year after XM Cyber acquired Cyber Observer to expand its CSPM capabilities.
Tenable Announces Major Updates to Cloud Security Platform
This week, Tenable, a cybersecurity solutions provider, announced significant advancements to Tenable Cloud Security, a unified and scalable Cloud Security Posture Management (CSPM) and vulnerability management solution delivered on the Tenable One exposure management platform, and expanded availability of Tenable Agentless Assessment for Microsoft Azure. When deployed as part of Tenable One, customers gain advanced vulnerability prioritization capabilities and automated remediation workflows, enabling security and DevOps teams to prioritize remediation efforts where they can have the biggest impact on security and compliance posture.
Google Suspends Chinese Shopping App Pinduoduo Over Malware
Google has suspended Pinduoduo, a popular Chinese budget shopping app, from its Play Store after finding malware in versions of the app. In a statement to CNN, Pinduoduo said it was informed by Google Play on Tuesday morning that its app had been "temporarily suspended" because the current version is "not compliant with Google's Policy." It said Google Play did not share more details.
AppSec Platform Backslash Security Emerges from Stealth
Backslash Security, a new cloud-native application security solution for enterprise AppSec teams, emerged from stealth today, announcing an $8 million round led by StageOne Ventures, First Rays Venture Partners, D. E. Shaw & Co. and a roster of security veterans as angel investors, including technology entrepreneur and investor Shlomo Kramer, Ron Zoran (former CRO at CyberArk) and Brian Fielder (General Manager and CTO Enterprise Security at Microsoft), among others.
---
Expert Insights Section
Watch this space each week as Solutions Review editors will use it to share new Expert Insights Series articles, Contributed Shorts videos, Expert Roundtable and event replays, and other curated content to help you gain a forward-thinking analysis and remain on-trend. All to meet the demand for what its editors do best: bring industry experts together to publish the web's leading insights for enterprise technology practitioners.
How to Maximize the Potential of Managed Service Providers
As organizations respond to the accelerating pace of digital transformation, IT and security leaders are tasked with navigating an increasingly borderless world of work and commerce. The challenge of dealing with the associated cybersecurity concerns – of which there are many – has been compounded by a years-long industrywide staffing shortage and, more recently, a rising sense of economic uncertainty that is forcing many organizations to cut costs across all departments, including security.
Not surprisingly, InfoSec teams are increasingly turning to cloud-based solutions and managed service partners to meet growing flexibility and accessibility demands as cost-effectively as possible.
Creating Strong ROI for Multi-Cloud Solutions Through Compliance & Security
Today's corporations and service providers are decisively moving to a multi-cloud environment. The increasingly complex infrastructure landscape, and the need to create cost savings and business agility, are essentially leaving businesses no choice but to embrace the multi-cloud model, which leverages a mix of public, private, and hybrid cloud services. While the benefits of cloud solutions are evident, including the fact that some platforms actually add more security, a multi-cloud architecture also introduces new areas of exposure. From a compliance and security standpoint, the mixed environment can overwhelm organizations. Many services need to be secured, and a single misconfiguration in one service can result in a costly and damaging data breach.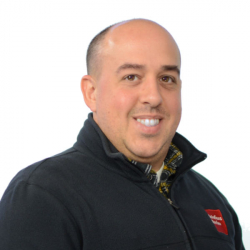 Latest posts by Mike Costello
(see all)