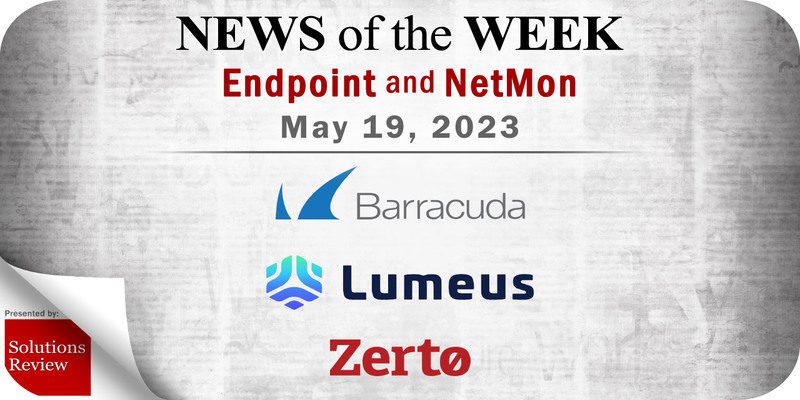 The editors at Solutions Review have curated this list of the most noteworthy endpoint security and network monitoring news for the week of May 19. This curated list features endpoint security and network monitoring vendors such as Barracuda Networks, Lumeus.ai, Zerto, and more.
Keeping tabs on all the most relevant endpoint security and network monitoring news can be a time-consuming task. As a result, our editorial team aims to provide a summary of the top headlines from the last month in this space. Solutions Review editors will curate vendor product news, mergers and acquisitions, venture capital funding, talent acquisition, and other noteworthy endpoint security and network monitoring news items.
Endpoint Security and Network Monitoring News for the Week of May 19
---
Barracuda Launches SASE Platform for Businesses and MSPs
Barracuda Networks, Inc., a cybersecurity solutions provider, this week announced a new platform called Barracuda SecureEdge, a SASE solution that helps make hybrid and remote work easier to secure. Barracuda SecureEdge integrates Barracuda's Secure SD-WAN, Firewall-as-a-Service, Zero Trust Network Access, and Secure Web Gateway capabilities. Delivered as a service, Barracuda SecureEdge secures users, sites, and IoT devices, is easy to manage and connects any device, application, and cloud/hybrid environment.
Backslash Report: "AppSec Teams Stuck in Catch-Up Cycle Due to Massive Cloud-Native Enablement Gap"
Backslash Security, an application security solutions provider, this week released a new research study, Breaking the Catch-up Cycle: The New Cloud-Native AppSec Paradigm Survey Report, exploring how the state of application security has evolved given the rise of cloud-native application development. The study examines the practices, tools, and needs of CISOs, AppSec managers, and AppSec engineers at enterprise organizations of 1,000 or more employees with mature cloud-native app development environments.
CISA Adds New Linux Vulnerabilities to Catalog, Warns They're Being Actively Exploited
The U.S. Cybersecurity and Infrastructure Security Agency has added seven new Linux-related vulnerabilities to its catalog and warned that they're being actively exploited. The vulnerabilities are described as frequent attack vectors for malicious cyber actors and pose significant risks to federal enterprises. Although the vulnerabilities listed are new to CISA's database, most of the vulnerabilities are old, with one dating back to 2010. The vulnerabilities were added to CISA's Known Exploited Vulnerabilities catalog, a "living list" of known Common Vulnerabilities and Exposure that carry significant risk to federal enterprises. CISA strongly urged all organizations to reduce their exposure to cyberattacks by prioritizing timely remediation of vulnerabilities in the catalog.
Zero Trust Networking Platform Lumeus.ai Launches With $6M Seed
Lumeus.ai, a visibility-first Zero Trust networking platform, announces its launch this week with $6 million in seed funding led by Tola Capital with participation from pre-seed investors Emergent Ventures and First Rays Ventures. Satish Veerapuneni and Saurabh Jain started Lumeus.ai to help distributed enterprises modernize their network security while leveraging their existing infrastructure. Lumeus.ai offers a Universal Zero Trust platform that leverages AI/ML to help organizations increase visibility from campus to cloud, authorize resource access, and segment network traffic to prevent lateral movement.
Versa Networks Enterprise Firewall Earns a 99.48 Percent Security Effectiveness Score
Versa Networks, a recognized leader of single-vendor Unified Secure Access Service Edge (SASE), this week announced that the Versa Networks CSG5000 Next Generation Firewall received a Recommended rating by CyberRatings.org, including a 99.48 percent security effectiveness score and top 'AAA' ratings across all four scoring categories. 'AAA' is the highest rating assigned by CyberRatings. The CyberRatings Enterprise Firewall Comparative Security Value Map report provides an analysis of eight leading next-generation firewall vendors, including Check Point, Cisco, Forcepoint, Fortinet, Juniper Networks, Palo Alto Networks, Sangfor, and Versa Networks. The test regimen compared routing and access control, SSL / TLS functionality, threat prevention, and stability and reliability to reach a combined security effectiveness score.
Zerto Unveils Real-Time Encryption Detection and Cyber Resilience Vault for Hybrid Cloud Security
Zerto, a Hewlett Packard Enterprise company, has announced the launch of a new real-time encryption detection mechanism and air-gapped recovery vault for enhanced hybrid cloud protection and security against cyber threats. These new features are part of Zerto 10, which includes advanced detection mechanisms that allow users to monitor for encryption-based anomalies, enabling organizations to pinpoint and mitigate the early stages of a potential ransomware attack. The Cyber Resilience Vault provides the ultimate layer of protection allowing for clean copy recovery from an air-gapped solution if a replication target is also breached.
---
Expert Insights Section
Watch this space each week as Solutions Review editors will use it to share new Expert Insights Series articles, Contributed Shorts videos, Expert Roundtable and event replays, and other curated content to help you gain a forward-thinking analysis and remain on-trend. All to meet the demand for what its editors do best: bring industry experts together to publish the web's leading insights for enterprise technology practitioners.
Solutions Review Set to Host Snowflake, Satori, and Monte Carlo for Expert Roundtable on June 8
In this expert roundtable discussion, our panelists will share their experiences, discuss best practices for integrating technology solutions, and offer guidance for establishing a sustainable information risk program for ensuring the governed accessibility to sensitive corporate data. The 60-minute virtual event is moderated by an independent industry analyst, with a topic introduction hosted by Solutions Review – all broadcast live to an audience of registered attendees.
Solutions Review's Solution Spotlight: Datto, May 24
Solutions Review is one of the largest communities of IT executives, directors, and decision-makers across enterprise technology marketplaces. Every year over 10 million people come to Solutions Review's collection of sites for the latest news, best practices, and insights into solving some of their most complex problems. With the next Solution Spotlight event, the team at Solutions Review has partnered with leading managed service provider Datto to provide viewers with a unique webinar called Maximize Your Cybersecurity: The Benefits of Datto RMM and Datto EDR.
AI vs Human Touch: Why Real Interactions Still Matter
Mark Lee of Splashtop examines why when it comes to AI vs Human Touch, real interactions still matter in remote support. A shortage of high-level tech skills has become an accepted fact of life for businesses these days, especially for small and medium-sized businesses that must compete with corporate behemoths and other larger organizations. Businesses have been working to close that gap with technology, investing in effective and affordable remote access technology and other tools, such as automated chatbots, to bolster their support teams. The recent emergence of ChatGPT as an AI-powered all-purpose answer machine also raises the possibility of using artificial intelligence to further enhance support programs. But AI is a double-edged sword that could hinder as well as enhance businesses' remote IT strategies. And as impressive as ChatGPT is — and for all the possibilities AI has for business uses — it still does not replace person-to-person communications. As more companies default to AI for customer support and relations, human interaction, delivered via seamless remote access, will be the new gold standard.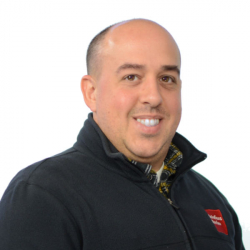 Latest posts by Mike Costello
(see all)