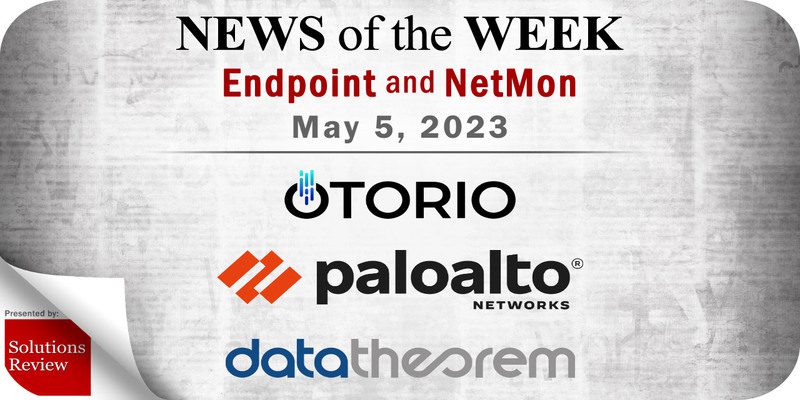 The editors at Solutions Review have curated this list of the most noteworthy endpoint security and network monitoring news for the week of May 5. This curated list features endpoint security and network monitoring vendors such as OTORIO, Palo Alto Networks, Data Theorem, and more.
Keeping tabs on all the most relevant endpoint security and network monitoring news can be a time-consuming task. As a result, our editorial team aims to provide a summary of the top headlines from the last month in this space. Solutions Review editors will curate vendor product news, mergers and acquisitions, venture capital funding, talent acquisition, and other noteworthy endpoint security and network monitoring news items.
Endpoint Security and Network Monitoring News for the Week of May 5
---
OTORIO Secures US Patent for Innovative OT Network Risk Mitigation System
OTORIO, a of operational technology (OT) cyber and digital risk management solutions, this week announced that it has secured a patent from the U.S. Patent and Trademark Office (USPTO) for the company's risk management model and attack graph analysis algorithm. The USPTO issued U.S. Patent No. 11637853, "Operational Network Risk Mitigation System and Method," for OTORIO's algorithm simulation model, which underpins its end-to-end OT cybersecurity platform. The company's unique technology calculates OT cybersecurity threats by analyzing and visualizing four key components — threat, likelihood, vulnerability, and impact — and provides risk mitigation actions prioritized according to actual exposure and potential impact on operations. This enables organizations to take proactive measures to safeguard their critical assets and processes.
Samsung Bans Use of ChatGPT for Employees After Misuse
Samsung is restricting the use of so-called generative artificial intelligence tools such as ChatGPT for employees after the company discovered such services were being misused. The South Korean technology giant confirmed to CNBC Tuesday that it is temporarily restricting the use of generative AI through the company's personal computers. Employees of one of Samsung's biggest divisions were informed of the move in a memo at the end of April after there had been cases of misuse of the technology.
Appdome Partners with GitLab; Announce Integration Between Platforms
Appdome, a mobile app security platform, this week announced that it has released a pre-built integration between its platform and GitLab, an enterprise DevSecOps platform. The new integration is part of Appdome's Dev2Cyber Partner initiative to accelerate delivery of secure mobile apps globally.
Palo Alto Networks Unveils Cloud Firewall for Microsoft Azure Customers
Palo Alto Networks, a cybersecurity solutions provider, announced it is bringing its Next-Generation Firewall (NGFW) to Microsoft Azure as a fully managed Azure-native ISV service. Cloud NGFW for Azure offers a comprehensive security solution with capabilities such as Advanced Threat Prevention, Advanced URL Filtering, WildFire and DNS Security. Powered by AI and ML, it can stop known, unknown and zero-day threats, enabling customers to safely and quickly migrate their applications to Azure.
288 Dark Web Vendors Arrested in Major Marketplace Seizure
In an operation coordinated by Europol and involving nine countries, law enforcement have seized the illegal dark web marketplace "Monopoly Market" and arrested 288 suspects involved in buying or selling drugs on the dark web. More than EUR 50.8 million (USD 53.4 million) in cash and virtual currencies, 850 kg of drugs, and 117 firearms were seized. The seized drugs include over 258 kg of amphetamines, 43 kg of cocaine, 43 kg of MDMA and over 10 kg of LSD and ecstasy pills. This operation, codenamed SpecTor, was composed of a series of separate complementary actions in Austria, France, Germany, the Netherlands, Poland, Brazil, the United Kingdom, the United States, and Switzerland.
GreenPages Appoints Technology Industry Veteran Terry Richardson as New CRO
GreenPages, a provider of cloud and cybersecurity services, this week announced it has named technology industry veteran Terry Richardson as its new Chief Revenue Officer (CRO). Richardson, most recently North American Channel Chief at AMD, is reporting to GreenPages President Joshua Dinneen. With three decades of experience in global channel, enterprise and OEM sales, Richardson is among the most highly respected, trusted and knowledgeable sales leaders in the industry. He brings a deep and broad network of contacts in both the global channel, as well as the technology partner community, to GreenPages.
Data Theorem & ESG Joint Research: "75 Percent of Organizations Updating APIs Daily or Weekly Increase Their Attack Surface"
Data Theorem, Inc., a provider of application security, this week announced the "Securing the API Attack Surface" report in partnership with Enterprise Strategy Group (ESG). The study found that the majority (75 percent) of organizations typically change or update their APIs on a daily or weekly basis, creating a significant challenge for protecting the changing API attack surface. In a related finding, study results also revealed the majority (92 percent) of organizations have experienced at least one security incident related to insecure APIs in the last 12 months, while the majority of organizations (57 percent) have experienced multiple security incidents related to insecure APIs during the past year.
---
Expert Insights Section
Watch this space each week as Solutions Review editors will use it to share new Expert Insights Series articles, Contributed Shorts videos, Expert Roundtable and event replays, and other curated content to help you gain a forward-thinking analysis and remain on-trend. All to meet the demand for what its editors do best: bring industry experts together to publish the web's leading insights for enterprise technology practitioners.
Use Automation to Support the Network When You Don't Own It
Alex Hoff of Auvik guides us through using automation to support the networks your end-users are on, including the ones you don't own. The rapid change to a hybrid remote workforce during the coronavirus pandemic caught most IT teams off guard. Suddenly they were tasked with new priorities, such as supporting video collaboration platforms, protecting data on BYOD personal devices, and ensuring access to remote hosting networks. In this new environment, the top concern for CIOs is to provide a positive user experience for the hybrid workforce, but it can get complicated. The CIO faces two related challenges: First, how do you deal with the shift to remote work to support a distributed workforce? Second, how can you make legacy infrastructure and apps work seamlessly for the migration to a cloud-based, hybrid workplace?
World Password Day Quotes from Industry Experts in 2023
As part of World Password Day (May 4) the editors for Solutions Review called for the industry's best and brightest to share their Access Management comments. The experts featured represent some of the top Cybersecurity solution providers with experience in these marketplaces, and each projection has been vetted for relevance and ability to add business value.
Solutions Review Celebrates 50 Vendors Served with Summer '23 Virtual Events Schedule
Solutions Review is proud to reach a milestone of 50 vendors featured as participants in its growing selection of virtual event programs. With tech conferences forever changed, Solutions Review has expanded its multimedia capabilities in response to the overwhelming demand for these kinds of events. Since its first virtual event in June 2020, Solutions Review has hosted more than 35 exclusive webinars featuring 50 unique vendors, with 65 individual segments.
ERP Security: Tackling the New Generation of Cyber-Criminals
Sadik Al-Abdulla of Onapsis charges into a discussion on ERP security and tackling the new generation of cyber-criminals. Attacks on utilities have constantly been making headlines, so much so that defending critical infrastructure has become a national imperative. Critical infrastructure attacks pose a unique threat, as they not only have the ability to destroy an organization, but can also cause real-world damage. And unfortunately, there are no signs of this stopping in 2023. With 88 percent of utility attacks being financially motivated in 2022, it's evident that cyber-criminals will do whatever it takes to make a profit. This means that we can expect threat actors to increasingly target organizations' crown jewels— the enterprise resource planning (ERP) applications that store their most sensitive corporate data and financials, and in some cases, drive the actual operations. These business applications consist of a variety of elements, such as processes and workflows, master data, and more— all while sharing data with countless other IT applications, both inside and outside the company. Due to their complexity, security teams often lack the knowledge, tools, and processes to secure these systems.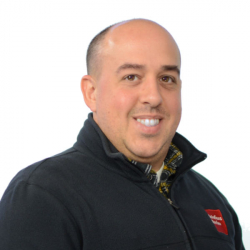 Latest posts by Mike Costello
(see all)