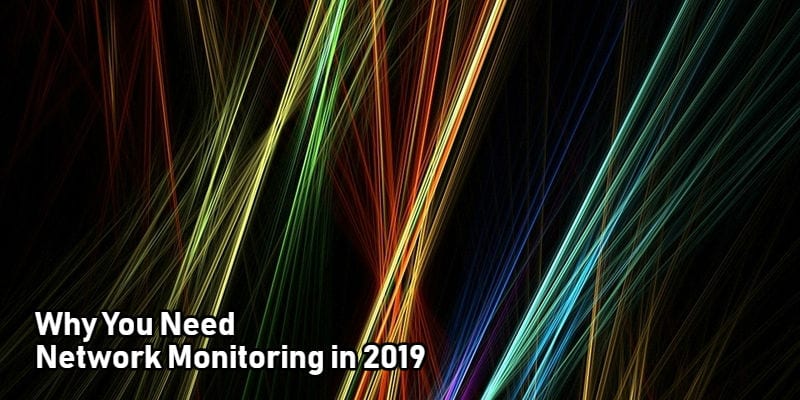 Network management may be a lower priority in the world of enterprise computing. It certainly doesn't get the attention development or cybersecurity solutions have. But network stability and security are crucial to any successful business. If network management solutions haven't been a priority for your business, 2019 is the year to take it seriously.
Network in Flux
Advancements in enterprise computing often put a strain on networks. Most notably, IoT devices and BYOD cultures continue to put a strain on connectivity. In fact, Gartner predicts  IoT security spending will skyrocket by 2021. Some have also predicted IoT will be a multi-trillion dollar industry by 2020. These devices create a confusing and often unpredictable network environment without the right approach.
Since 2019 is around the corner, these network changes will continue to overwhelm unprepared teams. Introducing new endpoints requires precision and care. Network monitoring solutions collect data over time and look for normal behavior. This means endpoints won't be difficult to understand, and catching issues early on becomes a reality.
IoT Devices
IoT changes the way we need to think about networks. So, having the proper solutions in place ahead of time will make the technological transformation easier. Network performance monitoring solutions are more important than ever with this large-scale change. These solutions allow you to automatically discover problems within your network. An IoT device susceptible to a security breach behaves differently so your team will be able to snuff it out within a simple dashboard.
Aside from security flaws, IoT devices increase network congestion, and this will only grow with time. Network performance monitoring solutions are rapidly maturing alongside IoT developments. They will be able to accommodate the demands for IoT within any network. Having the solutions before the change becomes more drastic will make it easier for your network administrator. Instead of letting congestion slow them down, these tools will free up time normally spent searching for network issues. Your network administrator should be keeping up with the technology in order to prepare for its quick implementation.
Investing in more bandwidth helps prepare for the IoT revolution. The technology is coming faster than some may realize, so having the right bandwidth ahead of time will make this transition more manageable. Network performance monitoring solutions will provide your team with the knowledge they need to build the proper network size. Establishing the most efficient plan is only possible with appropriate network information.
Managing User Traffic
The influx of BYOD devices a few years ago put a strain on enterprise networks. The number of people and devices utilizing your network grew, and their locations changed constantly. The network congestion and security risks of BYOD devices put a strain on network teams. Network monitoring tools allow teams to keep track of these devices to reduce exposure of sensitive information. Thus, network teams see what applications were being accessed by BYOD devices, and any security risks could be taken care of.
Another advantage network monitoring tools provided with more connected devices is the ability to recognize trends. These tools allow you to discover normal user behavior so any security threats will be snuffed out. User experience stays consistent because network monitoring tools gave them insight into developing future access control policies.
5G on the Horizon
Networks are growing at an alarming rate. 5G connected devices are just around the corner. IoT devices and BYOD culture will deliver more significant network traffic than possible today. As networks continue to grow, they'll also become far more intertwined with business success. So how do enterprises prepare for such a dramatic shift? It doesn't have to be difficult, it just comes down to using the right tools and having knowledge of your network expansion.
Latest posts by Doug Atkinson
(see all)