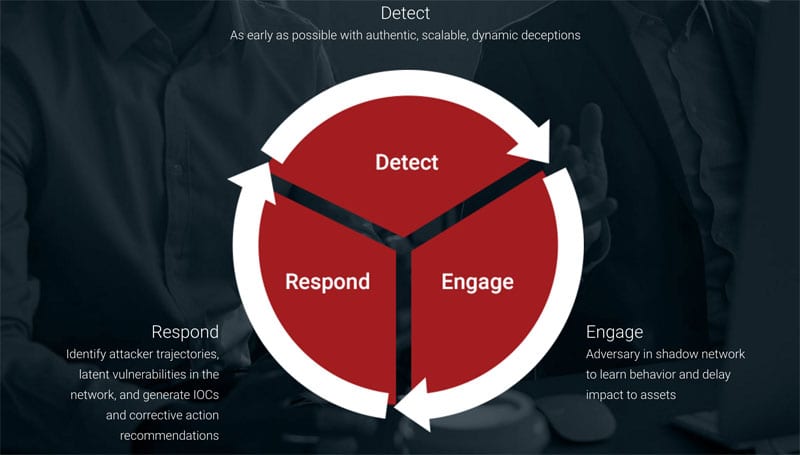 Advanced Thread Defense (ATD) startup Acalvio Technologies has closed $17 million in funding from investors including Accel Ventures, Ignition Partners and Eileses Capital.
Acalvio provides Advanced Threat Defense (ATD) solutions to detect, engage and respond to malicious activity inside the perimeter.  The solutions are anchored on patents in Deception and Data Science, which the company says enables a DevOps approach to ATD, with easy deployment, monitoring and management.
Acalvio hopes this investment will accelerate deployment and adoption of its Deception 2.0 technology, which leverages dynamic deception and data science technologies to deliver "high fidelity and cost-effective" detection solutions that address an organization's most important security needs. 
"A winning formula in venture investing is to start with a proven team and a highly innovative technology addressing a large shift in market requirements – in this case, the shift from Perimeter Defense to Internal Active Defense. Acalvio has delivered on a series of compelling innovations to address this large emerging market opportunity," said Arthur Patterson, founder of Accel Partners and Acalvio Board Member. "Accel has had excellent prior success with Ram Varadarajan and is proud to again be his partner as he guides Acalvio to be the market leader."
"We see Acalvio as a potential game changer with their Deception 2.0 approach," said Nick Sturiale, Managing Partner of Ignition Partners and Acalvio Board Member. "With a series of patented innovations and a track record of execution, we are very excited to support Acalvio in its goals to achieve a leadership position in the Deception space, an area that has immense potential and promise."
Widget not in any sidebars

Latest posts by Jeff Edwards
(see all)