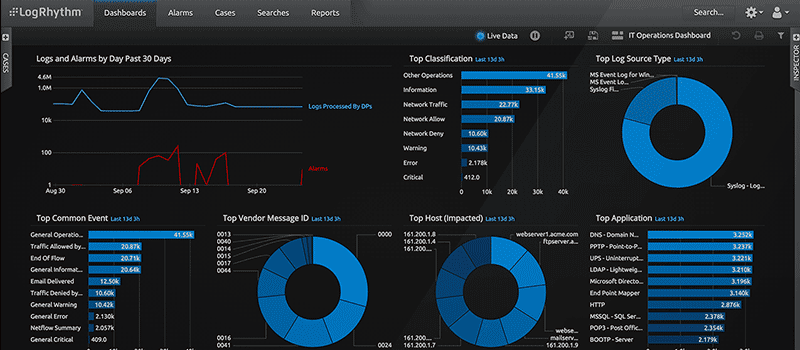 LogRhythm has announced the release of LogRhythm 7.2, the latest update to its security intelligence and analytics platform. LogRhythm is a popular vendor of SIEM solutions, and is well known for their Network Monitor tool, and its freemium version, NetMon Freemium.
According to a release, the update optimizes the platform to deliver "efficient, effective end-to-end threat lifecycle management solution."
To do this, LogRhythm 7.2 provides up to 200 percent improvement in data processing and indexing performance over previous iterations, and expands its data schema with more than 20 additional metadata fields.
LogRhythm 7.2 also allows visibility into cloud-based systems, including AWS, Salesforce, Box and Microsoft Office 365.
"Armed with finite resources to battle a staggering number of possible security threats, CISOs are desperately trying to realize an effective end-to-end threat lifecycle management capability," said Chris Petersen, CTO and co-founder of LogRhythm. "Whether you support a massive 24×7 global security operations center or a small virtual SOC, LogRhythm 7.2 will amplify your organization's ability to rapidly detect, investigate, and neutralize threats."

Jeff Edwards is an enterprise technology writer and analyst covering Identity Management, SIEM, Endpoint Protection, and Cybersecurity writ large.He holds a Bachelor of Arts Degree in Journalism from the University of Massachusetts Amherst, and previously worked as a reporter covering Boston City Hall.

Latest posts by Jeff Edwards (see all)