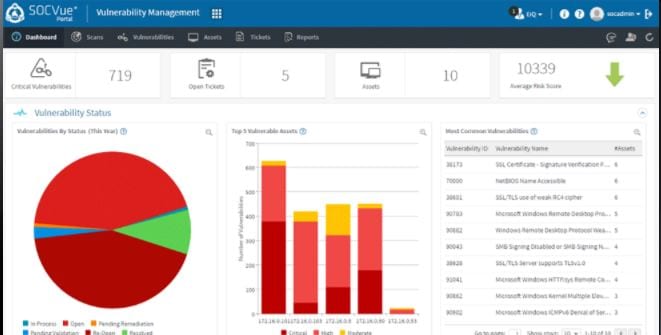 EiQ Networks has announced a new co-managed SIEM and log management offering called SOCVue for Splunk Enterprise Security (ES). Offered as a subscription service, this newest addition to theSOCVue line was developed through the Splunk Technology Partner (TAP) program, EiQ developed to an integration between Splunk ES and EiQ's Security Operations and Analytics Platform – SOCVue.
This integration allows SOCVue to enrich Splunk alert data with additional contextual information such as threat Intelligence to identify and detect malicious activity and minimize false positives. The product also offers managed services, with EiQ's global SOC teams available to monitor, analyze, and investigate alerts and respond with timely notification of any security incidents along with remediation guidance.
EiQ security experts will also be available to assist in security content engineering, as well as developing and implementing alerts and correlation rules to identify anomalies. Customers will be able to leverage SOCVue security analysts to conduct on-demand forensics investigations to find the cause of issues. EiQ's team will also help develop executive, compliance, and security reports to meet various compliance mandates such as PCI DSS, SOX, GLBA, HIPAA, FFIEC, COBIT, NIST, and more.
"Splunk Enterprise Security is recognized as the leader in the SIEM and log management market by leading industry analysts, including Gartner, Forrester, and IDC," Vijay Basani, Founder and CEO, EiQ Networks. "Just like every SIEM and log management solution, Splunk ES requires significant security domain expertise and a team of security professionals to effectively protect customer IT assets from cyber attacks 24×7 while complying with compliance mandates.
That's where EiQ and SOCVue comes in: our global SOC security analysts provide customers with the support they need to monitor, detect, prioritize threats, and engineer security content. We increase the ROI of the customer's Splunk investment by continually protecting their IT assets from cyber attacks while complying with regulatory mandates through a co-managed model."
SOCVue for Splunk Enterprise Security, a co-managed SIEM and log management service, will be available on May 22, 2017.

Latest posts by Jeff Edwards
(see all)