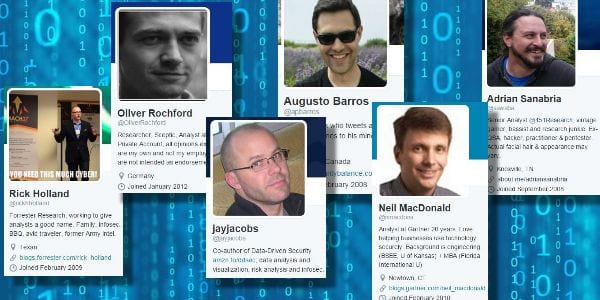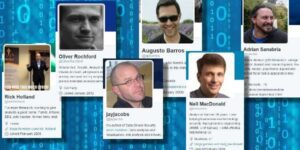 Note: This is the second in a series of posts about InfoSec influencers on social media, you can find part one here.
If you're trying to fill your Twitter timeline with Security Analytics and SIEM news, product information or anything else, look no further.
Twitter is a great resource for staying up-to-date and learning about your favorite subject matter, but with 243 million active users, it can be difficult to parse the good from the bad.
It's important to find the top influencers in a given field if you want top news and best practices, but again, that can be hard to sort out.
Lucky for you, we've combed through Twitter (all 243 million users of it, I swear) and pulled the five top influencers in the Information Security and Security Analytics space, enjoy!
I predict I will be tweeting more predictions docs out.

— Rick Holland (@rickhholland) November 12, 2015
Rick Holland is a CISSP and a vice president and principal analyst at Forrester Research, where he focuses on Security & Risk (S&R), providing strategic guidance on security architecture, security operations, and data privacy. Prior to joining Forrester, Rick was a solutions engineer with a national information security reseller and service provider and also served as an intelligence analyst in the US Army stationed in the US, Europe, and the Middle East.
Holland's research ( and his Twitter feed, for the most part) focuses on incident response, threat intelligence, vulnerability management, penetration testing, red teaming, malware analysis, and email and web content security. Holland
Discovering New Monitoring Use Cases https://t.co/AtrmUzTlF7

— Augusto Barros (@apbarros) November 6, 2015
Augusto Barros Brazilian/Canadian author of the popular Security Balance blog who has been working in Information Security for over a decade. Barros is currently working as Research Director at Gartner, where he works on security and risk management. Barros' strong InfoSec background, as well as his writing skills make his Twitter feed a great resources for S&R pros looking to stay abreast of the latest research.
Buying a SIEM w/o use cases in mind:

Like buying a $500 ham for a dinner w/o knowing the guests.

You then find out they're all Jewish.

— Adrian Sanabria (@sawaba) November 12, 2015
Adrian Sanabria  is a Senior Analyst 451 Research with more than 12 years of enterprise security and a background in system administration and architecture.  Adrian is involved in various volunteer projects within the security community, such as the National Board of Information Security Examiners' (NBISE) efforts to provide analysis on information security job roles and hiring through the Operational Security Testing Panel. Adrian is also involved in the Penetration Testing Execution Standard (PTES).
what does it take before US realizes mass surveillance is hurting US businesses, hurting US tech?https://t.co/x0Lq2edfGx
and losing jobs?

— Neil MacDonald (@nmacdona) November 12, 2015
Neil MacDonald is a Vice President, Distinguished Analyst and Gartner Fellow Emeritus in Gartner Research with 20 years of experience. MacDonald is a member of Gartner's information security and privacy research team, focusing on securing next-generation virtualized and cloud-based computing environments from advanced attacks. Specific research areas include endpoint protection, virtualization security, application security, protection of cloud-based workloads and protection from advanced targeted attacks using context-aware security and big data analytics approaches. He is currently Gartner's Lead Analyst on HP.
Myself and others on the challenges of SIEM https://t.co/FcQzCLACsb

— Oliver Rochford (@OliverRochford) October 30, 2015
Oliver Rochford is a Research Director in Gartner Research's Infrastructure Protection team. His research focuses on security management solutions and services, advising clients on topics such as vulnerability management and assessment, SIEM, and other security management technologies, as well as MSSPs.
Big Data is not a goal: https://t.co/9Xp6l1Xhf9

— jayjacobs (@jayjacobs) October 6, 2015
Jay Jacobs is the co-author of Data-Driven Security, the Verizon Data Breach Investigation Reports and the co-founder of the Society of Information Risk Analysts, where he currently sits on the board of directors. data analysis and visualization, risk analysis and infosec
Looking for more information on SIEM and information security? Check out our 2016 SIEM and Security Analytics Buyer's Guide:
Widget not in any sidebars

Latest posts by Jeff Edwards
(see all)