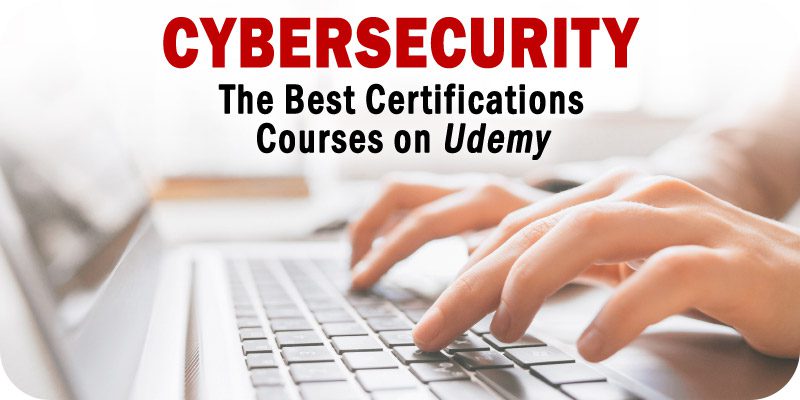 The editors at Solutions Review have compiled this list to spotlight some of the best cybersecurity certification courses on Udemy to consider if you're looking to grow your skills.
As more businesses transition to remote and hybrid workplaces, the importance of a well-trained, knowledgeable cybersecurity team has only grown. However, the cybersecurity field is constantly changing, making it challenging for busy professionals to stay up-to-date on the latest trends and best practices. Online training courses can help, as these programs are developed to help learners expand their skills and know-how without taking away from their practical day-to-day activities.
With that in mind, the Solutions Review editors have compiled a list of the best cybersecurity certification courses on the Udemy learning platform. These courses can help professionals of various experience levels improve their cybersecurity proficiency and stay informed of the latest skills they should have at their disposal.
Note: We included courses with a rating of 4 stars or better, derived from at least 100 student reviews.  
The Best Cybersecurity Certification Training Courses on Udemy
---
OUR TAKE: The CompTIA Security+ certification exam is one of the most prominent in the industry. This top-rated, best-selling training course will help equip you with the insights and skills you need to pass the exam and earn your certification.
Description: You will learn the fundamentals of cybersecurity and gain experience in the configuration, management, and troubleshooting of standard wired and wireless networks with lessons, lectures, and video demonstrations to teach you everything you need to know to pass the exams. This course is designed to help prepare you for the CompTIA Security+ (SY0-501) or the CompTIA Security (SY0-601) certification exam and covers all of the domains for both versions of the Security+ certification exam.
GO TO COURSE
---
OUR TAKE: With this nearly six-hour course, active and aspiring cybersecurity professionals will learn the essential skills to kickstart their security efforts in whatever industry they're in.
Description: Learn critical skills in cybersecurity and earn a Certification from the Starweaver Institute. Today, the necessity of solid Cybersecurity measures is self-evident, especially as a proliferation of cyber-attacks is causing increasing damage to companies, governments, and individuals. With this program, professionals will learn how to build their security skills, leverage Wireshark, improve their understanding of defensive strategies, and become familiar with intrusion analysis and handling.
GO TO COURSE
---
OUR TAKE: Designed for IT security, vulnerability, and threat intelligence analysts, this training course will help learners use behavioral analytics to combat cybersecurity threats in a meaningful way.
Description: With eleven hours of video lectures and educational materials, this certification training course covers fundamental cybersecurity analysis topics like threat management, security architecture, cyber incident response, vulnerability management, and the tools involved in putting those features into action. Upon completion, professionals should be capable of leveraging proven threat detection techniques, interpreting data, identifying vulnerabilities, understanding crucial threat management concepts, configuring threat detection tools,  and protecting applications within an organization.
GO TO COURSE
---
OUR TAKE: The Certified Information Systems Security Professional (CISSP) is an internationally recognized and coveted qualification. This best-selling training course will help you pass the final exam and earn your certification.
Description: With this popular certification training course, cybersecurity professionals can practice the skills and insights to complete and pass the challenging Certified Information Systems Security Professional (CISSP) certification program. Specific topics covered include asset security, risk management, security architecture, identity and access management (IAM), security assessments, software development security, and more.
GO TO COURSE
---
OUR TAKE: This training course is designed to help aspiring cybersecurity professionals learn how to work with Kali hacking tools and improve processes within Security Operations Centers (SOCs).
Description: This course is geared toward professionals studying for the Cisco CyberOps Associate CBROPS 200-201 certification exam and people who want to expand their ability to protect themselves from malware, hackers, cyber-criminals, Trojans, and other online security threats. The nearly five-hour program covers topics like host-based analysis, security monitoring concepts, network intrusion analysis, security policies, security procedures, network protocols, and more.
---
OUR TAKE: If you're curious about the Certificate of Cloud Security Knowledge (CCSK) certification, this introductory program will give you the info you need to decide whether you want to pursue it and help you learn how to attain it.
Description: Learners that enroll in this short, introductory program will be given the insights they need to decide if the CCSK certification is something they should pursue to further their career. The program covers examples of the value CCSK can provide, explains how the certification exam can be taken, and offers various studying materials, sample questions, and documents to help students prepare for the exam.
GO TO COURSE
---
Solutions Review participates in affiliate programs. We may make a small commission from products  purchased through this resource.

Latest posts by Ben Canner
(see all)