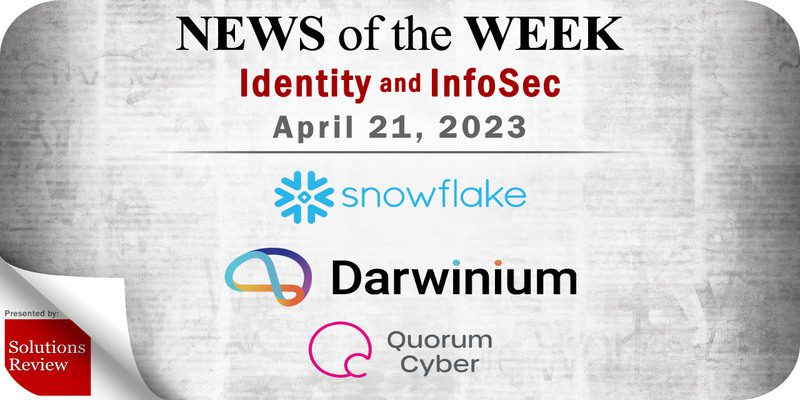 The editors at Solutions Review have curated this list of the most noteworthy identity management and information security news for the week of April 21. This curated list features identity management and information security vendors such as Snowflake, Darwinium, Quorum Cyber, and more.
Keeping tabs on all the most relevant identity management and information security news can be a time-consuming task. As a result, our editorial team aims to provide a summary of the top headlines from the last month, in this space. Solutions Review editors will curate vendor product news, mergers and acquisitions, venture capital funding, talent acquisition, and other noteworthy identity management and information security news items.
Identity Management and Information Security News for the Week of April 21
---
Snowflake Teams Up with Comcast; Launch New Platform, DataBee
Comcast Technology Solutions (CTS) and Snowflake, a data cloud provider, have collaborated to produce and host DataBee, a cloud-native data fabric platform for security, risk and continuous controls monitoring, according to a prepared statement. DataBee enables large enterprises to perform multiple security functions, including identifying potential cybersecurity threats against systems, data and enterprise users, the company said. Snowflake is a strategic partner in the development and launch of DataBee, which operates on the Snowflake Data Cloud, where data is stored, processed and analyzed. DataBee, which is tied to CTS' strategy to improve operations and cybersecurity oversight, is offered by a newly created cybersecurity business unit within CTS. The cybersecurity wing is focused on delivering Comcast-developed enterprise-level security innovations to market. DataBee spans security, risk, privacy and security controls compliance missions with use cases in advanced threat detection, threat hunting, continuous controls assurance, SIEM decoupling, behavioral analysis and more, the company said.
NIST Assessment: "Veridas Facial Biometrics Among The Four Best in the World"
Veridas, a Spanish technology company specializing in digital identity and biometrics, is positioned in fourth place among the best facial biometrics engines among the nearly 150 algorithms submitted to the evaluation conducted by the National Institute of Standards and Technology (NIST), considered the most prestigious body in the assessment of biometric engines in the world. Veridas joins the world elite in this sector. The company from Navarre has achieved its best result in the most demanding category possible: the evaluation of one out of many (1:N) with a sample size (N) of 12 million. Specifically, it has registered a False Negative Identification Rate (FNIR) of 0.0232 for a False Positive Identification Rate (FPIR) of 0.001. Thus, when searching for a known subject in a database of 12 million records, the Veridas engine will find the correct individual as the first candidate 97.68 percent of the time. This facial biometric engine is also the same one that is already available in production for the company's more than 250 Tier 1 customers in more than 25 countries.
Darwinium Launches New Fraud Prevention Platform
Darwinium this week announced the launch of its Continuous Customer Protection platform. Appropriate use cases for the Darwinium platform include account security, scam detection, account takeover, fraudulent new accounts/synthetic identities and bot intelligence. Darwinium's executive team will be onsite to demonstrate its Continuous Customer Protection platform at RSA Conference 2023 in San Francisco, Calif., April 24-27, Booth ESE-38 South Expo Hall Level 2, at Moscone Center.
Sift Appoints Industry Veteran Armen Najarian as Chief Marketing Officer
Sift, a digital trust and safety solutions provider, announced that it has appointed Armen Najarian as Chief Marketing Officer. Najarian comes to Sift with more than 20 years of marketing experience and expertise in creating award-winning marketing programs at several fraud prevention and digital identity companies. Najarian's success in brand strategy, team building, and revenue generation was instrumental in three company exits, including Agari and ThreatMetrix, which were acquired by HelpSystems (now Fortra) and LexisNexis Risk Solutions respectively. He also held marketing leadership roles during DemandTec's initial public offering and subsequent sale to IBM. Najarian was most recently CMO at Outseer, a spinout of RSA Security, where he drove the new corporate identity and stood up a new worldwide marketing organization.
SandboxAQ Unveils End-To-End Security Suite
SandboxAQ unveiled its latest product offering: the SandboxAQ Security Suite. Developed by SandboxAQ's team of enterprise software engineers and cryptography experts, the product provides an end-to-end solution for cryptographic vulnerability scanning and remediation. Both commercial and public sector customers use this software to maintain compliance, enforce policies, safeguard sensitive data, and strengthen their overall security posture, protecting both data in motion and data at rest. The Security Suite includes one module to provide customers with discovery and continuous inventory of vulnerable cryptography and another module, currently available for preview to select customers, for encryption remediation and supervised enforcement. These modules are integrated into a Control Center, which presents customers with an actionable dashboard view of their organization's complete cryptographic infrastructure. The Security Suite's Cryptosense module combines the Cryptosense Analyzer Platform, a trusted encryption management tool used by multiple customers, with the SandboxAQ Network Analyzer. This single, integrated tool offers the "industry's first" complete solution for cryptographic inventory that includes analysis and inventory of filesystems, applications, and networks.
Waiting for Quantum Computers to Arrive, Software Engineers Get Creative
Lacking quantum computers that customers can use today to get an advantage over classical computers, these startups are developing a new breed of software inspired by algorithms used in quantum physics, a branch of science that studies the fundamental building blocks of nature. Once too big for conventional computers, these algorithms are finally being put to work thanks to today's powerful artificial intelligence chips, industry executives told Reuters.
Quorum Cyber Sets Sights on North American Market
UK-based cybersecurity firm Quorum Cyber has announced its intention to focus on the North American market after achieving impressive year-over-year growth. The company was founded in 2016 and has grown organically to approximately 200 employees, serving over 150 customers across four continents. Quorum Cyber achieved year-over-year revenue growth of 95 percent from FY21 to FY22. The company's notable revenue increase is partly attributed to its new or enhanced cybersecurity offerings, such as Managed Extended Detection & Response (XDR), Microsoft Sentinel Managed Detection & Response (MDR) service, recognition as a Microsoft-verified MXDR solution provider, and professional services offerings. Quorum Cyber will debut into the U.S. market, demonstrating its solutions at the RSA Conference on April 26th from 5 to 6 pm PT in San Francisco at stand #6044N.
---
Expert Insights Section
Watch this space each week as Solutions Review editors will use it to share new Expert Insights Series articles, Contributed Shorts videos, Expert Roundtable and event replays, and other curated content to help you gain a forward-thinking analysis and remain on-trend. All to meet the demand for what its editors do best: bring industry experts together to publish the web's leading insights for enterprise technology practitioners.
4 Best Cybersecurity Courses Available on Udacity in 2023
The growing importance of cybersecurity best practices and techniques for protecting against hackers is becoming paramount in the enterprise. The cybersecurity landscape is evolving in real-time, which has organizations scrambling to fortify their IT architectures soundly. Coupled with this, security engineering and analysis are becoming priorities no company can ignore, as they complement the threat hunting and threat intelligence gathering initiatives. With this in mind, the editors at Solutions Review have compiled this list of cybersecurity courses on Udacity to consider. Udacity is perfect for those looking to take multiple courses or acquire skills in multiple different areas, or for those who want the most in-depth experience possible through access to entire course libraries or learning paths. In sum, Udacity is home to more than 160,000 students in more than 190 countries.
Data-in-Use Encryption Key to Curtailing Cross-Border Cybercrime
Daily headlines jolt us into the reality that yet another company and its customers have fallen prey to cyber-criminals selling usernames, passwords, and personally identifiable information (PII) on the dark web. Cyber-criminals have a security stack on the dark web enabling them to conduct their business anonymously, which is far superior to the relative transparency law-abiding organizations must use to run their business. What can we do? How can we prevail against international cyber-criminals and organizations? Although many systems and methodologies are on the market for preventing, thwarting, and discouraging cyber-attacks, it's virtually impossible to protect data from every possible attack vector and theft perfectly.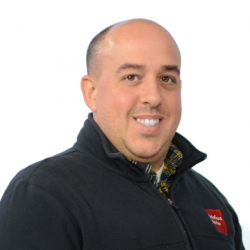 Latest posts by Mike Costello
(see all)