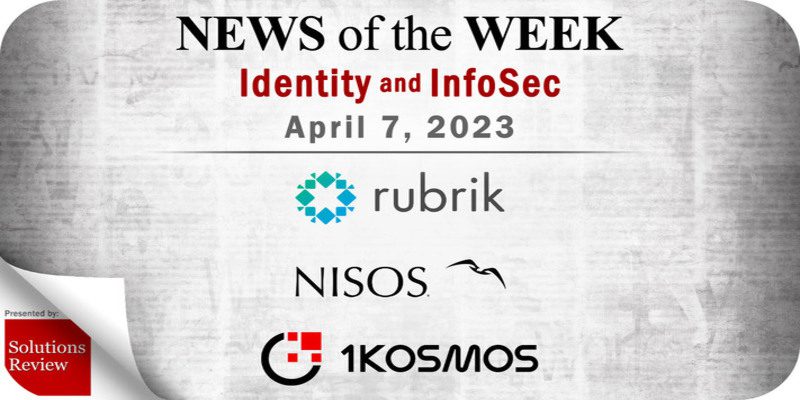 The editors at Solutions Review have curated this list of the most noteworthy identity management and information security news for the week of April 7. This curated list features identity management and information security vendors such as Rubrik, Nisos, 1Kosmos, and more.
Keeping tabs on all the most relevant identity management and information security news can be a time-consuming task. As a result, our editorial team aims to provide a summary of the top headlines from the last month, in this space. Solutions Review editors will curate vendor product news, mergers and acquisitions, venture capital funding, talent acquisition, and other noteworthy identity management and information security news items.
Identity Management and Information Security News for the Week of April 7
---
Top Cybersecurity Leaders Join Rubrik CISO Advisory Board Chaired by Chris Krebs
Rubrik, a data security solutions provider, this week announced the members of the company's CISO Advisory Board. Rubrik's CISO Advisory Board is chaired by Chris Krebs, the first Director of the U.S. Cybersecurity and Infrastructure Security Agency (CISA) and founding partner of the Krebs Stamos Group. The mission of Rubrik's CISO Advisory Board is to lead on strategies for collaboration across private and public sector organizations to address the unprecedented growth of cyberattacks.
Cowbell Appoints Cyber Insurance Expert Simon Hughes to Spearhead UK Operations
Cowbell, a cyber insurance provider, has launched its UK operations and appointed cyber insurance expert, Simon Hughes, as General Manager for Cowbell UK. Hughes joins Cowbell with a unique blend of experience across the U.S. and the UK, most recently serving as the Cyber Team Lead at CFC Underwriting. Hughes is a seasoned underwriter with over 13 years of experience in the insurance industry. He is a proven leader with a deep understanding of cyber risk and insurance and has been instrumental in driving success in his previous roles. Hughes began his career at Lloyd's of London and has since gained valuable experience with the multi-national reinsurer SOVAG and CFC Underwriting, a UK-based specialty insurer. At CFC, Hughes was a senior member of the cyber team for six years, serving as a cyber underwriter and leader focusing on SMEs. Simon led the UK and EU cyber underwriting teams to achieve market-leading and profitable growth in a rapidly growing market.
Nisos Announces All-New Managed Intelligence Suite
Nisos, a Managed Intelligence company, this week announced the company's new Managed Intelligence Suite, a new service that provides users with an initial risk assessment, ongoing monitoring and deep threat investigation to enhance threat response and prevention. The comprehensive offering builds on the momentum Nisos achieved in 2022 in response to growing industry demands for a holistic risk reduction service, and as a result of the company's investments in intelligence technology and top-caliber cyber talent.
SafeBreach Integrates with ServiceNow
SafeBreach, a breach and attack simulation (BAS) platform, announced integrations with ServiceNow to provide increased visibility into continuous security posture management and allow customers to leverage their existing workflow automation processes to quickly identify and remediate critical security gaps. The integrations with ServiceNow SIR Incident and IT Service Management Incident (ITSM) are certified and available now on the ServiceNow Store. The integration of SafeBreach attack simulation data directly into the Now Platform provides customers with a holistic view to optimize security operations at all levels and inform security practitioners and executives of high-impact incidents that should be prioritized for remediation.
1Kosmos and ForgeRock Announce Partnership
1Kosmos, an identity solutions provider, announced this week the integration of 1Kosmos BlockID with ForgeRock Access Manager which enables customers to modernize the onboarding experience for users and implement identity-based passwordless authentication on all ForgeRock protected applications. Available on the ForgeRock MarketPlace, BlockID Passwordless Authentication enables developers, via a simple drop down menu, to add biometric and passwordless authentication to any application protected by ForgeRock Access Manager.
---
Expert Insights Section
Watch this space each week as Solutions Review editors will use it to share new Expert Insights Series articles, Contributed Shorts videos, Expert Roundtable and event replays, and other curated content to help you gain a forward-thinking analysis and remain on-trend. All to meet the demand for what its editors do best: bring industry experts together to publish the web's leading insights for enterprise technology practitioners.
The CISO Checklist and Best Practices for Conducting a Cybersecurity Audit
A cybersecurity audit is something that many organizations will put off for a long time. However, whether you like it or not, they must be done at some point, especially with zero-trust frameworks becoming ever-present and cyber-criminals stepping up their hacking efforts. According to a recent PWC survey, CEOs ranked cybersecurity risks as their biggest concern, even more so than the ongoing Covid-19 pandemic, economic recession, or climate change. CISOs must be prepared to conduct cybersecurity audits and regular intervals to ensure that various security measures and protocols are followed while also identifying potential weaknesses.
AI in Biometric Digital Identity Fraud
AI technology is showing consumers how advanced AI programs can mimic human dialogue, generate images, and perform various other tasks. ChatGPT responds to questions in a manner very near to human conversation. Similarly, Dall-E creates realistic images based on text descriptions alone. While these advanced models demonstrate the benefits of AI, they also raise concerns about malicious activities. For example, AI models can be used to carry out identity fraud, where individuals or organizations impersonate others to deceive or steal information. What started in 2019 with the first report of an AI-based deepfake conducting voice fraud of a CEO's impersonation to release almost $250K has now developed into more complex and realistic AI video fraud. Ethan Mollick, a Wharton School professor, found it only took him 8 minutes and a computer to create a deepfake of himself giving a lecture. AI can be programmed to mimic real people to steal personal data, or AI-generated images can be used to create fake identities or manipulate information.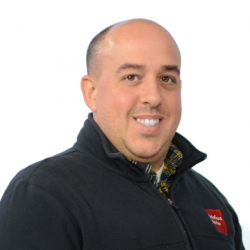 Latest posts by Mike Costello
(see all)