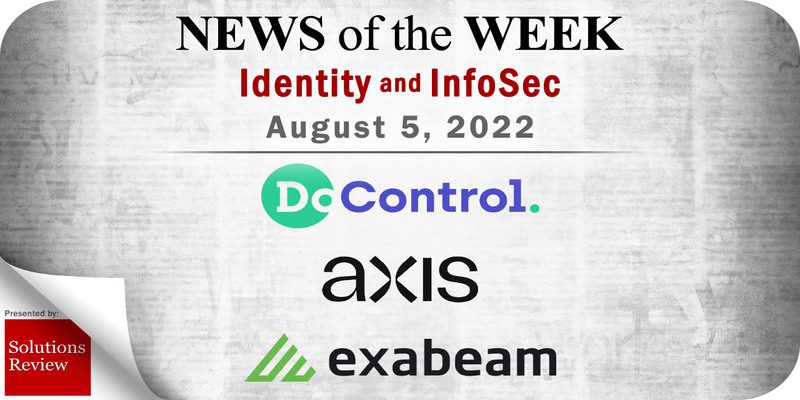 The editors at Solutions Review have curated this list of the most noteworthy identity management and information security news items for the week of August 5th. This curated list features identity and information security vendors such as DoControl, Axis, Exabeam, and more.
Keeping tabs on all the most relevant identity management and information security news can be a time-consuming task. As a result, our editorial team aims to provide a summary of the top headlines from the last month, in this space. Solutions Review editors will curate vendor product news, mergers and acquisitions, venture capital funding, talent acquisition, and other noteworthy identity management and information security news items.
Identity Management and Information Security News for the Week of August 5th
---
DoControl Integrates with Box to Transform SaaS Data Access Security
DoControl, the automated Software as a Service (SaaS) security company, announced an expanded integration with Box, the leading Content Cloud, that adds a foundational layer of granular controls to protect sensitive data and provide comprehensive data access security. The solution further secures cross-application, business-critical data, and files accessed by every identity and entity, both internal employees and external collaborators, allowing for content collaboration to be achieved securely.
Akamai Research Shows Attacks on Gaming Companies Have More than Doubled Over Past Year
Akamai, a cloud-based ZTNA provider, released a new State of the Internet report showing that web application attacks on the gaming industry more than doubled over the past year. The latest report notes these attacks come in the wake of booming popularity and demand for cloud gaming platforms. The microtransaction market is reportedly expected to reach $106.02B by 2026, creating a massive target for attackers. The report also finds that the gaming industry is targeted for 37 percent of all DDoS attacks. This is an overwhelming amount as the second most targeted vertical is the financial sector at 22 percent.
Over $86.6M worth of NFTs have been stolen since the start of 2022
Recent research from Comparitech shows that NFT thefts are becoming more frequent than ever— and more profitable. The company has kept track of NFT thefts ever since the non-fungible token standard was first introduced and recorded the first stolen NFTs as early as 2020. Since then, over $86.6 million of tokens have been stolen. At today's prices, these NFTs are worth over $896.5 million. According to their report, out of the 166 total NFT thefts, 14 happened in 2021, and only two occurred in 2020. The remaining 150 took place, in 2022, with March being the worst month for NFT owners, with 31 thefts happening that month.
Crypto Bridge Nomad Drained Nearly $200M in Exploit
The cross-chain token bridge Nomad was exploited Monday (Aug 1), with attackers draining the protocol of virtually all of its funds. The total value of cryptocurrency lost to the attack totaled near $200 million. Nomad, like other cross-chain bridges, allows users to send and receive tokens between different blockchains. Monday's attack is the latest in a string of highly publicized incidents which have drawn the security of cross-chain bridges into question.
Flashpoint Acquires Open Source Intelligence Leader Echosec Systems
Flashpoint, a threat intelligence platform provider, announced today that it has acquired Echosec Systems, a provider of open-source intelligence (OSINT) and publicly available information (PAI) for national security, public safety, and enterprise customers. With this acquisition, Flashpoint will significantly expand its OSINT capabilities to drive on-the-ground situational awareness, executive protection, geopolitical risk assessments, counterterrorism, misinformation and disinformation identification and response, and crisis response.
Major Updates from Axis to SSE Platform, Atmos
Axis has announced a host of new enhancements to one of the four key Security Service Edge (SSE) modules that make up the Atmos platform– the Atmos ZTNA solution, which secures access between authorized users and specific internal applications. The company also announced a slew of new tools to help companies easily migrate away from ZTNA 1.0 solutions. The migration tool takes application segments developed in Zscaler Private Access (ZPA) and converts them to Atmos ZTNA applications.
HUMAN Security Inc., Now Integrates with Ping Identity's DaVinci to Enable Frictionless Digital Identity Experiences
HUMAN Security Inc. (formerly White Ops), a security provider in safeguarding enterprises and internet platforms from sophisticated bot attacks and fraud to keep digital experiences human, announced a new integration with Ping Identity, a vendor in identity and access management (IAM). The partnership will unite the power of PingOne DaVinci orchestration capabilities with the Human Connector API to make real-time "bot-or-not" decisions within a user's session, allowing for frictionless authentication for human users and immediate "access denied" triggers for malicious bots or automated invalid traffic.
Exabeam Spotlight22 to Debut Product Innovations Live from New York at NASDAQ MarketSite
Exabeam, a leader in Next-gen SIEM and XDR, announced the upcoming date for its fifth annual users' conference, Spotlight22, which will be broadcast worldwide to Exabeam global customers, partners, and employees live from the NASDAQ MarketSite in New York on Oct. 17, 2022. At Spotlight22, security leaders and teams will learn how to get even more out of the Exabeam Fusion products they've already deployed, understand the latest Threat Detection, Investigation, and Response (TDIR) best practices, and see what their peers are doing to modernize security operations with Exabeam. Attendees will have access to Exabeam leaders and experts across the company's product, engineering, and customer success teams.
For consideration in future news round-ups, send your announcements to mcostello@solutionsreview.com.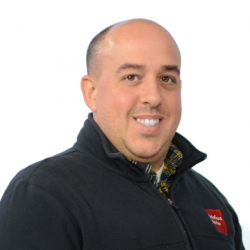 Latest posts by Mike Costello
(see all)