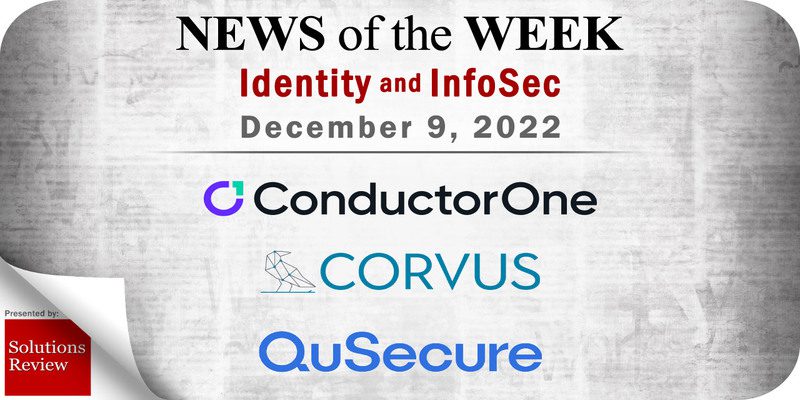 The editors at Solutions Review have curated this list of the most noteworthy identity management and information security news for the week of December 9. This curated list features identity management and information security vendors such as ConductorOne, Corvus Insurance, QuSecure, and more.
Keeping tabs on all the most relevant identity management and information security news can be a time-consuming task. As a result, our editorial team aims to provide a summary of the top headlines from the last month, in this space. Solutions Review editors will curate vendor product news, mergers and acquisitions, venture capital funding, talent acquisition, and other noteworthy identity management and information security news items.
Identity Management and Information Security News for the Week of December 9
---
ConductorOne Releases Baton, An Open Source Toolkit for Auditing Infrastructure Access
ConductorOne, Inc. announced the open sourcing of their identity connectors under the Apache 2.0 license in a project called Baton. Each connector gives developers the ability to extract, normalize, and interact with workforce identity data such as user accounts, permissions, roles, groups, resources, and more, so they can audit infrastructure access, start to automate user access reviews, and enforce the principle of least privilege.
RackTop Systems Collaborates with Seagate to Provide a Turnkey Solution
RackTop Systems, a provider of cyberstorage solutions which actively defend against ransomware and insider threats, announced a collaboration with Seagate Technology, a world leader in data storage and infrastructure solutions that combines RackTop's BrickStor Security Platform with Seagate's enterprise storage systems and drives. The offering will support Seagate Exos E JBOD systems, Exos X Fibre Channel and iSCSI SANs, and Exos CORVAULT self-healing block storage system, as well as integrate with Seagate Lyve Cloud object storage via RackTop's secure transparent data gateway feature.
senhasegura Raises $13M to Drive Growth Primarily in North America 
senhasegura, a Privileged Access Management (PAM) solution provider, announced a $13 million (Series A) investment from Graphene Ventures, a Palo Alto-based investor focused on the enterprise software and SaaS sectors. The investment, secured in a challenging global economy, will help senhasegura increase its global footprint and accelerate product innovation in its flagship 360º Privilege Platform.
Corvus Research: Ransomware Represent More Than Half of All Claims
Corvus Insurance, a provider of cyber insurance, this week released findings from its third Corvus Risk Insights Index, a compilation of industry trends and data analysis. The report compares top cyber risks from the evolving threat landscape. Notably, Corvus found that Fraudulent Funds Transfer (FFT) continues to generate substantial losses for organizations, comprising 36 percent of all claims in Q3 2022. FFT is defined as an attack in which threat actors use social engineering tactics to trick employees or vendors into transferring funds to the wrong accounts.
Strata Identity Joins the Cloud Security Alliance 
Strata Identity, the "Identity Orchestration" company, announced it has joined the Cloud Security Alliance (CSA), an organization dedicated to defining and raising awareness of best practices to help ensure a secure cloud computing environment. CSA harnesses the subject matter expertise of industry practitioners, associations, governments, and its corporate and individual members to offer cloud security-specific research, education, certification, events and products.
KuppingerCole: RSA an Overall Leader in Identity Governance
RSA, an identity security solutions provider, announced that KuppingerCole Analysts AG recently recognized the company as an overall leader in its Leadership Compass report on identity governance and administration (IGA). Additionally, KuppingerCole also named RSA a market, product, and innovation leader in its 2022 report. Noting the "substantial global customer base" and authentication market "dominance" of RSA, the KuppingerCole Leadership Compass highlighted several key strengths that RSA governance solutions deliver, including advanced support for identity and access intelligence capabilities, strong policy management, identity lifecycle management capabilities, and on-premises and SaaS connections, as well as other qualities. The KuppingerCole IGA Leadership Compass follows on the analyst company naming RSA an Identity Fabrics leader in a separate report earlier this year.
Top 10 Retailer Chooses QuintessenceLabs for Quantum Encryption 
QuintessenceLabs, a vendor in quantum cybersecurity, announced this week that one of the leading home retailers has migrated from RSA DPM to the QuintessenceLabs' Trusted Security Foundation (TSF) key and policy manager to ensure the security of its transactional data. This capability will enable the retailer to achieve Payment Card Industry (PCI) compliance while preparing it for the age of quantum computer-based threats.
Solutions Review's 4th Annual InfoSec Insight Jam Kicks Off Monday, December 12
The InfoSec Insight Jam is a community web event that shares expert insights and proven best practices for evaluating, deploying, and using Identity Management, Endpoint Security, and InfoSec solutions. The Solutions Review editors are bringing the best and brightest minds in the InfoSec industry together for a one-day social media gathering. Participants will include industry analysts, experts, influencers, practitioners, and software solution providers under the hashtag #InfoSecInsightJam. The Jam's first Expert Panel kicks off at 11am EST.
Find out the full schedule and where to watch here.
Ping Identity Solutions Now Available Through Carahsoft's U.S. DoD Enterprise Software Initiative
Ping Identity, an identity security solutions provider, announced that it has been named a vendor on the Department of Defense (DoD) Enterprise Software Initiative (ESI) Cybersecurity Multi-Award Blanket Purchase Agreement (BPA) awarded to Carahsoft Technology Corp., The Trusted Government IT Solutions Provider. The ten-year agreement will make it easier and faster for the DoD and U.S. Intelligence Community (IC) organizations to purchase Ping Identity's identity security solutions.
QuSecure's Rebecca Krauthamer Named One of Industry's Most Innovative Women of the Year in Technology
QuSecure, Inc., a provider of post-quantum cybersecurity (PQC), announced that Co-Founder and Chief Product Officer (CPO) Rebecca Krauthamer has been honored in the 19th annual Stevie Awards for Women in Business awards program as an award winner in the "Most Innovative Women of the Year – Technology" awards category. The Stevie Awards for Women in Business is an international competition produced by the creators of the prestigious International Business Awards and American Business Awards. More than 1,500 nominations from organizations and individuals around the world from 27 nations were submitted to the awards this year. More than 200 business professionals made up the judging committees and determined the award winners.
---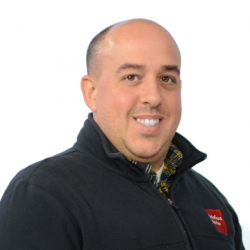 Latest posts by Mike Costello
(see all)