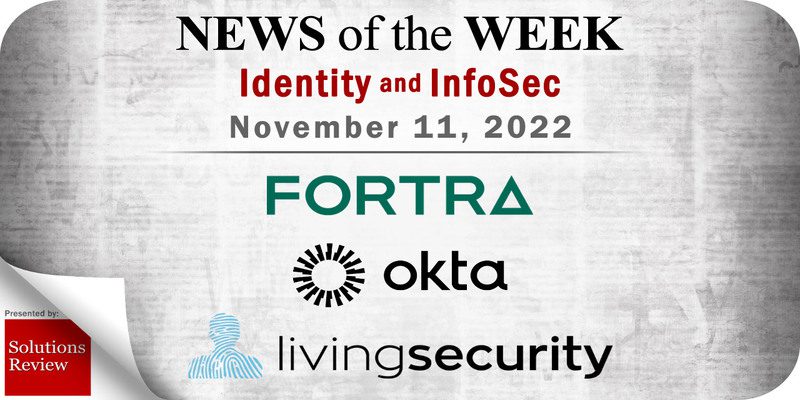 The editors at Solutions Review have curated this list of the most noteworthy identity management and information security news for the week of November 10. This curated list features identity management and information security vendors such as Okta, Fortra, Living Security, and more.
Keeping tabs on all the most relevant identity management and information security news can be a time-consuming task. As a result, our editorial team aims to provide a summary of the top headlines from the last month, in this space. Solutions Review editors will curate vendor product news, mergers and acquisitions, venture capital funding, talent acquisition, and other noteworthy identity management and information security news items.
Identity Management and Information Security News for the Week of November 10
---
Okta Introduces Okta Customer Identity Cloud
This week, Okta, an identity provider, unveiled Okta Customer Identity Cloud, an easy-to-implement and customizable customer identity solution that helps organizations streamline registration and login across any device, stack, or platform, for higher customer acquisition and retention, a better experience, and a fuller view of users. Okta Customer Identity Cloud including the new use cases for Consumer Apps and SaaS Apps is available now. For SaaS Apps, enhancements for the Okta Workforce Enterprise Connection and Organizations are available today for Enterprise and B2B self-service customers. New capabilities for Consumer Apps will be available by the end of Q2 2023, with support for Highly Regulated Identity as an Enterprise Add-on.
Veza Debuts Authorization Platform for Data in AWS Marketplace
Veza, a data security company, announced that its Core Authorization Platform is now available to purchase in AWS Marketplace, a digital catalog with thousands of software listings from independent software vendors (ISV) that make it easy to find, test, buy, and deploy software that runs on Amazon Web Services (AWS). Veza has also joined the AWS Partner Network (APN) to deliver secure, scalable and reliable services to organizations operating on AWS and has achieved the AWS Security Competency in the Identity & Access Management category.
Medibank Says Hacker Accessed Data of 9.7 Million Customers, Refuses to Pay Ransom
Medibank Private Ltd (MPL.AX), Australia's biggest health insurer, on Monday said no ransom payment will be made to the criminal responsible for a recent data theft, wherein around 9.7 million current and former customers' data was compromised. Highlighting findings of the firm's investigation to date, Medibank confirmed that name, date of birth, address, phone number, and email addresses for around 9.7 million current and former customers were accessed in the data theft.
HelpSystems Is Now Fortra
HelpSystems announced that it has become Fortra. With a stronger line of defense from a single provider, organizations of all kinds can look to Fortra to increase security maturity while reducing the burdens to everyday productivity. In recent years, Fortra has grown to more than 3,000 employees with offices in 18 countries and over 30,000 global customers. As part of this evolution, the company shifted its focus to cybersecurity and automation, building a portfolio with capabilities in data security, infrastructure protection, and managed security services. These acquisitions have included Alert Logic, Digital Guardian, Cobalt Strike, Tripwire, Digital Defense, Terranova Security, Agari, PhishLabs, Core Security, GoAnywhere, Titus, and other well-known software and services providers.
REPORT: "Organizations Struggle to Attain PKI Maturity as the Digital Security Landscape Evolves"
The study found that while the top use cases for PKI are still of the traditional variety, such as TLS/SSL, securing VPN and private networks, and digital signing, it's the regulatory landscape and newer use cases – such as cloud-based services and IoT – that are driving the adoption of PKI. As a case in point, IT security teams report rising demand for PKI driven by the regulatory environment – ranked by 31 percent of respondents from 24 percent the previous year– and BYOD and internal device management, which more than doubled from 11 percent in 2021 to 24 percent in 2022. And yet, organizations continue to struggle with applying the resources needed to effectively manage their PKI implementations, with 64 percent of respondents citing insufficient resources, lack of skills, and no clear ownership as the top three challenges to enabling applications to use PKI – rising from 51 percent in last year's survey. Highlighting the need for resources, nearly half (48 percent) identified a 'lack of visibility of the application that will depend on PKI,' rising from 34 percent in 2021. Similarly, another jump came with 35 percent of respondents identifying requirements being too fragmented or inconsistent, up from 28 percent in 2021.
Keyo Launches First Biometric Identity Network Powered By Palm Scanning Technology
Keyo, a biometric identity company, announced the launch of the Keyo Network, a global biometric identity system featuring the industry's most powerful palm scanner and software platform. Keyo allows anyone to verify who they are and access what is theirs with a contactless scan of their hand, giving people the power to open doors, pay at stores, redeem tickets, and more without needing phones, fobs, cards, or keys. The Keyo Network is designed to create a convenient and consistent experience for people across different companies, countries, and use cases. It is powered by patented hardware and software that map and encrypt the unique patterns of the palm, and can scale up to billions of users
OUT OF STEALTH: New SURF Zero-Trust Enterprise Browser
The newly available SURF zero-trust, identity-first enterprise browser reinforces organizational security by providing the critical visibility necessary to prevent attacks while simultaneously ensuring every user's privacy. The platform streamlines collaboration and delivers easy, secure access to applications and data for managed and unmanaged (BYOD) devices. The platform already has deep integration with Okta's identity platform and access management (IDP) technology.
VetsinTech Awards Companies for Their Commitment to Veterans
VetsinTech, a national non-profit dedicated to supporting veterans through tech-based programs and opportunities in education, employment, and entrepreneurship, announced the recipients of its annual awards. Each year, VetsinTech recognizes companies that have significantly impacted opportunities for veterans in education, employment, and entrepreneurship throughout 2022. As part of its annual fundraising Gala, "Vets 2.0 — Beyond the Transition," VetsinTech awarded several organizations and individuals with its "Beyond the Call of Duty" awards that recognize outstanding commitment to supporting veterans.
Solutions Review Secures Wayne Dorris, Kimberly Biddings, and Steve Benton for Panels
With the 4th Annual InfoSec Insight Jam just around the corner, Solutions Review is pleased to announce Wayne Dorris of Axis Communications, and Kimberly Biddings of BIO-key are scheduled to appear December 12th as part of an exclusive executive roundtable event.
Living Security Partners with SpyCloud
Living Security, a Human Risk Management platform, this week announced a partnership with SpyCloud, a Cybercrime Analytics vendor, to better identify segments of human risk inside organizations and help security leaders create a proactive plan to mitigate attacks. Living Security's Unify Human Risk Management Platform now includes SpyCloud's Identity Risk Engine, which delivers risk assessments and key risk indicators (KRIs) based on analysis of 300+ billion assets recaptured from data breaches and malware victim logs being traded in the criminal underground. The KRIs link email addresses, usernames, passwords, and PII across employees' exposed online personas, giving security teams a fuller picture of individuals' security hygiene, as well as details on the scope, recency, and severity of their darknet exposures. Through this partnership, organizations will be able to better identify the most vulnerable segments within their workforce, including employees with compromised accounts and credentials, so they can best mitigate the human risk exposure and measure their behavior over time.
---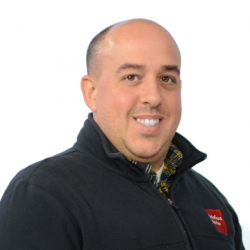 Latest posts by Mike Costello
(see all)