Identity Management and Information Security News for the Week of November 3; Markmonitor, CISO Global, Xage Security, and More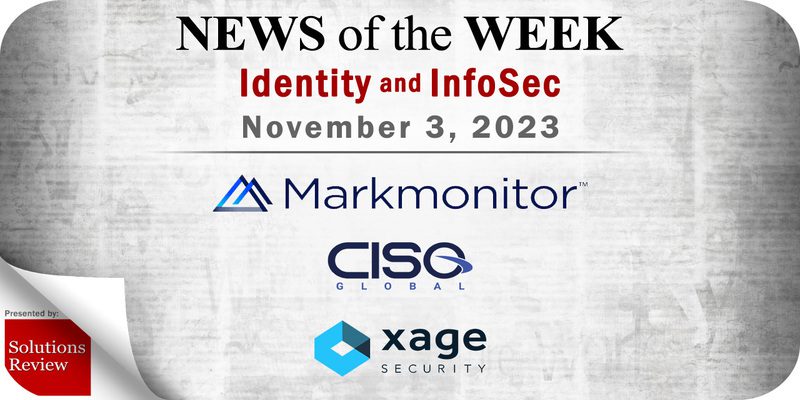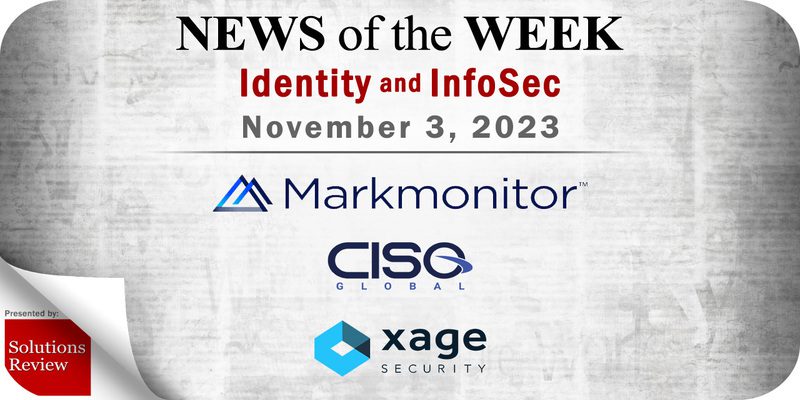 The editors at Solutions Review have curated this list of the most noteworthy identity management and information security news for the week of November 3. This curated list features identity management and information security vendors such as Markmonitor, CISO Global, Xage Security, and more.
Keeping tabs on all the most relevant identity management and information security news can be a time-consuming task. As a result, our editorial team aims to provide a summary of the top headlines from the last month, in this space. Solutions Review editors will curate vendor product news, mergers and acquisitions, venture capital funding, talent acquisition, and other noteworthy identity management and information security news items.
Widget not in any sidebars
Identity Management and Information Security News for the Week of November 3
---
Markmonitor Launches Next-Generation Enterprise Web3 Solutions
Markmonitor, a domain management solutions provider, this week announced the launch of its new Web3 solutions. Markmonitor has developed relationships with the most prominent NFT domain providers and other Web3 security partners – such as BitGo and MetaMask Institutional (MMI) – to provide a broad range of NFT domain solutions catered to corporate brands and their needs in the Web3 space.
CISO Global Licenses Proprietary AI and Neural Net Intellectual Property to New Partner
CISO Global, an industry leader as a managed cybersecurity and compliance provider, has announced the signing of a licensing agreement to provide its entire suite of next generation intellectual property to CRG Research, LLC. "Licensing our full intellectual property portfolio to providers who then create wholly separate offerings in the marketplace will result in new revenue streams for CISO," said CTO Jerald Dawkins, Ph.D., CISO Global. "The significance of this model is that it extends the reach of CISO Global's leading-edge technology to help solve widespread cybersecurity problems. CRG is the first of a host of new partners who will build on top of our products to address issues and improve cybersecurity effectiveness across multiple industries."
KnowBe4 Study: "More Than 4 In 5 Workers Exhibit Poor Security Behaviours"
KnowBe4, a provider of security awareness training and simulated phishing platform, this week released its TAPPED Out Report which stands for Tired, Angry, Pissed, Pressed, Emotional and Distracted. It offers a detailed look into the security attitudes and behaviours of over 6,000 workers in the UK; specifically, 2,007 full time working from a remote location, 2,006 full time working in a hybrid fashion and 2,003 full time working from the office.
Xage Security Receives $20M in Additional Funding
Xage Security, a zero trust cybersecurity company, announced it has raised $20 million in an additional funding round, bringing total funding to $80M. Existing investors, including Piva Capital, March Capital, SCF Partners, Overture Climate Fund, Valor Equity Partners and Chevron Technology Ventures, as well as new investor Science Applications International Corporation participated in the round. SAIC and Xage also announced a strategic collaboration (Xage Security and SAIC to Accelerate Zero Trust Adoption in Critical Infrastructure) to deliver zero trust security solutions to critical infrastructure and distributed operations including Operational Technology (OT), Information Technology (IT) and cloud environments.
---
Expert Insights Section
Watch this space each week as our editors will share upcoming events, new thought leadership, and the best resources from Insight Jam, Solutions Review's enterprise tech community for business software pros. The goal? To help you gain a forward-thinking analysis and remain on-trend through expert advice, best practices, trends and predictions, and vendor-neutral software evaluation tools.
EleKtra-Leak Cryptojacking Attacks and Why We Need to Do Better
"Disappointing that we are struggling with the very simplest of cybersecurity issues. It's not complicated, you just don't post your keys in public. However, it's also not fair to blame developers. There are thousands of these kinds of issues, and they have to perform perfectly on all of them or get dragged for being dumb or lazy. We need better authentication systems that make it easier for developers to make good choices. They should never be tempted to put their keys in AWS because doing things the right way is too difficult. Let's make the secure path the easiest one as well." – Jeff Williams, Co-Founder and CTO of Contrast Security
Widget not in any sidebars