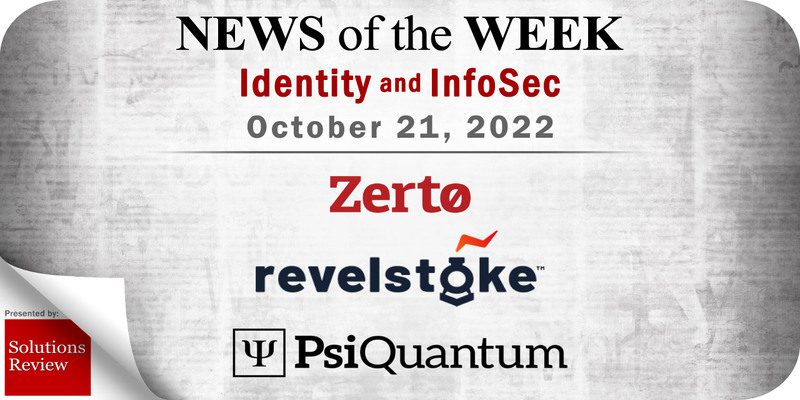 The editors at Solutions Review have curated this list of the most noteworthy identity management and information security news for the week of October 21. This curated list features identity management and information security vendors such as Zerto, Revelstoke, PsiQuantum, and more.
Keeping tabs on all the most relevant identity management and information security news can be a time-consuming task. As a result, our editorial team aims to provide a summary of the top headlines from the last month, in this space. Solutions Review editors will curate vendor product news, mergers and acquisitions, venture capital funding, talent acquisition, and other noteworthy identity management and information security news items.
Identity Management and Information Security News for the Week of October 21
---
Zerto Research Reveals Organizations Have Incomplete Ransomware Strategies
Zerto, a Hewlett Packard Enterprise company, released findings from its 2022 Ransomware Strategy Survey conducted at VMware Explore US in August/September 2022. The research revealed gaps in companies' data protection and ransomware strategies that they will want to address to reduce their risk of interrupted business operations in the event of a ransomware attack.
Sophos'  MDR Service Launches Compatibility with Third-Party Cybersecurity Technologies
Sophos, a global leader in cybersecurity, launched new third-party security technology compatibilities with Sophos Managed Detection and Response (MDR) to better detect and remediate attacks with speed and precision across diverse customer and operating environments. The industry-leading service with more than 12,000 customers now integrates telemetry from third-party endpoint, firewall, cloud, identity, email, and other security technologies as part of the Sophos Adaptive Cybersecurity Ecosystem.
Comparitech Report: Does the Price of Bitcoin Impact Ransomware Attacks and Ransoms?
Consumer tech research experts, Comparitech, recently analyzed the average monthly bitcoin price versus the number of ransomware attacks, the average ransom demanded, and the average ransom paid from 2018 to September 2022. Their conclusion? A strong correlation across a number of areas– both worldwide and in the US.
Code42 Incydr Automates File Source Labeling 
Code42, Inc., an Insider Risk Management (IRM) provider, announced it has enhanced its Incydr Risk Indicators (IRIs) within the Code42 Incydr product to detect and label file downloads from corporate systems. By understanding the source system from which a file came, security analysts can better prioritize what data exfiltration presents the most risk to their organization. For example, if an employee were to download a customer list from their employer's CRM (like Salesforce) and upload it to a personal email account (like Gmail), Incydr would detect the movement and flag the customer list as a CRM document exfiltration.
Revelstoke Teams Up with BreachRx, Offering Users Automated Incident Response and Compliance Solutions
Revelstoke has partnered with BreachRx to unify automated incident response and compliance capabilities with the Revelstoke enterprise Security Orchestration, Automation, and Response (SOAR) platform. The combined effort is designed to help people find answers to security and regulatory compliance questions in real-time and at the height of a crisis.
FIDO Alliance Study Reveals Global Password Usage is Down
This week, the FIDO Alliance published its second annual Online Authentication Barometer, which gathers insights into the state of online authentication in 10 countries across the globe. New to the Barometer this year, the FIDO Alliance has begun tracking authentication in the metaverse, and plans to incorporate utilization of technologies like passkeys in future editions of the report.
Sift Unveils New Platform Upgrades
Sift, a Digital Trust & Safety platform, announced the release of several new capabilities designed to help fraud fighters do their jobs more efficiently, and make smarter, faster decisions. Sift's platform upgrades also come at a time when businesses are facing more fraud than ever before. In fact, Sift's Q3 Digital Trust & Safety Index shows a 131 percent increase in account takeover attacks in the first half of 2022 vs. the same period last year.
Unit21 Launches Dao, A Fintech Fraud Platform
Unit21 and other members of the U.S. consumer fintech community have come together to launch the Fintech Fraud Decentralized Autonomous Organization (DAO), a decentralized network that uses a collaborative data-sharing approach to identify and combat fraud. The DAO enables participating organizations to access aggregated user data through an open-source platform, enabling greater transparency and quicker identification of suspicious and potentially fraudulent activity.
Frank Roe Joins LastPass Board of Directors
LastPass has named Frank Roe, CEO of SmartBear Software, to its board of directors. Throughout his nearly 25 years of experience as a technology leader and innovator, Roe has developed a comprehensive understanding of business complexities, the importance of collaborative leadership and the keys to creating sustained, long-term company growth through his previous positions, including those at Oracle and Rogue Wave Software. In his position as a board member at LastPass, Roe is expected to help shape LastPass' business management and strategic planning, as well as evaluate company performance and support key stakeholder relationships.
Socure Estimates Financial Losses from Synthetic Fraud to Reach Nearly $5B by 2024
Socure, a provider of digital identity verification and fraud solutions, recently issued a report on synthetic identity fraud that illustrates the growing threat this type of fraud posed to US industries, government agencies, and consumers. If synthetic identity fraud continues to go unchecked, losses will double from the estimated $2.48 billion this year to nearly $5 billion in 2024, the research shows.
Solutions Review Announces 4th-Annual InfoSec Insight Jam 2022
The InfoSec Insight Jam is a community web event that shares expert insights and proven best practices for evaluating, deploying, and using Identity Management, Endpoint Security, and InfoSec solutions. The Solutions Review editors are bringing the best and brightest minds in the InfoSec industry together for a one-day social media gathering. Participants will include industry analysts, experts, influencers, practitioners, and software solution providers under the hashtag #InfoSecInsightJam.
PsiQuantum and Air Force Research Laboratory Announced $22.5M Contract to Build the World's First Utility-Scale Quantum Computer
This week, PsiQuantum announced a $22.5 million contract with the Air Force Research Laboratory (AFRL) in Rome, N.Y., to formalize their partnership in quantum computing. This project enables a collaboration between PsiQuantum and AFRL on quantum photonic chips, which are used to control and process qubits based on single photons. These advanced quantum photonic chips will be co-designed by PsiQuantum and AFRL and manufactured at GlobalFoundries semiconductor fab in Malta, N.Y.
---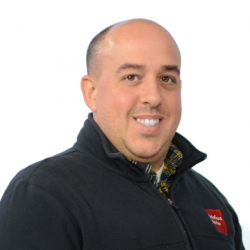 Latest posts by Mike Costello
(see all)