Identity Management and Information Security News for the Week of September 22; Regula Forensics, AU10TIX, LogicGate, and More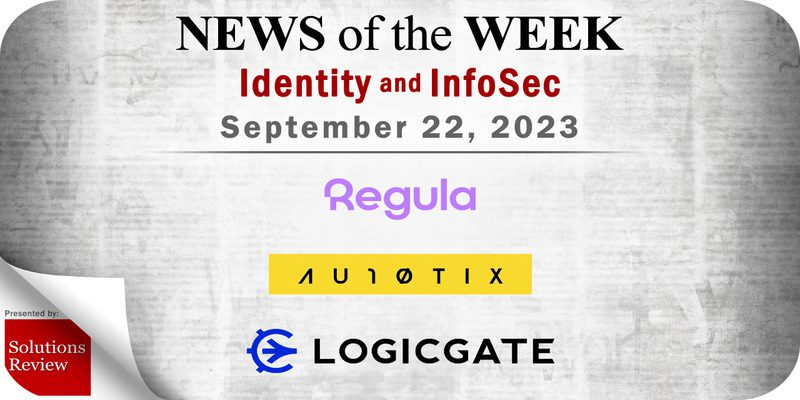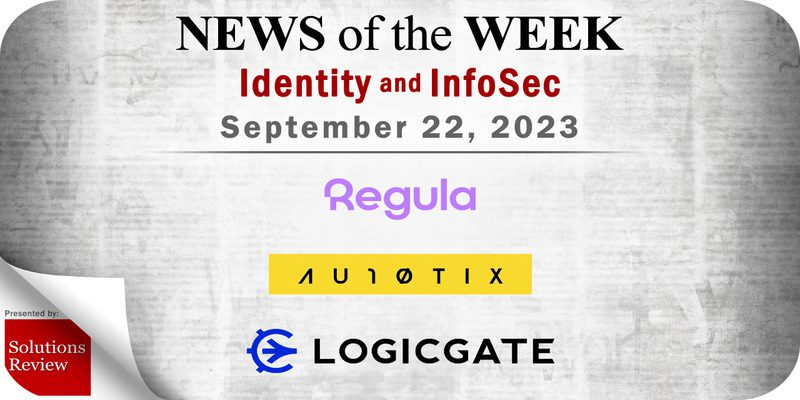 The editors at Solutions Review have curated this list of the most noteworthy identity management and information security news for the week of September 22. This curated list features identity management and information security vendors such as Regula Forensics, AU10TIX, LogicGate, and more.
Keeping tabs on all the most relevant identity management and information security news can be a time-consuming task. As a result, our editorial team aims to provide a summary of the top headlines from the last month, in this space. Solutions Review editors will curate vendor product news, mergers and acquisitions, venture capital funding, talent acquisition, and other noteworthy identity management and information security news items.
Widget not in any sidebars
Identity Management and Information Security News for the Week of September 22
---
Sybrin and Regula Launch Joint Onboarding Solution for US Banks and Financial Services
This week, Regula, a global developer of forensic devices and identity verification solutions, has joined forces with Sybrin, a provider of enterprise software solutions for the Financial Services, Insurance, and Telecom industries. Together, they are introducing a streamlined onboarding workflow tailored to the needs of financial service businesses across the USA. The joint solution offered by Sybrin and Regula enables banks and other financial institutions to seamlessly and securely onboard and verify their customers. This is achieved via combining Regula Document Reader SDK and Regula Face SDK with Sybrin's KYC (Know Your Customer) onboarding solution and orchestration engine. As a result, financial service businesses can establish a comprehensive identity verification workflow that includes advanced document checks, selfie capture, and liveness verification, all in line with the strictest regulations.
LogRhythm Announces Partnership with Novacoast
LogRhythm, a SIEM solutions provider, this week announced its partnership with Novacoast, a cybersecurity, identity and access company specializing in managed security, engineering, development, and advisory services. This partnership marks a significant milestone as Novacoast becomes the first LogRhythm Axon service provider to provide level one and level two analyst services and custom content for the cloud-native SaaS SIEM platform. LogRhythm is also taking a strategic step forward by transitioning its own security operations to the new Axon platform.
QuSecure Selected to Present on Quantum and AI at Mobile World Congress Las Vegas 2023
QuSecure, a post-quantum cryptography (PQC) solutions provider, announced that it has been selected to present at Mobile World Congress (MWC) Las Vegas 2023 being held next week. Company Co-founder and Chief Product Officer (CPO) Rebecca Krauthamer will participate in a talk titled "Quantum and AI: A Powerful Partnership" at 11:30 am PDT on Sept. 28 on Stage B – W229, Level 2. The speaking event is described: With compute speeds nearly 158 million times faster than the most sophisticated supercomputer, quantum computing could process in four minutes a request that a traditional supercomputer would take 10,000 years to do. A recent report revealed that the global quantum computing market size was valued at around $457.9 million in 2021 and is projected to reach $5,274.9 million by 2030. Combine this incredibly powerful technology with the power of Artificial Intelligence (AI) and we could unlock the infinite potential for solving societal and technological problems that are beyond the capabilities of our current understanding. This partnership could revolutionize tasks such as how we train AI effectively, how we detect and fraud and enhance data security, and how it could unlock unprecedented possibilities in fields such as healthcare and security.
Pizza Hut Australia: "Nearly Two-Hundred Thousand Customers Affected by Data Breach"
Nearly 200,000 Pizza Hut Australia customers have had their data leaked, following a cyber attack earlier this month. On Wednesday, a spokesperson for Pizza Hut Australia told ABC it became aware of the cyber incident in early September, where an unauthorized third party accessed some of the company's data. According to DataBreaches.net, hacking group ShinyHunters are allegedly the group behind the hack. The spokesperson said the data is limited to the Australian market and does not impact Pizza Hut's operations in any other country.
Identity Verification Provider AU10TIX Chosen by Guesty, a Property Management Platform
AU10TIX, an identity verification solutions provider, this week announced that Guesty, the property management platform for the short-term rental and hospitality industry, has selected AU10TIX's fully automated identity verification (IDV) solution to help meet global regulatory requirements and minimize fraud risk.
LogicGate Launches Automated Evidence Collection Feature for Risk Cloud Platform
LogicGate, a Governance, Risk, and Compliance (GRC) solutions provider, announced this week the release of the Automated Evidence Collection feature designed to elevate productivity, control effectiveness and data-driven decision-making while ensuring compliance and security across more than 20 cybersecurity and privacy frameworks. This new capability systematically and automatically gathers, validates, and manages critical data and evidence central to an organization's risk management and compliance initiatives. By employing automated workflows, it seamlessly assimilates data from diverse sources, from internal systems to external data feeds, reducing the need for manual interventions and mitigating the risk of human inaccuracies.
---
Expert Insights Section
Watch this space each week as Solutions Review editors will use it to share new Contributed Content Series articles, Contributed Shorts videos, Expert Roundtable and event replays, and other curated content to help you gain a forward-thinking analysis and remain on-trend. All to meet the demand for what its editors do best: bring industry thought leaders together to publish the web's leading insights for enterprise technology practitioners.
PBAC: Why Policy-Based Access Control is the Future of Identity Management
Oren Ohayon Harel of PlainID argues why RBAC and ABAC are dead, and PBAC is the future of identity management. Passwords are the primary way through which bad actors access complex environments: a single password dump unrelated to your company can sow the seeds of your company's demise. Given that fact, the standard identity management solutions that businesses have deployed over the years — primarily Role-Based Access Control (RBAC) and, more recently Attribute-Based Access Control (ABAC) — can no longer be relied on for comprehensive protection. Only Policy-Based Access Control (PBAC) can grant businesses the flexibility and transparency needed to keep their assets out of the hands of bad actors.
Closing the Talent Gap: Technological Considerations for SOC Analyst Retention
Kayla Williams of DEVO presents three technological considerations to close the talent gap and retain SOC analysts. Two of the most common refrains among cybersecurity leaders are that there's a major skills gap and that existing employees are burning out. According to ISC(2), there's a global workforce gap of 3.4 million people in cybersecurity. Not only are there not enough people, but those who are working in cybersecurity are at high risk for burnout. This challenge is particularly prevalent when it comes to working in the security operations center (SOC). For security leaders, overcoming these twin challenges is key– but it will require an understanding of just how serious the burnout threat is and of the technology and processes required to mitigate that threat.
I Tricked AI, and I Liked It
Christian Taillon and Mike Manrod of Grand Canyon Education take us to school on the buzz, the applications, and the very real threat of AI in the cybersecurity space. The buzz around emerging capabilities related to Artificial Intelligence (AI) and ChatGPT is like nothing I have experienced during my career in technology. I walk past a breakroom that I usually expect to buzz with enthusiasm about the latest sports team or sitcom gossip, and instead hear talk about ChatGPT, AI, and Large Language Models (LLMs)– and that is not even in the IT breakroom. It seems we all grew up with the fictional lore of robots and AI– ranging from fantastical utopian notions to doomsday scenarios where we watch in horror as our own creations conspire to destroy us. While it remains unclear if our creations will condemn or liberate us, it has become clear that Artificial Intelligence (AI) will be a defining factor as this next chapter for humanity unfolds. In times of uncertainty, we often find ourselves looking for a crystal ball so that we can see the future, avoiding hazards and amassing a windfall by wagering on all the winners. Sadly, there is no crystal ball. There is a time capsule available, which can help us to gain some useful insights. Those of us who have been working in cybersecurity for a while, have already been through at least one AI craze, which started around a decade ago. This has served as a very effective hype-inoculation for experienced security practitioners, as we step back to think of what emerging technologies such as ChatGPT will disrupt, along with what aspects may be overhyped.
Widget not in any sidebars