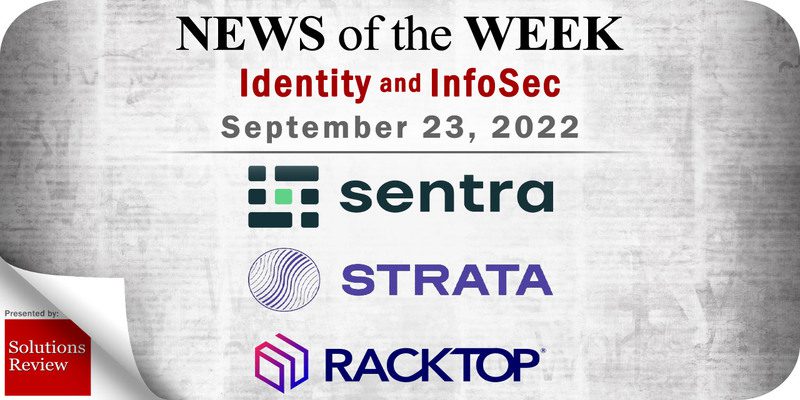 The editors at Solutions Review have curated this list of the most noteworthy identity management and information security news for the week of September 23. This curated list features identity management and information security vendors such as Sentra, Strata Identity, Racktop Systems, and more.
Keeping tabs on all the most relevant identity management and information security news can be a time-consuming task. As a result, our editorial team aims to provide a summary of the top headlines from the last month, in this space. Solutions Review editors will curate vendor product news, mergers and acquisitions, venture capital funding, talent acquisition, and other noteworthy identity management and information security news items.
Identity Management and Information Security News for the Week of September 23
---
Data Security Startup Sentra Launches in US Market
Sentra, a cloud data security company, today formally announced its arrival in the U.S. market with the opening of its new North American headquarters in New York City. Backed by Bessemer Venture Partners and Zeev Ventures, Sentra enables security teams to gain full visibility and control of cloud data, as well as protect against sensitive data breaches across the entire public cloud stack. The company was recently recognized by Gartner as a Sample Vendor for Data Security Posture Management in the Hype Cycle report for Data Security 2022.
American Airlines Feels Turbulence from Data Breach
Hackers gained access to personal data for a "very small number" of American Airlines customers and employees through a phishing scam that affected some employee email accounts, the airline confirmed. American discovered the breach in July, according to a Sept. 16 notification letter shared with state regulators in Montana. The airline said in a written statement that it has no evidence that any personal data had been misused.
Code42 Incydr Now Supports Git Commands
Code42 has enhanced source code exfiltration detection within its Code42 Incydr product to specifically support Git push commands to personal or unsanctioned code repositories, whether GitHub, Bitbucket, Azure DevOps, and other Git-supported platforms. Incydr detects and prioritizes data transfer to locations other than sanctioned locations and then alerts security analysts with the context they need to take swift action through an appropriate response control. This capability is available for Windows, Mac, Linux, and VDI environments.
Strata CEO Invited to Present at the Cloud Security Alliance's SECtember 2022 Conference
Strata Identity, a platform for Identity Orchestration for multi-cloud, announced that Eric Olden, its Co-Founder, and Chief Executive Officer, has been invited to present at the Cloud Security Alliance (CSA) SECtember 2022 Conference, where he will explain a new, standards-based approach for multi-cloud identity management. SECtember is next Thursday, September 29th.
Comparitech Launches US Ransomware Map; Updates Daily
This week, consumer tech research group ComparitechComparitech, launched a live map that plots ransomware attacks in the US, reportedly "the first of its kind." This map updates weekly and pinpoints the locations of each ransomware attack in the US from 2018 to the present day. Where available, it includes the ransom amount, whether or not the ransom was paid, the targeted entity and industry, and the strain of ransomware used. Comparitech's researchers search through state reports, industry news, and cybersecurity databases to find the latest ransomware attacks on US businesses, healthcare organizations, educational institutions, and government agencies.
SecurityPal Emerges from Stealth with $21M.
SecurityPal, a consolidated solution for companies to solve their security review challenges, emerged from stealth mode and announced a $21 million Series A led by Craft Ventures with participation from Martin Casado at Andreessen Horowitz and angel investors, including Frederic Kerrest, Executive Vice Chairman, Co-Founder, and COO at Okta, Anne Raimondi, COO of Asana, Iman Abuzeid CEO of Incredible Health, and Dev Nag, serial entrepreneur and investor. While in stealth/through word of mouth, SecurityPal quickly became the default choice for hundreds of companies, including Figma, NASDAQ-listed Monday.com, and Loom, to navigate the security review process while assuaging the concerns of the modern security-sensitive buyer. The new funding will be used to transform the chaotic and unpredictable security review process from a mountain of paperwork to the only consolidated platform with a "white-glove service."
RackTop Named Leader in GigaOm Sonar Report
RackTop Systems, the provider of Cyberstorage, an unstructured data solution that actively defends against ransomware and insider threats, announced it has been recognized as the leader in GigaOm's Sonar Report for File-Based Primary Storage Ransomware Protection, 2022. RackTop achieved the highest rating as the Leader and top Innovator, demonstrating fast time to value and breadth of solutions. The report recognizes the need for prioritizing ransomware protection on primary storage systems and proactive identification and mitigation of threats to "ensure that primary data is minimally impacted by ransomware attacks, guaranteeing a normal flow of business operations while also mitigating the consequences of financial, regulatory, and reputational impact." The report includes resources and recommendations for users to review vendor rankings, key product insights, and differentiating features of ransomware protection solutions in the space.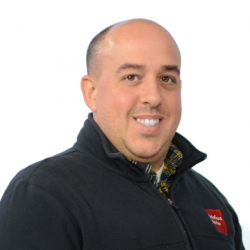 Latest posts by Mike Costello
(see all)