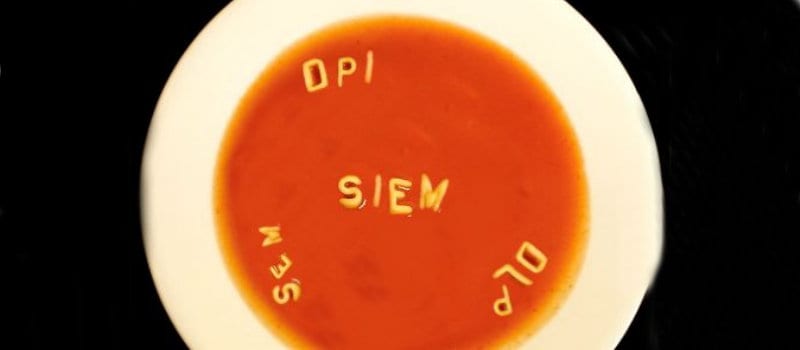 In the past decade, Security Information and Event Management (SIEM) has emerged as one of the most essential tools in IT security. In 2017, SIEM is a mature market, and a mainstay in enterprise security, but that doesn't mean that dealing with SIEM and security analytics solutions has gotten any easier over the past decade.
SIEM has a reputation as a complex and convoluted product, and those complications often start with the most basic roadblock: jargon. There's a seemingly endless torrent of terminology surrounding information security, and the acronyms just keep piling up—first there was SIM and SEM, now we have SIEM. CmDb, DLP, DPI—it can all get a little dizzying. Worst of all, you can hardly find an explanation that doesn't reference another half dozen ciphered terms.
At Solutions Review, we do our best to provide IT professionals with the top Information Security news, best practices, and buyer's guides, and in keeping with that mission, we now bring you a quick and easy way to decipher the growing collection of SIEM terminology: The Solutions Review SIEM Glossary.SIEM may be keeping security from drowning in event data but it's burying them in acronyms.
From Active Response to vulnerabilities, Solutions Review's A to Z SIEM Glossary has definitions for over 50 of the most popular SIEM and Security Analytics terms and acronyms.
Defined terms include:
Active Directory
Active Monitor
Active Response
Advanced Persistent Threat (APT)
Analytics
API
Audit
Bandwidth
Big Data
Big Data Analytics
Black Hat
Bot
Botnet
Breach
CISSP
CIO
CISO
Compliance
CFAA
CmDb
Cybersecurity
Dashboard
Database
Data Aggregation
Data Exfiltration
Data Flow Analysis
DLP
Data Migration
Data Visualization
DDoS
DPI
Encryption
Endpoint
Event
Event Correlation
Exploit
False Positive
FERPA
FIM
FISMA
Flow
Flow Log
Flow Sources
Gateway
GLBA
GPG 13
GRC
Hacker
Heterogeneous Network
HIPAA
Honeypot
Hybrid IT
Identification
Incident response
Information Security
Infrastructure
IP
Intrusion Detection and Prevention Systems
Legacy Solution
Local Area Network (LAN)
Log Files
Logging
Log Aggregation
Log Management
Log Source
Machine Learning
Malware
Metadata
NERC CIP
Network Behavior Anomaly Detection
Network Monitoring
Network Scanning
Network Security
Next Generation Firewall
Node
OSI Model
OPSEC
Packet Segmentation
PCI DSS
Penetration Testing
Perimeter
Ping
Predictive Analytics
Ransomware
Real-Time Analytics
Remote Access Kit
Reporting
Rootkit
Route Analytics
Routing Protocols
Sandbox
Secure Sockets Layer
SIEM
SEM
SIM
SLA
Security Incident
Security Manager
Security Policy
SaaS
SOX
SD-WANf
Spyware
Targeted Attack
Threat Intelligence
Trojan
UTM
UBA
Virus
Vulnerability
Vulnerability Scanning
Web Server
White Hat
Wide Area Network
Zero Day Attack
Widget not in any sidebars

Latest posts by Jeff Edwards
(see all)