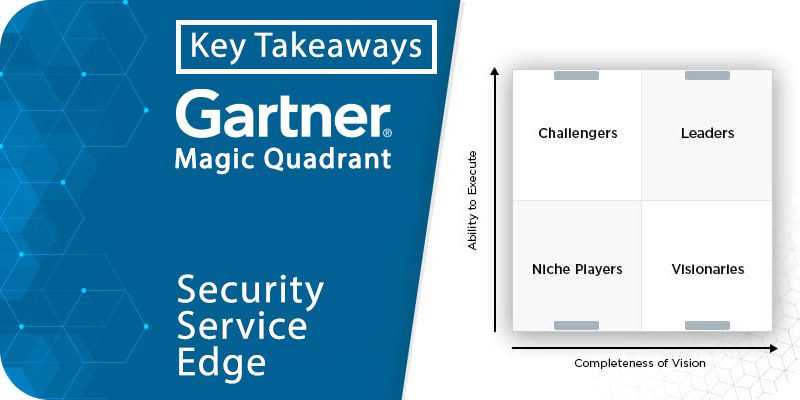 The editors at Solutions Review highlight the key takeaways from the inaugural Gartner Magic Quadrant for Security Service Edge and provide an analysis of the report.
New to 2022, Analyst house Gartner, Inc. released the inaugural edition of its Magic Quadrant for Security Service Edge. Gartner defines Security Service Edge (SSE) as a platform that secures access to the web, cloud services, and private applications. Capabilities include access control, threat protection, data security, security monitoring, and acceptable-use control enforced by network-based and API-based integration. SSE is primarily delivered as a cloud-based service and may include on-premises or agent-based components. Gartner defines the user market as enterprises interested in Secure Access Service Edge (SASE) architecture, specifically SSE as part of a security suite and zero-trust network access (ZTNA). SSE customers may also be looking to secure remote users when the organization is virtual, is a heavy cloud consumer, or has no complex networking requirements for satellite locations.
Marketing predictions from Gartner include a 70 percent of organizations that implement agent-based ZTNA will choose an SSE provider for ZTNA, and 80 percent of organizations seeking SSE-related security services will purchase a consolidated SSE solution rather than individual stand-alone cloud access security broker, secure web gateway and ZTNA platforms; both predictions on-course for 2025.
In this Magic Quadrant, Gartner evaluates the strengths and weaknesses of 11 providers that it considers most significant in the marketplace and provides readers with a graph (the Magic Quadrant) plotting the vendors based on their ability to execute and completeness of vision. The graph is divided into four quadrants: niche players, challengers, visionaries, and leaders. At Solutions Review, we read the report, available here, and pulled out the key takeaways.
Gartner highlights the following providers in the Security Service Edge market: Zscaler, Netskope, McAfee Enterprise, Palo Alto Networks, Cisco, Bitglass, Lookout, Broadcom, iboss, Forcepoint, and Versa.
Leaders
Cloud-based security experts Zscaler scaled up to the top of the leader board. The California-based company's primary SSE platforms are Zscaler Internet Access (ZIA), Zscaler Private Access (ZPA), and Zscaler Digital Experience (ZDX). In the past year, Zscaler has improved its CASB offering by introducing API integrations with more SaaS applications, improving its data security features, and integrating RBI. Gartner estimates that it has a large share of the market for cloud-based SWGs and ZTNA.
Fellow Californian and SASE guru, Netskope find themselves on the leaderboard as well, with their SSE offerings included as part of the Netskope Security Cloud platform. Netskope's total private funding of an estimated $1 billion makes it one of the best-funded private companies in the SSE market. One of their core strengths is a strong SLA for uptime and latency. Their SLA offers a standard five-nines of availability and guarantees less than ten milliseconds of latency for unencrypted web traffic and 50 milliseconds for encrypted traffic.
The Californians cap the Leader quadrant with cybersecurity juggernaut McAfee Enterprise. Initially referred to as MVISION Unified Cloud Edge, their offering was rebranded as Skyhigh Security in March. McAfee Enterprise has one of the market's most straightforward and competitive pricing models. Packages are provided in three tiers, based on features included, such as private access and FWaaS. All bundles include RBI for risky websites at no additional cost.
Challengers
Cybersecurity experts, Palo Alto Networks, stake their claim in the Challengers quadrant. Their primary SSE offering, Prisma Access, saw a significant update in February with its 2.0 release. Changes include updated cloud management capabilities, DEM, an explicit proxy for its SWG, and CloudBlades to support API integration with third-party technologies such as RBI.
Joining Palo Alto in the Challengers quadrant is the jack of all cybersecurity trades, Cisco. Cisco's primary products for SSE are part of its Cloud Security line, including Cisco Umbrella, Cloudlock, and Duo Beyond. Their popularity lies within their affordability, ease of use, and deployment method. In 2021, Cisco added in-line DLP and an identity proofing service to its Umbrella Cloud Security Service and introduced RBI capability. It also introduced a cloud-based secure, managed remote access service based on its AnyConnect VPN technology.
Visionaries
In the Visionaries quadrant, we have cloud security experts, Bitglass. Bitglass found themselves acquired by cybersecurity giant, Forcepoint last October. At the time of the release from Gartner, Forcepoint offered another SSE solution, discussed below in the Niche Players category. For the sake of avoiding confusion, we are strictly observing Bitglass. Bitglass provides a robust set of highly customizable data security controls using the company's proprietary Field Programmable SASE Logic (FPSL) feature and integrated across SWG, CASB, and ZTNA functions. In addition, the company's AJAX-VM technology can enable agentless access, including via "Bring Your Own Device" (BYOD), to cloud services.
Look out for Lookout, as they also find themselves in the Visionaries quadrant. Lookout is one of the better funded but smaller private companies in the SSE market, having received an estimated $282.3 million over nine funding rounds. The Lookout platform includes advanced features like watermarking, encryption, tokenization, and the ability to automatically apply data classification labels to content.
Niche Players
In the Niche Players quadrant, we find Broadcom at the top. Their 2019 acquisition of Symantec opened the door for them into the SSE market. Their SSE offerings include Symantec Web Security Service, CloudSOC, and Symantec Secure Access Cloud. Broadcom was among the first in the market to have core SWG, CASB, and ZTNA components. Its strategy now focuses on tightly integrating these components to improve its unified SSE service.
Joining Broadcom near the top of the quadrant, we have iboss. The Boston native's SSE offering is part of their cloud-based SASE platform. The cloud security platform's new RBI function and data security capabilities are well integrated and applied across web, cloud services, and private applications. All iboss customers receive ZTNA licenses, with no separate license required.
Forcepoint (parent company of Bitglass) finds itself in the Niche Players category with its other platforms, Cloud Security Gateway, Cloud Access Security Broker, and Private Access. Forcepoint's SSE package includes features such as integrated cloud DLP and native RBI capabilities. Since acquiring Forcepoint, Francisco Partners has invested in the business. Gartner estimates that Forcepoint has healthy revenue and a healthy customer base.
We close out the Niche Players quadrants, as well as this breakdown of the Gartner Magic Quadrant for Security Service Edge report, with Versa and their SSE offering, Versa SASE. Versa built its SSE on its Versa Operating System (VOS), enabling it to build a tightly integrated set of SSE features that can be used as part of its cloud service or within its hardware offerings. Versa has a robust set of data security controls that can be applied both in-line and for data at rest in SaaS applications. These controls include support for fingerprinting, encryption, watermarking, redaction, and other advanced actions.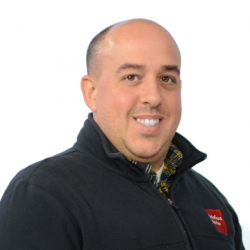 Latest posts by Mike Costello
(see all)