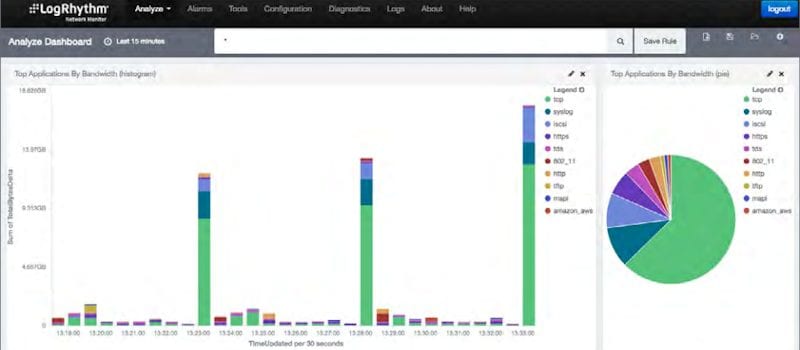 LogRhythm has announced the immediate availability of Network Monitor Freemium, a free version of its Network Monitor product. Network Monitor Freemium – also known as NetMon Freemium – is a commercial-grade network monitoring, forensics and analytics solution ideal for advanced threat detection and incident response. It enables the detection of threats traversing the network by identifying more than 2,700 applications and performing out-of-the-box, customizable analytics on network and deep packet application data in real time.
NetMon Freemium is specifically designed to deploy as a commercial-grade, network monitoring, forensics and traffic analytics solution that delivers unstructured search, real-time deep packet analytics, full packet capture, layer 7 application recognition, and more.
The primary differences between LogRhythm's NetMon product and NetMon Freemium version is the network bandwidth that can be supported— NetMon Freemium can support just 1Gb of bandwidth, a tenth of the capability of the for-pay model. Additionally, the freemium model is limited in the type of data that can be exported, as it can only export alerts.
"As a leader in cyber security, we believe it's important to give back to the community," said Chris Petersen, CTO and co-founder of LogRhythm.  "Full packet capture and traffic analytics products like NetMon are critically important in defending organizations of all sizes from advanced malware, zero-day attacks, and insider threats. However, due to cost and complexity, this class of technology has traditionally been out of reach to most, and primarily deployed by larger enterprises. With NetMon Freemium, we've created an option that's easy to adopt and use, offering a rapidly improved security posture for all users."
Widget not in any sidebars

Latest posts by Jeff Edwards
(see all)