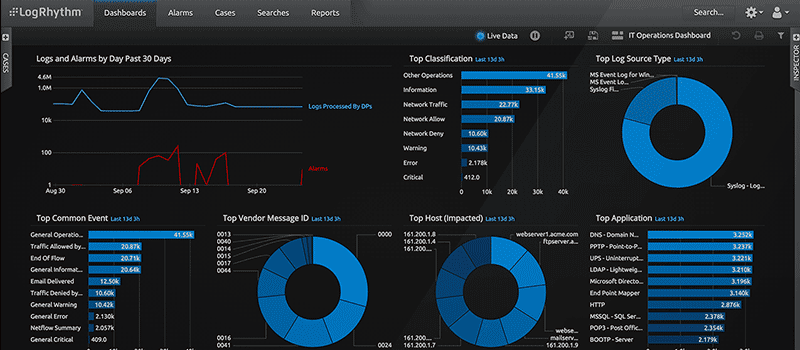 LogRhythm has announced the immediate availability of Network Monitor 3, the latest version of their network monitoring, analytics and forensics solution. The company also offers a free version of the software, NetMon Freemium.
Leading the list of new features introduced in Network Monitor 3 is Deep Packet Analytics (DPA), which performs real-time, automated, machine analytics on all network traffic, applying behavioural and statistical analysis to rich data sets produced by Network Monitor's Full Packet Capture and Layer 7 SmartFlow™ features.
"Most organisations are blind to a growing number of advanced threats crossing their network today," said Chris Petersen, CTO/Co-Founder at LogRhythm. "Deeper visibility into suspicious network activity, coupled with powerful analytics and more efficient incident response is what's needed to detect and mitigate these threats before they can have a material impact. That's exactly what Network Monitor 3 is providing to our customers."
Network Monitor's DPA also automates incident response investigations by enabling responders to create custom analytics rules that can inspect full packet streams in real time. Additionally, DPA enhances Network Monitor's SmartCapture™ policies to trigger packet capture on traffic that is aligned with concerning network activities including known indicators of compromise (IOC). Other network monitoring and analytic platforms require the capture and storage of all packets regardless of their association with suspicious activity.
Additional new features include:
Enhanced data visualisations – Built on Elasticsearch's Kibana Big Data plug-in, Network Monitor 3 delivers new presentations of massive data sets.
Extended Application Identification to over 2,700 – Growing the # of applications Network Monitor can identify in real-time by over 1,000 since the release of Network Monitor 2
Increased speed and efficiency of packet capture viewing – Leveraging the REST API, Network Monitor 3 provides programmatic access to packet data for the LogRhythm Security Intelligence Platform or any 3rd party application
Extended capabilities for extracting files, images and other content from full packet captures.
Widget not in any sidebars

Latest posts by Jeff Edwards
(see all)