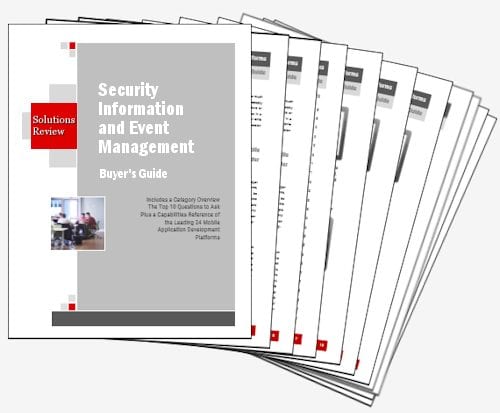 The Solutions Review team is proud to announce that the all new 2017 SIEM and Security Analytics Buyer's Guide Report is now available as a complimentary download to site visitors. The SIEM Buyer's Guide Report provides valuable insight into the current state of the cyber security landscape and the solutions that are helping organizations combat network security issues.
For those researching SIEM as part of an active purchasing initiative, The 2017 Buyer's Guide Report offers ten questions to ask both yourself and prospective solution providers before a purchase as well as detailed profiles of the top 24 SIEM and Security Analytics products as selected by Solutions Review. Each profile provides a company and solution backgrounds, highlights solution key features, and gives the Solutions Review's take on each solution.
The 24 vendors included in the guide are: AccelOps (Fortinet), Alert Logic, AlienVault, Assuria, BlackStratus, CorreLog, EiQ Networks, EventTracker, HP, IBM QRadar, Intel Security, LogEntries, LogPoint, LogRhythm, ManageEngine, NetGuardians, NetIQ (Micro Focus), RSA Security, BAE Systems, SolarWinds, Splunk, Sumo Logic, Tenable, and Trustwave.
Creating these guides isn't easy—we're constantly monitoring all things security and diligently read and analyze what vendors are doing. Who's raising money for development? Who's making acquisitions? Who's being acquired, and Why? Who added something innovative to their solution? What are the biggest, most valuable updates and innovations? We take all that information along with our analysis of reports like the Gartner Magic Quadrant and the Gartner Critical Capabilities Reports, and break down each solution in in-depth, yet digestible profiles, aimed at giving readers a one-take look at who a vendor is, what their product does, and where that product makes the best fit.
In our analysis of each vendor, we've highlighted the products and services offered, key features, strengths, and markets best served.
What we aim to do is give you a brief and comprehensive snapshot of top solutions so you can create your own shortlist of solutions that you already know have all the components you're looking for—there's nothing worse than going into a sales call with a vendor without knowing anything about what they're offering you and how it compares to the other solutions.
The guide also includes a current overview of the Security space along with five questions to ask yourself and five questions to ask a potential vendor to assist you in any future sales calls or demos.
If you're in the beginning process of buying your first SIEM solution, or if you're looking for something a little different than what you already have, we hope this is the perfect resource to get you started on the decision-making process.
You can download the 2017 Buyer's Guide in full here.

Latest posts by Jeff Edwards
(see all)