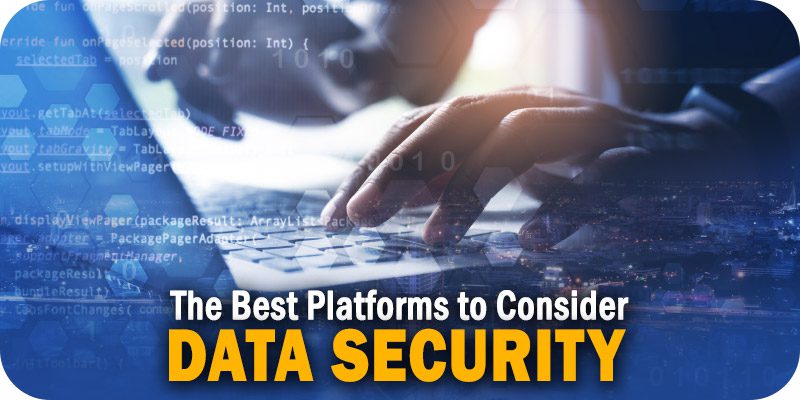 As data security emerges as the next field to tackle in InfoSec, the editors at Solutions Review examine the vendors and stand-alone platforms already ahead of the competition. These are the best data security platforms to consider in 2022.
Data security, according to IBM, is the practice of protecting digital information from unauthorized access, corruption, or theft throughout its entire lifecycle. It's a concept that encompasses every aspect of information security, from the physical security of hardware and storage devices to administrative and access controls, as well as the logical security of software applications. It also includes organizational policies and procedures.
Most IAM and SIEM platforms will offer some level of data protection, but because it's not the primary focus, there will still remain gaps in your data security. Especially dangerous for enterprises handling big data. As the technology to protect data develops and becomes more refined and defined, this list will potentially see continuous updates. As it stands, these are the vendors leading the way in data security.
Note from the Editor: This list is presented in alphabetical order and does not reflect any form of ranking.
The Best 23 Data Security Platforms in 2022
---
Platform: Baffle Data Protection Services
Related Products: Baffle Cloud Data Protection Platform (CDPP), Baffle Database Encryption
Description: Baffle delivers an enterprise-level transparent data security mesh that secures data at the field or file level via a "no-code" model. The solution supports tokenization, format-preserving encryption (FPE), database and file AES-256 encryption, and role-based access control. As a transparent solution, cloud-native services are easily supported with almost no performance or functionality impact. Baffle provides a comprehensive Cloud Data Protection Platform (CDPP) to help protect against data loss in the cloud. Baffle's cloud security solution simplifies encryption, tokenization, and masking of your data in the cloud without requiring any application code modification or embedded SDKs and allowing for vast scalability.
---
Platform: Cavelo
Description: Cavelo is a platform designed to help you and your team get a handle on your company's digital assets and sensitive data, all through a single pane of glass. The Cavelo Platform downloads in minutes– meaning you can improve your data protection, data compliance, and data discovery processes quickly. The platform's key pillars, service integrations and process automation, allow you to customize its dashboard and features to match your unique business requirements and regulatory frameworks. The Cavelo platform is offered as a right-sized platform that can meet your needs today and scale with your business as you grow, regardless of how many data sources, cloud applications, and endpoints connect to your network.
---
Platform: comforte Data Security
Related Products: SecurDPS Discovery & Classification, SecurDPS Enterprise, SecurDPS Connect
Description: The comforte Data Security Platform helps organizations to meet data privacy compliance and reduce the risk of a data breach. With powerful data privacy, security, and automation technology, organizations can be more agile and still meet their compliance needs, secure their own applications and products, and embrace SaaS, cloud, and cloud-native strategies. The platform comprises three integrated services to enable a comprehensive end-to-end data security strategy: SecurDPS Discovery & Classification, SecurDPS Enterprise for data protection integration and monitoring, and SecurDPS Connect. When used together, the full SecurDPS platform can enable organizations to understand all of their sensitive data assets.
---
Platform: Semantic Intelligence
Description: Concentric AI secures data-centric work using AI to protect business-critical information hidden in the millions of files and databases used by today's distributed workforce. The company's unique deep learning solution autonomously and accurately finds sensitive content, assesses risk, and remediates security issues, allowing organizations across industries to meet their data security needs for the first time. Concentric AI's Semantic Intelligence automates unstructured and structured data security using deep learning to categorize data, uncover business criticality and reduce risk. Its Risk Distance analysis technology uses the baseline security practices observed for each data category to spot security anomalies in individual files. It compares documents of the same type to identify risks from oversharing, third-party access, wrong location, or misclassification.
---
Platform: Voltage SecureData
Related Products: Voltage File Analysis Suite, Voltage Structured Data Manager, Voltage SmartCipher, Voltage SecureMail
Description: CyberRes is a Micro Focus line of business. They bring the expertise of one of the world's largest security portfolios to help their customers navigate the changing threat landscape by building both cyber and business resiliency within their teams and organizations. Their data security platform is the Software-as-a-Service (SaaS) suite, Voltage, which includes Voltage SecureData. Voltage SecureData helps customers comply with privacy requirements by discovering and protecting regulated data at rest, in motion, and in use in cloud warehouses and applications. The integration of Voltage SecureData with cloud data warehouses (CDWs), such as Snowflake, Amazon Redshift, Google BigQuery, and Azure Synapse, enables Voltage customers to conduct high-scale secure analytics and data science in the cloud using format-preserved, tokenized data that mitigates the risk of compromising business-sensitive information while adhering to privacy regulations.
---
Platform: Drata
Related Products:  Drata Risk Management
Description: Drata is a security and compliance automation platform that continuously monitors and collects evidence of a company's security controls while streamlining compliance workflows end-to-end to ensure audit readiness. Drata automates compliance operations and evidence collection with security monitoring integrations across your SaaS services. Gain visibility into your compliance status, and control across your security program, and build a single picture of controls, people, devices, applications, vendors, and risk across your company. Drata's Risk Management tool comes with a library of threat-based risks based on established sources, such as NIST SP 800-30, ISO 27005, and HIPAA guidelines. Leverage Drata's library of risks or create your own custom risks and categories.
---
Platform: Druva Data Resiliency Cloud
Related Products: Druva Enterprise Cloud Data Protection
Description: Druva enables cyber, data and operational resilience for every organization with the Data Resiliency Cloud, the industry's first and only at-scale SaaS solution. Customers can radically simplify data protection, streamline data governance, and gain data visibility and insights as they accelerate cloud adoption. Druva pioneered a SaaS-based approach to eliminate complex infrastructure and related management costs, and deliver data resilience via a single platform spanning multiple geographies and clouds. Druva is trusted by thousands of enterprises, including 60 of the Fortune 500 to make data more resilient and accelerate their journey to cloud.
---
Platform: Globalscape EFT
Related Products: Globalscape EFT ARCUS
Description: Globalscape EFT (Enhanced File Transfer) is a comprehensive, user-friendly managed file transfer (MFT) software solution. Globalscape EFT provides security and compliance combined with powerful tools for automation, collaboration, and analysis. Globalscape EFT  provides enterprise-level data security as well as data transfer automation through integration with back-end systems. Administration is easy, yet detailed enough for complete control of your file transfer system. Globalscape EFT replaces insecure legacy systems, homegrown servers, manual delivery, expensive leased lines, and VANs with a top-performing, scalable alternative. Through a secure file transfer solution, meeting and maintaining compliance is easier to achieve. Globalscape EFT's security modules use secure protocols, strong ciphers, and encryption keys to ensure data at rest and data in transit are protected. With MFT software, you can automate crucial compliance tasks using event rules and even create settings that can enforce compliance measures.
---
Platform: Imperva Data Security Fabric
Related Products: Cloud Data Security
Description: Imperva Data Security Fabric (DSF) provides data-centric protection enterprise-wide to fill the gaps left by traditional perimeter security, native data repository access controls, and data encryption solutions, which are powerless against numerous data breach threats such as data handling mistakes, malicious insiders, and attack exploits that leverage compromised account credentials. Through a single dashboard, you can manage data discovery and classification, data activity monitoring, data risk analytics, and threat detection, additional options for data loss prevention, data access control, and data masking, plus provide instant audit and compliance reporting. Imperva provides a variety of licensing options for securing data enterprise-wide so that you're protected regardless of the number, location, or type of devices or services used, protecting your data wherever it lives.
---
Platform: Laminar Cloud Data Security
Description: Laminar's Cloud Data Security Platform is one of the first in the market to protect data in everything you build and run in the cloud across cloud providers (AWS, Azure, and GCP) and cloud data warehouses such as Snowflake and Databricks. The platform autonomously and continuously discovers and classifies new datastores for complete visibility, prioritizes risk based on sensitivity and data risk posture, secures data by remediating weak controls, and actively monitors for egress and access anomalies. Designed for the multi-cloud, the architecture takes an API-only approach, without any agents and without sensitive data ever leaving your environment.
---
Platform: Lepide Data Security Platform
Related Products: Lepide Auditor, Lepide Threat Detection and Response, Lepide Trust, Lepide Data Classification
Description: With Lepide, you can detect and prevent cyber-attacks and insider threats at the source and as they move through your data stores. Enhance your identity and data security with visibility over permissions, threat events, and anomalous user behavior. The platform gets smarter the longer it runs, detecting and reacting to threats more accurately by utilizing AI and Machine Learning. Lepide can seamlessly integrate with SIEM solutions to add context to reports and streamline your threat response/investigations, and can divert resources to individual pieces of functionality as required to ensure smooth and reliable scalability. With Lepide, you have a complete solution that enables you to identify where your sensitive data is, get detailed analysis and alerts on user behavior, and ensure access rights by analyzing permissions to your unstructured data and reversing unwanted changes.
---
Platform: Mage
Description: After a successful two-year transformation, data masking vendor MENTIS is now Mage. The Mage data security platform secures sensitive data within your enterprise by identifying and locating the data within your data landscape. With Mage, organizations can identify and locate the presence of sensitive data across the enterprise; securely anonymize sensitive data through robust data protection measures that offer masking, encryption, and tokenization; monitor and log all access to sensitive data with near-real time reporting, and minimize the risk of sensitive data exposure by deleting or tokenizing inactive sensitive data. Mage helps organizations securely migrate to the cloud while ensuring the referential integrity between data on the Cloud and On-Premise. The platform also lets organizations maintain referential integrity between anonymized data in the Cloud, On-prem, or SaaS applications. Mage enables organizations to rapidly provision secure data for testing and development with a comprehensive Test Data Management Solution.
---
Platform: ManageEngine DataSecurity Plus
Description: DataSecurity Plus, the data visibility and data leak prevention component of Log360, helps fight insider threats, prevent data loss, and meet compliance requirements. The DataSecurity Plus suite offers file server auditing, file analysis, data risk assessment, data leak prevention, and cloud protection. Audit and report on all file accesses and modifications with real-time alerts and automated threat responses for high-risk file activities. Analyze disk space usage, manage junk data, identify at-risk data, analyze file permissions, and more by analyzing file security and storage. DataSecurity Plus is a platform that ensures file system integrity and data loss prevention, and allows organizations to protect sensitive data across the entire enterprise data landscape with a single solution.
---
Platform: Open Raven
Description: Open Raven is a cloud-native data security platform purpose-built for protecting modern data lakes and warehouses. Open Raven discovers data stores on both native and non-native cloud services using a combination of native APIs and machine learning-based fingerprinting (DMAP). The platform is located and operated from Open Raven's cloud with a private, single-tenant design. The platform uses serverless functions within a customer's environment to perform analysis and communicate back to the dedicated Open Raven cluster environment. Controls for tuning discovery and analysis are widely available across the platform, allowing you to configure the amount of serverless functions used, the depth of data inventory and classification, and the extent of policy analysis. Open Raven's annual subscription pricing is straightforward and predictable. The number of data stores determines the price. Included in the price of each data store is 10GB of data (i.e., for inventory, classification, etc.). You can purchase additional storage if more than the included amount is needed.
---
Platform: Protegrity Data Security Platform
Description: The Protegrity Data Security platform gives you choice to protect data where and how you choose to use it, control over how data is protected enterprise-wide, and confidence that the data is secure even if a breach occurs. This allows you to leverage data—including its application in advanced analytics, machine learning and AI—to do great things without worrying about putting customers, employees, or intellectual property at risk. The platform's transparent controls and comprehensive protection capabilities give businesses the confidence to charge ahead with cloud-supported data-driven initiatives, including advanced analytics, machine learning, and AI. Protegrity's data protection methods include tokenization and anonymization, work in concert with centralized policy enforcement to ensure data is always secure across the myriad of data warehouses, file servers, big data systems, and mainframes that underlie operational, transactional, and analytical systems and programs.
---
Platform: Rubrik Security Cloud
Related Products: Rubrik Zero Trust Data Management
Description: Rubrik Security Cloud helps you protect your data, monitor data risk, and recover data and applications, so you can keep your business moving forward. Automated discovery and end-to-end workflows eliminate the tapestry of operational work to help you ensure business outcomes and pre-defined SLAs. The platform provides a 360-degree view of all your users, content, and application relationships across time allows you to understand granular or meta-scale changes in your environment. Secure your data from insider threats or ransomware with access-controlled backups. Continuously monitor and remediate data risks, including ransomware, sensitive data exposure, and indicators of  compromise. Rapidly recover your apps, files, or users while avoiding malware reinfection. With Rubrik Security Cloud, you can automatically protect data from cyber attacks, continuously monitor data risks, and quickly recover data and applications.
---
Platform: Satori
Description: Satori is a transparent data proxy that is deployed between your users and data stores. Automatically classify and control access to sensitive data without changing your data or impacting your users. Satori dynamically anonymizes, redacts and masks data without using SQL views or changing anything on the data store. Satori automatically classifies data, masking policies are automatically applied even when the data changes. Manage access to data with flexible policies based on an RBAC or ABAC model, regardless of what features are supported on the data layer. Satori undergoes strict external audits to ensure its product, services and operations meet the highest security and compliance standards. It is both ISO27001 Certified and SOC2 Type II Certified. Secure access to sensitive PII, PHI and Financial data in data warehouses, data lakes and databases without changing your schema or duplicating your data.
---
Platform: Secrata
Description: Secrata is an enterprise data security platform developed to address the security gaps created by device and cloud adoption. The Enterprise File Sync and Share (EFSS) module ensures full control and visibility for IT, and provides ease of use for employees. EFSS uses workspaces to help the user manage their files. An integrated messaging platform provides a way to securely collaborate and annotate documents. EFSS is easily integrated into existing workflows to drive adoption and extend corporate assets. IT can control where files can reside and be sent, using a powerful policy engine. EFSS is elegantly simple to use, and powerfully secure. Secrata file transfers are also fully logged and auditing by service, device, user, workspace, and file is supported. Audit reporting data may be exported to other applications to mine system and service intelligence. As connectivity expands with the introduction of IPV6, SecureIOT enables secure transfer from emerging categories of network enabled devices.
---
Platform: Sotero Data Security Platform
Description: Sotero is a zero-trust data security platform that protects all your data all the time and anywhere. The Sotero data security platform employs an intelligent data security fabric that ensures your sensitive data is never left unprotected. Sotero automatically secures all your data instances and applications, regardless of source, location or lifecycle stage (at rest, in transit, or in use). With Sotero, you can move from a fragmented, complex data security stack to one unified data security fabric that provides 360° management of your entire data security ecosystem.  It's a granular, data-first approach that empowers your business to operate efficiently and securely, for the confidence to use and share data at scale. The Sotero platform delivers breakthrough data security capabilities to fill the gaps in your existing data security stack.
---
Platform: Spirion Sensitive Data Platform
Related Products: Spirion Governance Suite, Spirion Sensitive Data Finder, Spirion Sensitive Data Watcher
Description: Spirion Sensitive Data Platform (SDP) provides PrivacyGrade data discovery and purposeful classification in a highly scalable SaaS hybrid architecture, able to thoroughly scan both on-premises endpoints/servers and cloud repositories at enterprise scale. It quickly and automatically discovers, classifies, and remediates almost any form of sensitive data or personally identifiable information (PII) anywhere on-premises, in the cloud, and on all endpoints. The platform provides a flexible hybrid approach to data discovery and classification with both software-based agents for on-premises servers or endpoints and agentless scanning in the cloud for simplicity, scalability, and performance.  Spirion SDP embeds Microsoft's Power BI engine for its advanced reports and dashboard visualizations, leveraging an enterprise-scale reporting and analytics engine already in use across the industry. Its dashboard provides both system-level overviews and an in-depth drill-down into sensitive data scan results to help organizations understand sensitive data within the context of their business.
---
Platform: Thales CipherTrust Data Security Platform
Related Products: CipherTrust Cloud Key Manager, CipherTrust Database Protection
Description: The Thales CipherTrust Data Security Platform is an integrated suite of data-centric security products and solutions that unify data discovery, protection and control in one platform. CipherTrust Data Security Platform unifies data discovery, classification, data protection, and unprecedented granular access controls with centralized key management – all on a single platform. The platform offers advanced multi-cloud Bring Your Own Encryption (BYOE) solutions to avoid cloud vendor encryption lock-in and ensure the data mobility to efficiently secure data across multiple cloud vendors with centralized, independent encryption key management. Organizations that cannot bring their own encryption can still follow industry best practices by managing keys externally using the CipherTrust Cloud Key Manager.
---
Platform: Titaniam Studio
Related Products: Titaniam Vault, Titaniam API, Titaniam Proxy, Titaniam Plugin
Description: Titaniam is a data security suite consisting of Titaniam Vault, Titaniam API, Titaniam Proxy, and Titaniam Plugin. All of which can be installed as stand-alone applications, or as part of the Titaniam Studio platform. Titaniam's Vault is built for high-performance, petabyte-scale, analytic use cases and enables full-featured search and analytics without any decryption or detokenization. Capabilities include structured data analytics with full context, encrypted voice manipulation, and sensitive document text search.  With its ability to release data in all nine privacy preserving formats, support for granular privacy policy, and in-depth reporting, Titaniam eliminates the need for multiple traditional point solutions. Titaniam delivers NIST FIPS 140-2 level security at all times, without loss of functionality.
---
Platform: Varonis Data Security Platform
Description: The Varonis Data Security Platform visualizes where sensitive data is exposed and offers centralized permissions management to enforce least privilege. The platform uses sophisticated rule logic to produce high-fidelity classification results that can be confidently acted upon with DLPs, CASBs, etc. Varonis automatically builds a baseline, or "peace-time profile" over hours, days, and weeks for every user and device, so when they behave strangely, they get noticed. The platform contains hundreds of machine-learning threat models based on real-world attack techniques spanning the cyber kill chain. Because Varonis has a model of your entire environment, you can easily simulate what-if scenarios to determine the precise impact of a permissions change. Varonis uses historical events to see which users, service accounts, and apps will be impacted. Varonis focuses on protecting enterprise data where it lives— in the largest and most important data stores and applications across the cloud and on-premises.
---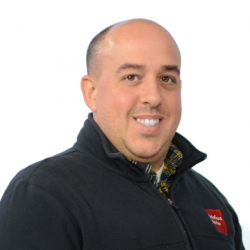 Latest posts by Mike Costello
(see all)