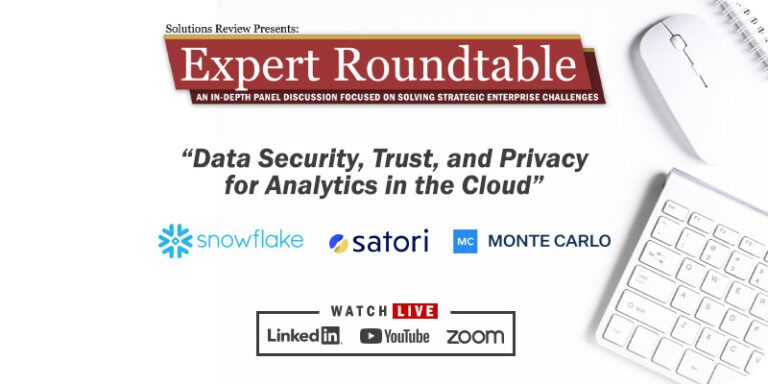 Solutions Review's Expert Roundtable: Data Security, Trust, and Privacy for Analytics in the Cloud will feature a panel of experts from Snowflake, Satori, Monte Carlo, and moderator David Loshin.
What is the Expert Roundtable: Data Security, Trust, and Privacy for Analytics in the Cloud
Guarding against unauthorized access to sensitive corporate data is a priority, whether your organization is engaged in a cloud-oriented digital transformation effort, a data architecture modernization imitative, or is cloud-native from the get-go. Data privacy is the new hot commodity in the enterprise. Without instituting the right tools, processes, and practices, data protection becomes unscalable and ultimately unsustainable.
In this roundtable discussion, our panelists will share their experiences, discuss best practices for integrating technology solutions, and offer guidance for establishing a sustainable information risk program for ensuring the governed accessibility to sensitive corporate data. The 60-minute virtual event is moderated by an independent industry analyst, with a topic introduction hosted by Solutions Review – all broadcast live to an audience of registered attendees.
Join the Largest Cybersecurity Practitioner Community
Solutions Review Data Management and Analytics is the largest data software buyer and practitioner community on the web. Our Universe of Influence reach is more than 7 million business and IT decision-makers, as well as C-suite and other top management professionals. Our readers primarily use us as an enterprise technology news source and trusted resource for solving some of their most complex problems.
Our collection of vendor-agnostic buyer's resources aims to help data management and analytics practitioners during the research and discovery phase of a buying cycle. This critical stage of information gathering is where buyers narrow down the field of solution providers to a short-list they plan to engage. The mission of Solutions Review is to make it easier for buyers of data management and analytics software to connect with the best providers.
Featured Panelists

Recognized worldwide as an information management thought leader, David has popularized best practices for business intelligence, data governance, performance computing, master data management, predictive analytics, and data quality. David is a monthly columnist for TechTarget and is a frequent presenter at The Data Warehousing Institute Conferences, Enterprise Data World, Data Governance and Information Quality, and web-based seminars.

Anoosh leads product security at Snowflake. Prior to that, he was the lead group product manager for Google Cloud workload zero trust portfolio, a comprehensive and growing portfolio that includes infrastructure capabilities, platform products, and paid-for products to enable enterprises to achieve a zero trust architecture for workload-to-workload communications.

Yoav Cohen is the Co-Founder and Chief Technology Officer of Satori Cyber. At Satori, Yoav is building the company's technology vision and leading the research and engineering teams that build the Secure Data Access Cloud. Prior to founding Satori Cyber, Yoav was the Senior Vice President of Product Development for Imperva, which he joined as part of the acquisition of Incapsula, a Cloud-based web applications security and acceleration company, where he was the Vice President of Engineering.
Ryan Kelch, CTO & Head of Security & Compliance at Monte Carlo

Ryan Kelch is the Head of Security & Compliance of Monte Carlo, a data reliability company backed by Accel, Redpoint Ventures, GGV, ICONIQ Growth, and Salesforce Ventures. Prior to Monte Carlo, he led cloud and product security for Splunk Cloud, and before that he started the security practice at Climate Corp.
Featured Companies
Snowflake offers a popular cloud data warehouse. The solution loads and optimizes data from virtually any source, both structured and unstructured, including JSON, Avro, and XML. Snowflake features broad support for standard SQL, and users can do updates, deletes, analytical functions, transactions, and complex joins. The tool requires zero management and no infrastructure. The columnar database engine uses advanced optimizations to crunch data, process reports, and run analytics.

Satori offers data management and security product designed to enable secure data access to organizations of varying sizes. The product features continuous visibility and mapping for data flows and data stores, activity-based discovery and classification of data in real-time, data security through granular, field-level data access controls and anomaly detection, and compliance through monitoring and data privacy enforcement. Satori integrates into any cloud or hybrid environment without impacting existing user and application access.
Monte Carlo's data observability platform utilizes best practices and principles of automatic application observability and applies them to data pipelines. This provides data engineers and analysts with visibility across all data pipelines and data products. Monte Carlo also offers machine learning that gives users a holistic view of an organization's data health and reliability for important business use cases.
FAQ
What: Solutions Review's Expert Roundtable: Data Security, Trust, and Privacy for Analytics in the Cloud
When: Thursday, June 8, 2023 at 12:00 PM Eastern
Where: Zoom meeting (see registration page for more detail)