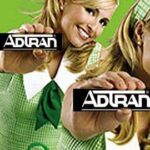 ADTRAN is combining two of it's technologies in order to address the stress that Bring Your Own Device (BYOD) programs are putting on enterprises' wired and wireless infrastructures. With BYOD creating concerns for network scalability, increased bandwidth and bottlenecks in the relay of information over the network, enterprises should be looking for an end-to-end solution that can address these concerns. With ADTRAN bringing together their Bluesocket Wireless Network Solutions (WNS) and their NetVanta technologies there is now a solution to handle those concerns.  
What are these two technologies bringing to the table that will help handle the BYOD strain? BlueSocket vWLAN uses a cloud-enabled, VMware-based WLAN solution to help businesses prevent information bottlenecks as wireless bandwidth grows scarce due to BYOD programs. Through Bluesocket access points (APs), wired ports or legacy APs, the platform — which can support up to 48,000 users and enable 1,500 APs — provides unified user access control. The NetVanta line of routers, meanwhile, features RapidRoute technology and built-in encryption as well as multiple backup options. The Gigabit Ethernet switches, which are optimized for iSCSI Storage Area Networks (SANs) and support indoor and outdoor APs, are designed to handle more bandwidth-intensive applications.
By incorporating both solutions together ADTRAN is now offering one solution for end-to-end support across both wired and wireless infrastructures to help handle the concerns that come with BYOD. In a recent release Matthias Machowinski, Directing Analyst of Enterprise Networking at Infonetics is quoted as saying, "ADTRAN's newly expanded portfolio of integrated wired and wireless networking products provides enterprise IT managers with a seamless and scalable solution that addresses this need, and has the added benefit of a single management point." Click here to read to full release and learn more about ADTRAN's new product updates.