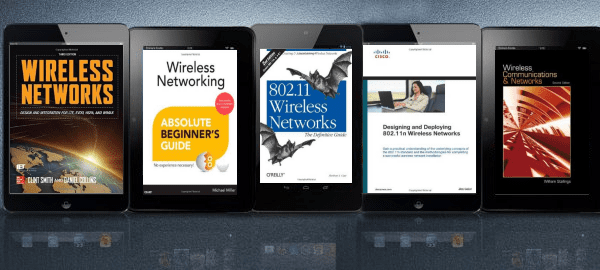 Amazon has books (and of course lots more than books) of all kinds, so it shouldn't be surprising that there are some great reads specifically on wireless networks available through the online retailing giant. I have selected 10 of the best, most relevant titles and included the Amazon description of them as well as a link for each book to the Amazon store. You can find the first five of them below.
1. Next Generation Wireless LANs by Eldad Perahia, Robert Stacey (2013)

"If you've been searching for a way to get up to speed on IEEE 802.11n and 802.11ac WLAN standards without having to wade through the entire specification, then look no further. This comprehensive overview describes the underlying principles, implementation details and key enhancing features of 802.11n and 802.11ac. For many of these features the authors outline the motivation and history behind their adoption into the standard.
A detailed discussion of key throughput, robustness, and reliability enhancing features (such as MIMO, multi-user MIMO, 40/80/160 MHz channels, transmit beamforming and packet aggregation) is given, plus clear summaries of issues surrounding legacy interoperability and coexistence. Now updated and significantly revised, this 2nd edition contains new material on 802.11ac throughput, including revised chapters on MAC and interoperability, plus new chapters on 802.11ac PHY and multi-user MIMO. An ideal reference for designers of WLAN equipment, network managers, and researchers in the field of wireless communications.
2. Wireless Networks by Clint Smith and Daniel Collins (2014)

"Fully updated throughout to address current and emerging technologies, standards, and protocols, Wireless Networks, Third Edition, explains wireless system design, high-speed voice and data transmission, internetworking protocols, and 4G convergence.
New chapters cover LTE, WiMAX, WiFi, and backhaul. You'll learn how to successfully integrate LTE, WiMAX, UMTS, HSPA, CDMA2000/EVDO, and TD-SCDMA into existing cellular/PCS networks. Configure, manage, and optimize high-performance wireless networks with help from this thoroughly revised, practical guide."
3. 802.11 Wireless Networks: The Definitive Guide, Second Edition by Matthew S. Gast (2005)

"As we all know by now, wireless networks offer many advantages over fixed (or wired) networks. Foremost on that list is mobility, since going wireless frees you from the tether of an Ethernet cable at a desk. But that's just the tip of the cable-free iceberg. Wireless networks are also more flexible, faster and easier for you to use, and more affordable to deploy and maintain.The de facto standard for wireless networking is the 802.11 protocol, which includes Wi-Fi (the wireless standard known as 802.11b) and its faster cousin, 802.11g. With easy-to-install 802.11 network hardware available everywhere you turn, the choice seems simple, and many people dive into wireless computing with less thought and planning than they'd give to a wired network. But it's wise to be familiar with both the capabilities and risks associated with the 802.11 protocols. And 802.11 Wireless Networks: The Definitive Guide, 2nd Edition is the perfect place to start.This updated edition covers everything you'll ever need to know about wireless technology. Designed with the system administrator or serious home user in mind, it's a no-nonsense guide for setting up 802.11 on Windows and Linux."
4. Designing and Deploying 802.11ac Wireless Networks by Jim Geier (2010)

"Gain a practical understanding of the underlying concepts of the 802.11ac standard and the methodologies for completing a successful wireless network installation
Practical, start-to-finish guidance for successful deployment of 802.11 ac wireless LANs
With the ratification of the 802.11ac wireless LAN standard, thousands of companies are moving rapidly toward implementation. However, 802.11 ac is very different from legacy 802.11n, 802.11a, 802.11b, and 802.11g wireless standards, and successful deployment requires new knowledge and techniques. In this book, leading wireless expert Jim Geier systematically presents all the information and guidance that network architects, engineers, administrators, and managers need to maximize the performance and business value of new 802.11ac networks.
Drawing on extensive experience with real-world 802.11ac deployments, Geier guides you through the entire project lifecycle: planning, design, installation, testing, monitoring, and support. Each phase of wireless LAN deployment is organized into clearly defined steps, and multiple case studies and hands-on exercises show how to apply each technique."
5. Wireless Networking Absolute Beginner's Guide by Michael Miller (2013)

"Make the most of your wireless network…without becoming a technical expert! This book is the fastest way to connect all your wireless devices, get great performance with everything from streaming media to printing, stay safe and secure, and do more with Wi-Fi than you ever thought possible! Even if you've never set up or run a network before, this book will show you how to do what you want, one incredibly clear and easy step at a time. Wireless networking has never, ever been this simple!"
Latest posts by Doug Atkinson
(see all)