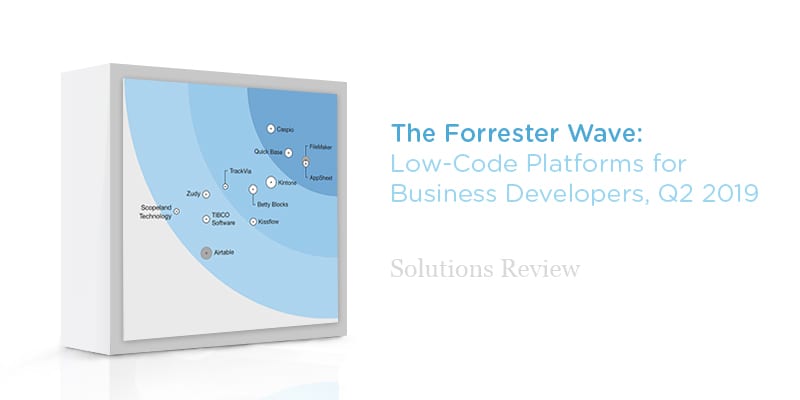 Technology advisory firm Forrester Research has released its latest Forrester Wave for Low-Code Platforms for Business Developers, Q2 2019. The biggest takeaway from this year's report is that leading platforms make database design simple, while simultaneously providing more and more powerful database tools as developers learn and engage with their software. Despite these innovations, development process management and organization tools are highly variable across every platform vendor.
In their 30-criteria evaluation of low-code platforms for business developers, Forrester researchers Christopher Mines, Sara Sjoblom, and Andrew Reese identified the 12 providers whom they consider most significant in the category: Airtable, AppSheet, Betty Blocks, Caspio, FileMaker, Kintone, Kissflow, Quick Base, Scopeland Technology, TIBCO Software, TrackVia, Zudy — then researched, analyzed, and scored them.
The Wave report details their findings and examines how each vendor meets (or falls short of) Forrester's evaluation criteria and where vendors stand in relation to each other.
In order to help app development leaders select the right tools, The Forrester Wave report outlines the top vendors in the market, but does not represent the entire vendor landscape. The report separates the vendors into leaders, strong performers, contenders, and challengers. At Solutions Review, we've read the report, available here, and pulled a few of the most important takeaways.
Enabling business experts to fully develop software applications
Using tools like wizards, drag-and-drop design, excel-like interfaces, and application templates, low-code development platforms allow professionals to build fully-functioning applications without in-depth coding knowledge. Leading platforms offer help, guides, and other resources to support startup experiences, and essentially eliminate the need for additional training and workshops. Because app building and deployment is done on managed platforms, AD&D professionals can influence or support activities on a case-by-case basis.
Many vendors also offer easy, inexpensive access to their platforms if an organization is considering moving to a no-code development practice, or wants to experiment with new software. If your team is new to these kinds of platforms, top vendors will offer a smooth transition with little to no time spent in limbo, waiting for installations to finish or team members coming up to speed.
FileMaker, AppSheet, and Caspio Continue to Innovate
FileMaker offers strong low-code tooling for database development, reporting, application change management, security and identify management, and content. FileMaker also offers features to help AD&D porfessionals support and participate software development. Their feature-rich software lineup and extensive customer base shows established product maturity.
AppSheet has expanded from their previous mobile application offerings with an aggressive strategy and road map for empowering businesspeople as software developers. This vendor is dedicated to providing an excellent startup experience, with versatile features for mobile app development, data design, application scaling, and documentation generation. Customer references cited high satisfaction with AppSheet's mobile features and rate of innovation.
Over the past 18 years, Caspio has continued to build a high quality product that provides deep functionality for enterprise applications, as well as an easy beginning for business developers. Caspio has received positive customer reviews across the board, particularly for its value and database features. This vendor also specializes in UX development, content management, application change deployment, deployment options, and much more.
Kintone outgrows home market, Betty Blocks aims high
Kintone, a Japanese import to the US, is quickly outgrowing its parent company and home market. Committed to empowering citizen developers, it offers multi-layered guidance and tools to help business developers start their development process, including a free one-hour consultation. Kintone also has strengths in collaboration, reporting, development-process support, and browser support.
Betty Blocks follows just behind AppSheet's agressive strategy, building a high awareness and showing that it can compete with a wide variety of vendors. This vendor offers powerful development features to benefit a startup experience, with a focus in data design, mobile app development, and integration. Betty Blocks benefits from a strong community and learning resources, which is particularly unique for such a young company.
Latest posts by Anna Birna Turner
(see all)