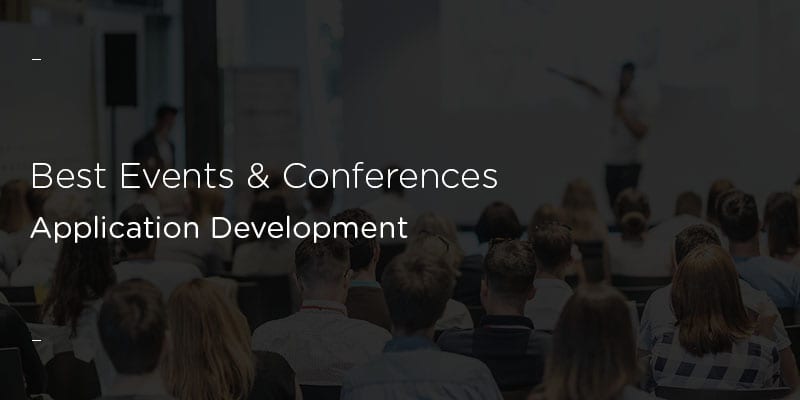 This is a directory of the best app development events and conferences. We do our best to provide readers with buyer and practitioner resources, including the Solutions Review Buyer's Guide. Sometimes though, you need extra exposure, the kind you can only get in person.
The editors at Solutions Review have created this list of the year's most app development events and conferences to attend. We've scoured the web, consulted with conference representatives, and identified where the industry's top brass will be spending their time. If you are looking for top-notch keynotes, interesting sessions, best practices demos, and legitimate networking opportunities, mark your calendar.
The app development events and conferences are listed in chronological order and may include additional dates. Clicking More Information directs you to the event home page.
AppianWORLD20
Date: March 8-11
Location: Hollywood, FL
Description: This conference is the event where attendees can learn how intelligent automation drives real ROI, get insights on where AI, RPA, and BPM are headed, and network with industry peers. Appian world brings together tech professionals from all over, and explores how automation and low code is transforming businesses. This is a great conference for IT developers, leaders,, CXP professionals, and many more. This year's customer speakers include Citi, Biogen, GDIT, Invesco, FDA, Johnson & Johnson, and many more. Appian is also hosting a global online hackathon to challenge people to build a custom app. Finalists will be invited to demo at AppianWORLD20.
GOTO Chiago 2020
Date: April 27-29; Masterclasses: April 30-May 1
Location: Chicago, IL
Description: GOTO Conference is a conference for developers, team leads, architects, and project managers.  Each event is organized for developers by developers, and strives to foster the ideal social and learning experience. GOTO also features a series of masterclasses that takes place after the initial conference dates. This yea'rs featured topics include languages and clean code; data, streams, and pipelines; microservices, serverless and mesh; team performance, people and culture; devops, continuous integration and delivery; and much more.
Creatio ACCELERATE
Date: May 7-8
Location: Chicago, IL
Description: Creatio ACCELERATE is the premier gathering for IT and digital leaders to celebrate an environment where anyone can create software and applications with low-code technologies. The event involves over seven hundred digital leaders to network with, over two hundred hours of thought leadership insights, and over twenty practical sessions and workshops. Attendees will gain strategic insights and leadership, networking opportunities, practical advice and success stories, and learn about the latest technology trends.
Google I/O
Date: May 12-14
Location: Mountain View, CA
Description: Experience a fresh and modern developer conference hosted by Google. This year's itinerary hasn't been fully released, but interested parties should expect thousands of developers and business partners, as well as some of Google's most exciting product announcements. Engage with some of the world's brightest minds with various keynote speakers, interactive sessions, discussions, and hands-on events. Topics include Design, ML/AI, Accessibility, Cloud, Web, and much more.
Microsoft Build
Date: May 19-21
Location: Seattle, WA
Description: Join your peers and Microsoft engineers to learn, connect, and code together. Experience the latest technologies and learn new ways to solve development challenges. Meet engineers behind the products you use every day, bring questions and curiosity, and leave with inspiration and new skills to use and share. Attendees have access to technical sessions, panels, and hands-on experiences. Expand your network, connect and collaborate with peers from around the world, and discover new ways to take your code and application architecture to the next level.
PegaWorld iNspire
Date: May 31-June 2
Location: Boston, MA
Description: This event, hosted by Pegasystems, brings together brands and innovators for exciting insights and in-person connections. Learn how to grow engagement, streamline service, work with automation, and achieve your business goals through low code software and innovation. With over six thousand attendees, over a hundred interactive sessions, and over seven hundred attending organizations, attendees are sure to gain valuable experience from this conference.
droidcon NYC
Date: August 26-27
Location: New York, NY
Description: Droidcon SF aims to gather thought leaders, developers, and Android creators. This year's conference features 70+ technical Androids talks, workshops & codelabs, and best-in-class speakers from top Android teams in the USA, Europe, and worldwide. This year's keynote speaker is Yash Prabhu, covering the topic of "Being more than an android developer." This event is a great choice for startups and other businesses who want to grow their network and create connections with other like-minded Android developers.
NextStep 2020
Date: October 13-14
Location: Chicago, IL
Description: Hosted by OutSystems, NextStep is attended by over five thousand business and IT leaders, architects, and developers from over 21 industries and 46 countries. Curate your experience with 150+ learning tracks filled with stories of innovation, disruptive thinking, and emerging technological trends. The event is capped off by the ultimate keynote, where OutSystems will unveil its latest product capabilities, featuring customers and partners from around the world. Interested parties can watch last year's sessions, explore the photo gallery, and view the slide decks.
---
Latest posts by Anna Birna Turner
(see all)