Low-code development platforms have been around for almost a decade but only recently received its name in 2014.
As automation continues to eat the world up and change job descriptions one must beg the question: will Low-code development platforms prevail in the long run? Research firm Forrester estimates that the total market for these platforms will grow to $15.5 billion by 2020.[6] Though we aren't quite there yet, this could have enterprise level implications for companies looking for alternatives to the development process.
So are Low-code development platforms really the future that will put application developers out of work?
Not quite. For the most part, developers will keep their jobs and will likely adjust their workflow to include building through these tools. However, creating a truly bespoke app with the innovations needed to be successful like Uber or AirBnb would most likely take a lot more tailoring then a Low-code platform can provide.
That's not to say that these platforms can't reach a level of abstracting complexity in a way that can be valuable to the enterprise, but it seems to be many years off. Of course, there are a couple of companies that are carrying the torch to this end. One example of a solution that seeks to push the boundaries would be OutSystems, who claims to offer a fast yet effective solution to application development for both enterprise-grade and business-to-consumer apps.
Low-code solutions do come at a price, generally a monthly fee to have access to all the bells-and-whistles that these companies provide. So if you are weighing the options between highering a developer or going Low-code, then don't stress. We did some rough numbers to give you an idea of what you could be spending in the long run.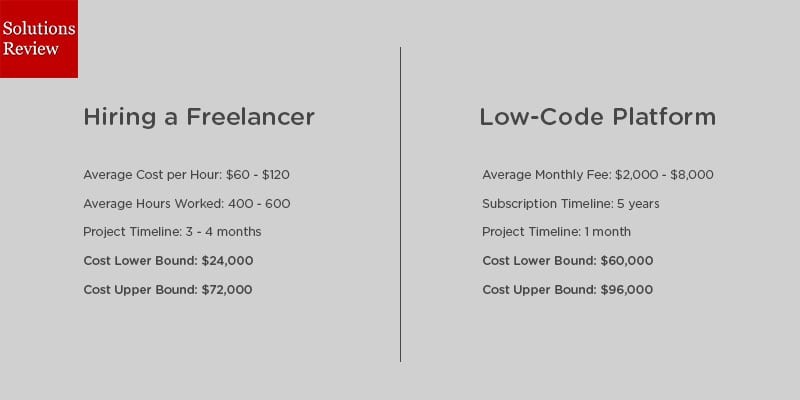 Looking at this graphic a few considerations must be made. Regarding Low-code platforms, while the cost might seem high bear in mind that you are paying for a comprehensive suite of tools and hosting. Low-code is your one-stop shop for everything application development related, cloud back-end included.
Freelancing will save at first but looking ahead into the future, you will most likely throw money into maintenance, bug fixes, and updates, etc.
At the end of the day, it all comes down to the complexity of your application. If you're a mid-size enterprise the chances are that price isn't as much of an issue but more so whether you can go to market fast with a quality and rake some cash in.

Latest posts by Alexander K
(see all)