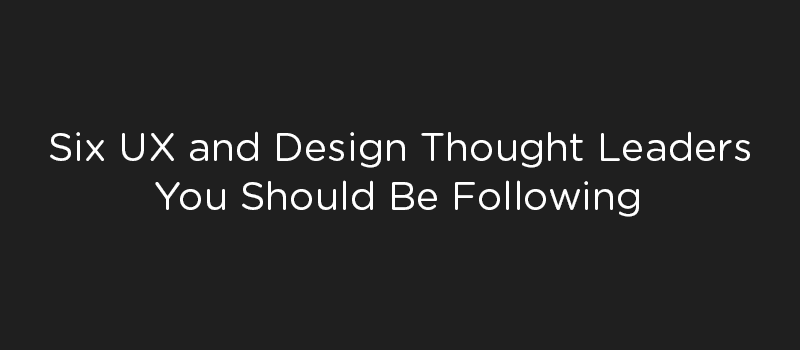 If code is the skin and bones of an application, the user experience could best be described as the soul. It's a carefully balanced concoction of art and science that takes a look at how to best accommodate the needs of your application's end-user. While putting yourself into the user's mind certainly helps in user experience, it's sometimes not enough. Learning from experienced UX professionals often provides you with tried and true wisdom and personal stories that'll help you nail the design of your next application. Below we've compiled a list of the ten most notable UX thought leaders on the web. Take a look!
---
This name might sound familiar to all you UX geeks out there. Jared Spool is the founder of User Interface Engineering, the largest usability research organization in the world. Jared has been working on the subject of usability since 1978 and spends a majority of his time working with research teams UIE, helping clients understand design problems, and speaks at more than 20 UX conferences per year.
If you're looking for names in high places, look no further than Julie Zhuo. As the Vice President of design at Facebook, Julie is revered as one of the most revered names in product design in the world. When she's not working at Facebook, Julie keeps up to date with her personal blog, The Year of the Looking Glass.
Luke Wroblewski is the product director at Google and is known for his belief that every design "should begin at the smallest screen". That being said, it should be evident that this guy holds tight to the 'mobile first' philosophy. Luke has published a number of books, including Mobile First, Web Form Design, and Site-Seeing.
Steve Krug is famous for literally writing the book on web usability. Now in its third edition, Don't Make Me Think has sold 50,000 copies worldwide and has become many people's introduction to the subject of web usability. His books are based on his experience working as a usability consultant for clients such as Apple, Bloomberg, NPR, and more.
Jon Kolko is a partner at Modernist Studio and the founder of Austin Center for Design. Jon has written four books on the subject; Thoughts on Interaction Design, Exposing the Magic of Design: A Practitioner's Guide to the Methods and Theory of Synthesis, Well Designed: How to use Empathy to Create Products People Love, and Wicked Problems: Problems Worth Solving Jon has also held the positions of Executive Director of Design Strategy at Thinktiv, a venture accelerator in Austin, Texas, and both Principal Designer and Associate Creative Director at frog design, a global innovation firm.
Golden Krishna is a designer and author of the book, "The Best Interface Is No Interface". he currently works at Google as a design strategist to help shape the future of Android. Golden has toured the world to give lectures about his book and design work in Sydney, Paris, London and more.

Latest posts by Alexander K
(see all)