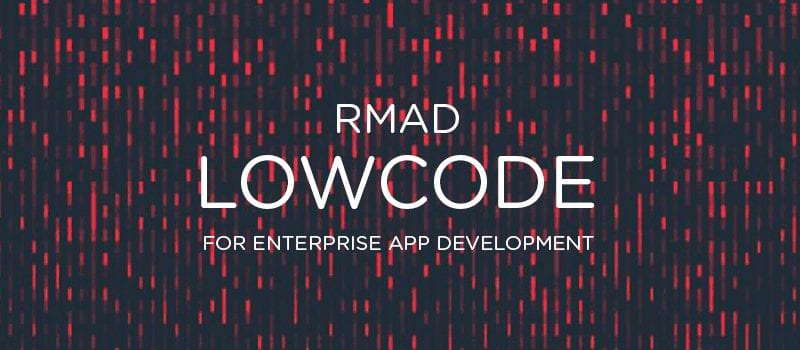 Going Low-Code is the latest trend in enterprise application development, and many of the top platforms have recognized that and now offer RMAD (rapid mobile app development) or Low-Code tools. These tools are not only convenient, but necessary in order to keep up with the demand for enterprise apps. The reality is, there are too many apps that need to be made, and not nearly enough developers available to create them. RMADs help save time and money by allowing lower level developers, IT workers and in some cases an employee who will be using the app, to build the app. This frees up developers to work on backend configurations and other projects that take more time and expertise.
Here's a look at some of the top RMAD and Low-Code tools available today and what they offer:
MobileFrame is a code-free mobile app development platform, allowing businesses to design, develop, test and deploy multi-channel mobile apps in a fraction of the time required by other code-based tools. Users can build apps using proven resources that provide the means for development staff or even line-of-business personnel to build a secure and functional mobile app. Users can design a unique UI experiences for every platform while maintaining consistent business logic throughout and quickly integrate backend systems. The platform is built specifically for the creation of enterprise apps and includes the features needed for that caliber security, encryption and usability.
MobileSmith uses their AppBlock architecture to give you reusable code and the flexibility to not get stuck in a predetermined template. AppBlocks are modules of reusable code that can be customized for many purposes and you can use the same AppBlock to create as many mobile use cases you need. Users can also build native apps for iOS and Android that support device hardware features and use system apps for common features like calendar and tap-to-call. On-demand data is also available from backend systems while sleek and easy-to-use front ends are created.
Alpha Anywhere platform is a complete business application development and deployment environment that enables users to quickly become proficient in creating mobile business forms and applications that run across all devices. The RMAD platform is designed to build applications in significantly less time than traditional coding. All Alpha developed apps are also available offline at no extra cost. Apps are connected to all SQL and no-SQL databases and leverage REST services. Alpha Anywhere combines all required client and server development features so the user is aware of the back-end and vice versa.
Appery.io enables rapid innovation with a visual development environment. Developers create mobile apps by dragging components, selecting from pulldown menus, and visually integrating with backend systems using little to no code. Appery.io offers the ability to code in JavaScript to create more complex applications. Customers benefit from the high productivity of the visual IDE and also from the flexibility to customize applications as much as required. Developers can create reusable assets that increase productivity. These assets can be in the form of API plug-ins for integration to backend systems, custom components for the user interface, or application templates that can be adapted by business users.

Latest posts by Alexander K
(see all)