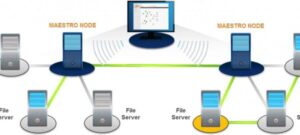 I think we can all agree that big data is no longer a buzz word as it is effecting every fiber of business across sectors and industries. Whether it is creating a need for more data storage, faster data migration, or more advanced analytical tools, it's forcing IT and business professionals alike to take it seriously. Actually, I think it's been here for many years and it was always just called "a lot of data", but it didn't go viral until someone thought it would be nice to coin a term to describe it.
Most companies have figured out that they have or will have an enormous amount of data to manage for years to come and the first thing, the most rudimentary activity that must be addressed is the movement and collection of the big data (data integration) from source systems so that it can be processed into something that can utilized to impact businesses.
For the data to be migrated efficiently, it's going to be imperative to allow more users much more control and to remove the "dirty work" involved in data integration which includes is the endless hours of manual coding that many tools require. This will allow data scientists and business managers to shift their time, effort, and resources towards turning the analytics into actionable business insights. How will this be achieved? One company called Attunity believes the answer lies in automating work flow processes and self-service functionality for business users.
"The use of globally distributed data centers with many heterogeneous systems to manage are becoming common with large enterprises," explained Lawrence Schwartz, VP Global Marketing at Attunity. "This kind of environment can make data management and distribution very complex. To handle these challenging environments, companies need to have a solution in place that includes broad platform support, high volume and velocity management over LAN and WAN, and especially centralized automation.
"A solution like Attunity Maestro, with workflow automation and self-service capabilities, addresses these infrastructure demands. In turn, IT can then focus on higher value projects while lines of business are empowered to more easily meet SLAs and other real-time business requirements for faster and more seamless information availability, said Schwartz."
If you haven't heard of Attunity, they are a provider of information availability software solutions and on September 2nd, 2014, in a press release they unveiled Attunity Maestro 2.0, the latest version of their Big Data Management and distribution platform.  The solution's latest capabilities allow logic and event-driven process control for greater control over business process as well as increased productivity across global and distributed infrastructures.
Using Attunity Maestro 2.0, organizations can:
Automate multi-stage IT processes and data flows into streamlined workflows
Schedule event-driven processes for better control
Facilitate collaborative operations between organizational silos
Enhance auditing and email notifications
Monitor, record and report business processes & authorization for improved compliance
Enjoy the benefits from higher efficiency and quick time-to-value
I believe that Attunity's combination of advanced workflow automation and self-service functionality is a move that will harmonize data integration and making it extremely efficient for companies who are looking to streamline processes while reducing costs. Both will allow companies to operate leaner as data integration will be shared between both IT and Business Units.
Self-service data integration strategies amongst business users will be integral as IT & business become more mobile and firms move towards supporting larger-scale data sources and increase the number and range of users at their organization. To support this further, in Gartner's 2014 Magic Quadrant for Data Integration Tools, Gartner predicts that we will see a major demand for self-service data integration capabilities for the business-user-facing data preparation.
There will certainly be some challenges such as training and collaboration between IT and business units, interactivity with the tool in such a way that suites business managers needs and objectives, and overall ease of use for non-technical users. However, I think Attunity is right in stride to handle the demand with this new release.
Click here for the entire press release.