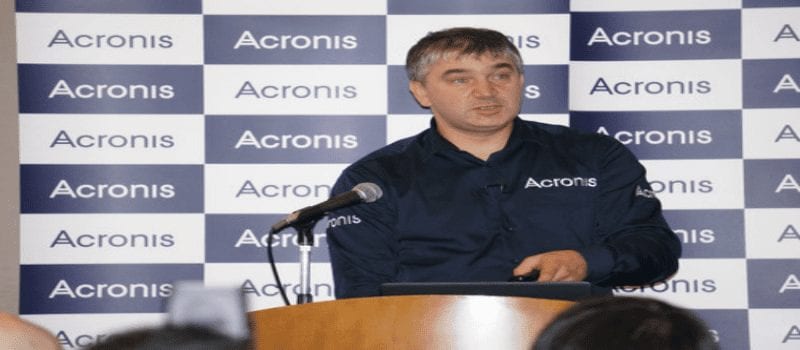 And now, for something completely different– straight out of Burlington, Mass., data protection vendor, Acronis, announced a series of new solutions that promise businesses and IT managers more control over company data and workloads in hybrid cloud environments. This is great news for businesses who are hesitant to make the move to cloud because of security insecurities.  Acronis is helping businesses and IT Managers meet this modern day need with an expanded set of solutions: Acronis Backup 12, Acronis Backup Cloud, Acronis Monitor, Acronis Storage, Acronis Notary – that are based on the company's new hybrid cloud architecture to support data protection and recovery in virtually any IT environment.
"Acronis is launching a new era of data protection by moving from full image device protection to full image digital business protection," said Serguei Beloussov, Co-founder and CEO at Acronis. "We're combining the world's fastest backup solution with the industry's most flexible storage options and non-stop monitoring to provide complete data protection for today's 'always-on' digital business."
The greatest thing about these new solutions may be the unified web management console designed to make it easy for IT managers to converge cloud and on-premises data protection, with the added ability to monitor and manage all data and workloads. Users can then deploy Acronis solutions in the cloud, on-premises and in hybrid configurations, to protect company data that resides in the cloud, with cloud applications, on-premises, across virtual and physical systems, in remote systems, or even on mobile devices.
"Ensuring that the right type and quality of data is preserved and available when necessary has become even more challenging in today's digital world," said Phil Goodwin, Research Director, IDC. "Today's hybrid cloud IT environments and massive increase in cloud workloads are forcing IT Managers to rethink older methodologies to maintain greater control over their critical business data, while replacing current business processes with newer ones to ensure that crucial data assets are in fact preserved and available."
The new Acronis solutions and technologies include:
Acronis Backup 12 – World's fastest backup protects the entire business, backing up data on-premises, in remote systems, in private and public clouds, and on mobile devices.
Acronis Backup Cloud – Built to easily fit within service provider environments with a comprehensive, yet simple, complete, and cost-effective hybrid backup and recovery solution that solves their customers' data protection problems.
Acronis Monitoring Service – Enables IT managers to monitor servers, networks, applications, and web sites with ease to identify performance problems, and make smarter IT decisions.
Acronis Storage – Provides software-defined storage that supports any type and volume of data with reliable, resilient, self-healing features, enabling service providers to use cost-efficient, commodity hardware. Coming to an interwebs near you, available in September.
Acronis Notary – Delivers 'tamper-proof' data storage that leverages Blockchain to ensure data authenticity, privacy and control. Acronis will apply Blockchain technology to its solutions, which provides a record of digital events distributed across different participants or entities, and opens up a broad range of new data protection use cases for businesses worldwide. With Blockchain, data and transactions can only be updated by rules of consensus between participants in the system, and when new data is entered, it can never be erased. Acronis solutions leveraging Blockchain technology are scheduled to be available in October.
Acronis customers can select subscription-based pricing or perpetual licenses to protect any infrastructure, including physical, virtual and cloud. To learn more about Acronis solutions, visit Acronis.com.