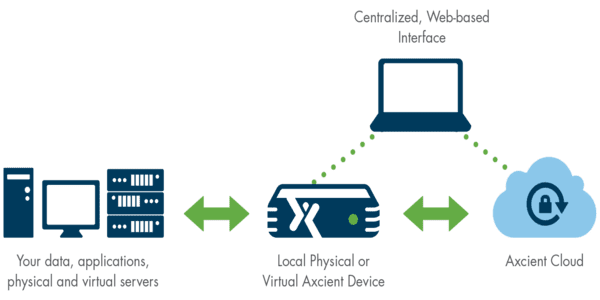 Axcient recently announced Direct to Cloud, a new solution that expands the company's offerings to desktops and laptops, enabling organizations to replicate physical and virtual servers to the cloud without the need for local appliances. Axcient's Business Recovery Cloud projects the entire IT infrastructure of an organization into the cloud to ensure preservation of necessary business functions. In that, important applications are always available, data is accessible, and business functions are uninterrupted.
Direct to Cloud gives organizations who have traditionally relied upon consumer-grade endpoint backup products to consolidate all of their backup and recovery solutions inside of a single cloud platform; Axcient's Business Recovery Cloud. Axcient Direct Cloud gives users the ability to take full system snapshots of their computers, servers, or workstations and store them in the cloud. When the primary system is unavailable, businesses will have the ability to launch virtual replicas in the Business Recovery Cloud to ensure continuity.
Cloud replication via Direct to Cloud can be used even when a device is not connected to LAN. Users can connect to the internet using any wireless connection, and Direct to Cloud will track changes made in offline mode and then securely resume replication. Currently, Axcient is the only DRaaS provider to offer three options for deployment: physical, virtual, or direct to cloud. Direct to Cloud includes server replication, laptop image replication, and instant failover.
Other Direct to Cloud features include:
It's appliance-less, eliminating any need for local appliance deployment
It can be downloaded as software, and once installed, it establishes a secure encrypted connection to the Axcient Business Recovery Cloud
Users can configure replication intervals, retention, and bandwidth consumption
Health thresholds and notifications can be managed-by-exception that speed up device management and troubleshooting capabilities
Data recovery, system failover, and image restoration capabilities for true continuity
Classic Axcient web-based interface, allowing for recovery of all devices across an enterprise
Unlimited storage and bandwidth
CEO Justin Moore explains: "Direct to Cloud fills a major gap in the market. No other vendor offers the same end-to-end protection for laptops, desktops and servers across physical and virtual environments. Our customers and partners have been asking us to bring our leading Disaster Recovery-as-a-Service solution to endpoints so that they can do away with legacy online backup products and we decided to take it a step further and make an appliance-less version of our platform for servers. Businesses of all sizes can now have enterprise level replication and resiliency for all of their systems at a tenth of the cost of building a replicated datacenter."
To see the full release, click here.

Latest posts by Timothy King
(see all)