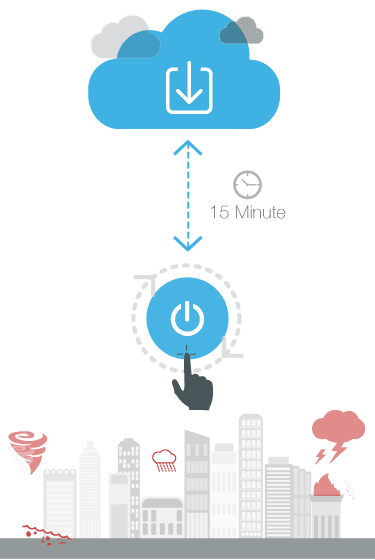 In a recent press release, Infrascale announced the general availability of their newest disaster recovery as a service (DRaaS) solution, the Cloud Failover Appliance, which guarantees entire site failover in 15 minutes. The solution was designed for company's that need a disaster recovery plan but cannot afford a second site. According to the company, the appliance can failover virtual machines, applications, and servers from the cloud.
In the event of a natural disaster, human-induced outage, or technological glitch, the appliance allows organizations of all sizes and shapes to continue business without lengthy downtime. The appliance, which has been described by Storageview.com as "simple and affordable" thwarts the perception that DRaaS solutions are cost prohibitive for data-driven organizations. Infrascale Cloud Failover Appliance touts intelligent automation software, integrated backup, and archiving to provide businesses with the piece of mind they need to ensure that they will be covered if disaster should strike.
Infrascale's Cloud Failover Appliance can function as a physical or virtual (software) appliance, and in addition to cloud backup, provides WAN acceleration, deduplication, and encryption for data at rest and in transit through the pipeline. Cloud Failover Appliance also features private-key and double-blind encryption so that data can be viewed or decrypted while in the cloud. The new solution features support for personal computers (desktops and laptops), Windows and Linux platforms, VMware (200 concurrent VM failover), and Microsoft Hyper-V.
Infrascale's founder and CEO Ken Shaw Jr. notes: "Businesses of all sizes are creating incredible amounts of irreplaceable data and depend on the availability of their systems to keep their business safe and operating. There are no exceptions. Businesses have found traditional DR solutions — and even emerging DRaaS solutions — to be expensive, complex, and lacking adequate security."
The solution offers several key features and benefits. The first is that the offering allows for push-button failover, giving IT administrators the tools to virtualize and spin up critical business applications from the appliance or the cloud within minutes. According to the company, the Cloud Failover Appliance reduces hardware, bandwidth, and software costs due to the fact that is completely self-service. Finally, Infrascale's newest solution protects data with "military-grade security" given its multiple levels of encryption.
Gartner included Infrascale in its 5 'Cool Vendors' in Business Continuity and Disaster Recovery report earlier this year.