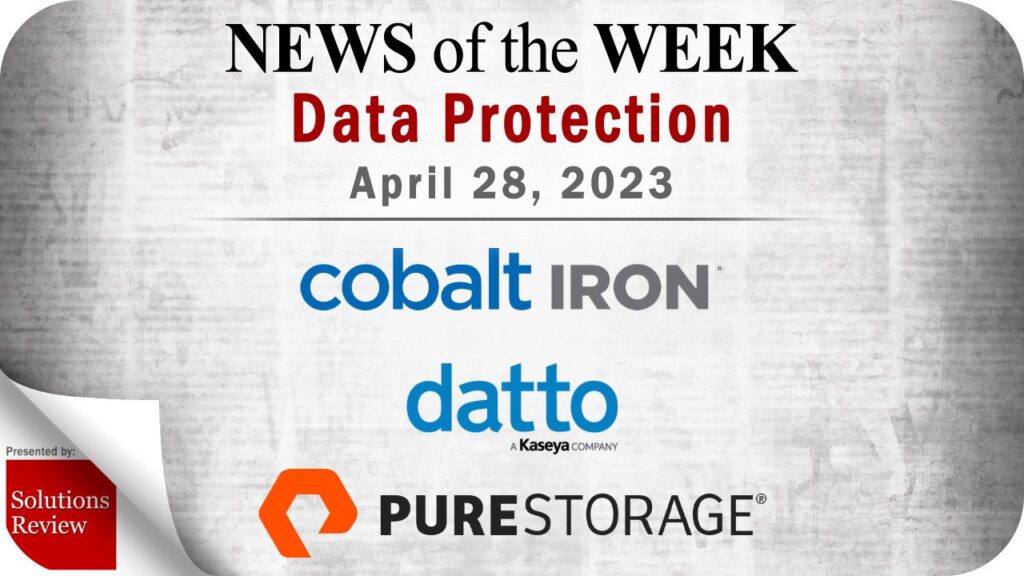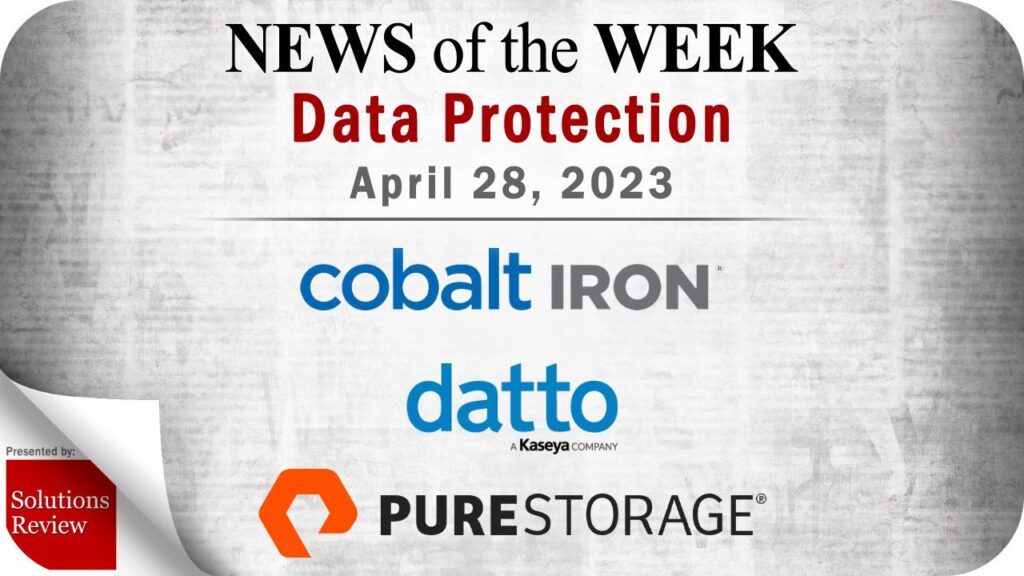 Solutions Review editors curated this list of the most noteworthy storage and data protection news items for the week of April 28, 2023.
Keeping tabs on all the most relevant storage and data protection news can be a time-consuming task. As a result, our editorial team aims to provide a summary of the top headlines from the last week, in this space. Solutions Review editors will curate vendor product news, mergers and acquisitions, venture capital funding, talent acquisition, and other noteworthy storage and data protection news items.
Top Storage and Data Protection News for the Week of April 28, 2023
[hr style="single"]
Cobalt Iron Names a "Top 5 Microsoft Azure Backup Solution" by DCIG
The ranking is part of DCIG's "2023-24 DCIG TOP 5 Microsoft Azure Backup Solutions" report. The report comes after the analyst group evaluated 12 backup solutions on the basis of backup administration; backup capabilities; cyber-resilience; configuration, licensing, and pricing; recovery and restores; snapshot administration; and support.
[hr style="single"]
Pure Storage Drops New File Services for FlashArray
Pure's unified storage architecture enables customers to benefit from native block and file services where file, block, and VMs are supported directly. Leveraging this type of platform provides up to an estimated 62 percent reduction in management time and up to 58 percent total cost of ownership improvement over three years, according to leading analyst firm Enterprise Strategy Group,
[hr style="single"]
SIOS Technology Announces Cloud Availability Symposium 2023
SIOS Cloud Availability Symposium is a global virtual conference for IT professionals focusing on the availability needs of the enterprise IT customer. Whether attendees are interested in learning the fundamentals of availability in the cloud or hearing about the latest developments in application and database protection, this event will deliver the information needed on application high availability clustering, disaster recovery, and protecting applications now and into the future.
[hr style="single"]
Zadara Partners with Kasten by Veeam on Multi-Tier Data Protection
This combined offering of Zadara zCompute, Storage, and the Kasten K10 data management platform delivers an integrated and validated data protection solution with complete backup, disaster recovery (DR), and application mobility for Kubernetes environments.
[hr style="single"]
Expert Insights Section
Watch this space each week as Solutions Review editors will use it to share new Expert Insights Series articles, Contributed Shorts videos, Expert Roundtable and event replays, and other curated content to help you gain a forward-thinking analysis and remain on-trend. All to meet the demand for what its editors do best: bring industry experts together to publish the web's leading insights for enterprise technology practitioners.
Solutions Review Set to Host Datto for Exclusive Webinar on May 17
With the next Solution Spotlight event, the team at Solutions Review has partnered with leading managed service provider Datto to provide viewers with a unique webinar called Re-Imagining Endpoint Security with Datto EDR. Datto offers a family of enterprise business continuity solutions available in both physical and virtual platforms.
The Best Coursera Risk Management Courses for 2023
We've compiled this list of the best risk management courses on Coursera if you're looking to grow your skills for work or play. Coursera is one of the top online education platforms in the world, partnering with more than 200 universities and companies to provide a range of learning opportunities.
For consideration in future storage and data protection news roundups, send your announcements to the editor: tking@solutionsreview.com.