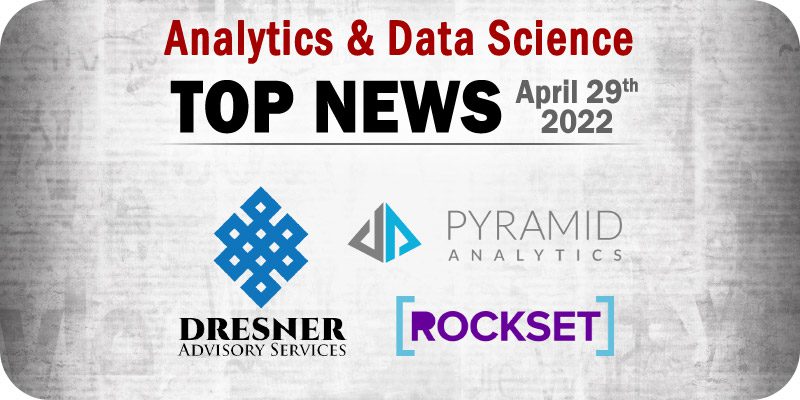 The editors at Solutions Review have curated this list of the most noteworthy analytics and data science news items for the week of April 29, 2022. In this week's roundup, news from Dresner Advisory Services, Pyramid Analytics, Rockset, and more.
Keeping tabs on all the most relevant data management news can be a time-consuming task. As a result, our editorial team aims to provide a summary of the top headlines from the last month, in this space. Solutions Review editors will curate vendor product news, mergers and acquisitions, venture capital funding, talent acquisition, and other noteworthy data science and analytics news items.
Top Analytics and Data Science News for the Week Ending April 29, 2022
CRN Drops its 2022 Big Data 100 Annual Ranking of Big Data Technology Vendors
To help solution providers that operate big data practices—or are thinking of starting one—CRN provides the Big Data 100, an annual list of key vendors in the big data space with innovative, forward-thinking products and services designed to help solution providers support enterprise organizations in their management and utilization and analysis of data.
Dresner Advisory Services Publishes 2022 Self-Service BI and Guided Analytics Reviews
The 7th annual report examines end-user deployment and trends around self-service business intelligence (BI), which builds upon collaborative business intelligence, user governance, and Guided Analytics to create an environment where users can easily create and share insights in a managed and consistent fashion.
Pyramid Analytics Joins AWS ISV Accelerate Program
The AWS ISV Accelerate program provides Pyramid Analytics with focused co-sell support and sales enablement resources, including prioritized access to millions of active AWS customers through AWS field sellers globally. Prticipation in the program streamlines the path to purchase for customers through access to enhanced technical expertise and streamlined procurement and billing to drive better outcomes and lower costs.
Rockset Announces New Integration with Microsoft SQL Server
Rockset now has an extensive library of data connectors for schemaless ingestion from existing event streams, databases and lakes and stays in sync with the data source, enabling fast analytics within 1-2 seconds of new data being generated. As the data arrives, Rockset supports continuous SQL transformations and rollups without the need for batch ETL jobs.
SQream's Panoply Partners with Square to Offer Business Intelligence to the Square Community
Panoply's new pre-built dashboards feature uses data recipes to provide Square sellers with robust reporting and analytics, in just a few clicks. These new ready-made dashboards are designed both for business users unfamiliar with SQL, and for technical users tasked with providing business reports. Panoply will allow Square sellers to integrate multiple data sources and slice and dice their data to access insights that have previously been difficult to reach.
For consideration in future data analytics news roundups, send your announcements to tking@solutionsreview.com.