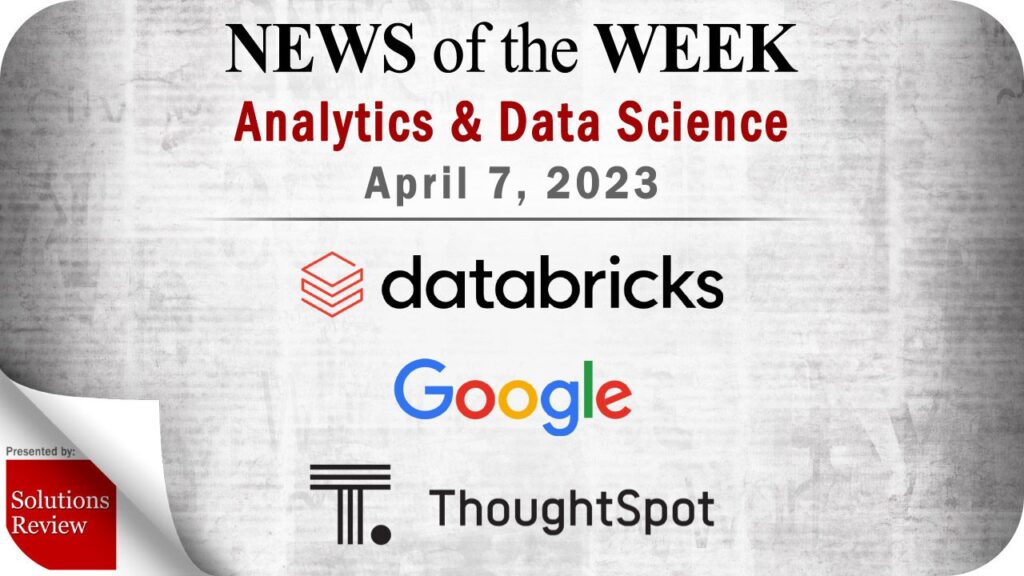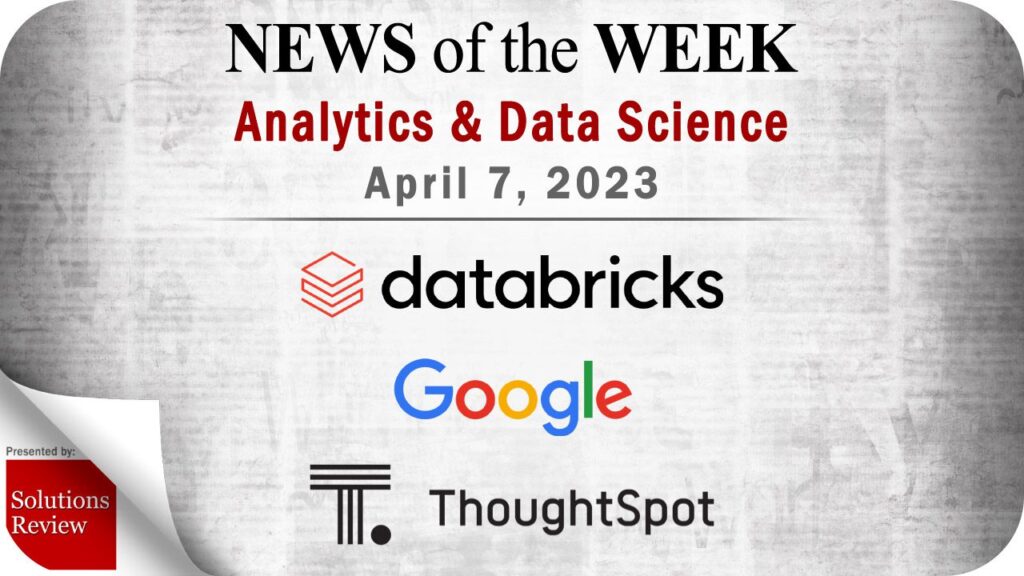 Solutions Review editors curated this list of the most noteworthy analytics and data science news items for the week of April 7, 2023.
Keeping tabs on all the most relevant analytics and data science news can be a time-consuming task. As a result, our editorial team aims to provide a summary of the top headlines from the last week, in this space. Solutions Review editors will curate vendor product news, mergers and acquisitions, venture capital funding, talent acquisition, and other noteworthy analytics and data science news items.
Analytics and Data Science News for the Week of April 7, 2023
[hr style="single"]
AtScale Expands Partnership with Databricks on Lakehouse for Manufacturing
AtScale and Databricks have been expanding their collaboration to deliver "Semantic Lakehouse" solutions that simplify business intelligence stacks, democratize lakehouse data, and enable self-service BI. Databricks' Lakehouse for Manufacturing empowers manufacturing organizations with real-time insights to make critical decisions that reduce costs, boost industrial productivity, improve customer responsiveness and accelerate innovation.
[hr style="single"]
data.world Integrates with ThoughtSpot on Modern Data Cataloging
The technical integration between data.world's data catalog and ThoughtSpot's Liveboards, Answers, and Worksheets provides rich visibility into both the lineage and governance of the data needed to make decisions. With this integration, business users can more readily discover data, definitions, and metrics in ThoughtSpot, use them to inform decision making, and have greater visibility into the origins and governance of the underlying data.
[hr style="single"]
Databricks Announces New Lakehouse for Manufacturing
Databricks' newest industry-specific lakehouse goes beyond the limitations of traditional data warehouses by offering integrated AI capabilities and pre-built solutions that accelerate time to value for manufacturers and their partners. These include powerful solutions for predictive maintenance, digital twins, supply chain optimization, demand forecasting, real-time IoT analytics and more.
[hr style="single"]
Google Drops New Advanced Certificates in Data Analytics
These certificates build on the foundations of the Google Data Analytics Certificate program, the most popular professional certificate on Coursera globally. Developed and taught by experts at Google, these advanced credentials are designed to help people enhance their technical skills with tools such as BigQuery, Python, and SQL.
[hr style="single"]
Tredence Launches New Migration and Modernization Solutions
The new offerings take advantage of the scalability, reliability, and agility of Azure to drive application deployment and shape business strategies. The company helps clients migrate their legacy analytics and big data to modern cloud-native architecture. The announcement builds on 20 other offerings with Microsoft Azure Marketplace.
[hr style="single"]
Expert Insights Section
Watch this space each week as Solutions Review editors will use it to share new Expert Insights Series articles, Contributed Shorts videos, Expert Roundtable and event replays, and other curated content to help you gain a forward-thinking analysis and remain on-trend. All to meet the demand for what its editors do best: bring industry experts together to publish the web's leading insights for enterprise technology practitioners.
Expert Reveals 3 Retail Planning Process Improvements to Make
So how can retail businesses focus on driving profitability in 2023? In short, the answer lies in proactive retail planning. Here are just some methods retailers can use to create and improve their approach to retail planning and processes in order to get ahead in today's competitive retail market.
Data Standardization Methods to Know from a Data Strategy CEO
The ability to semantically classify and normalize data would make nearly every business process more efficient, reducing the time and effort required to find, understand, and deploy data. Semantically classified data is more easily searchable, interpretable, and reusable, leading to better decision-making and more accurate analysis. Here's how to put it to work.
Data Maturity Framework: Key Benefits and Best Practices
Any company can become data mature if they implement a data-driven culture and adopt behaviors of data mature organizations, including getting answers within minutes or hours, collecting data from a single source of truth, reviewing KPIs often, experimenting frequently, and understanding friction points in the customer journey. The good news is that all these behaviors are learnable.
Data Landscape Assessment: Analytics CEO Reveals Key Trends
2022 was the year that companies embraced multi-cloud, unleashing a whole new set of challenges associated with different cloud vendors and creating complications for companies looking to mature and scale after the pandemic. Looking ahead into 2023, here are four key trends in the data landscape that will shape how organizations do business in the upcoming year.
For consideration in future analytics and data science news roundups, send your announcements to the editor: tking@solutionsreview.com.