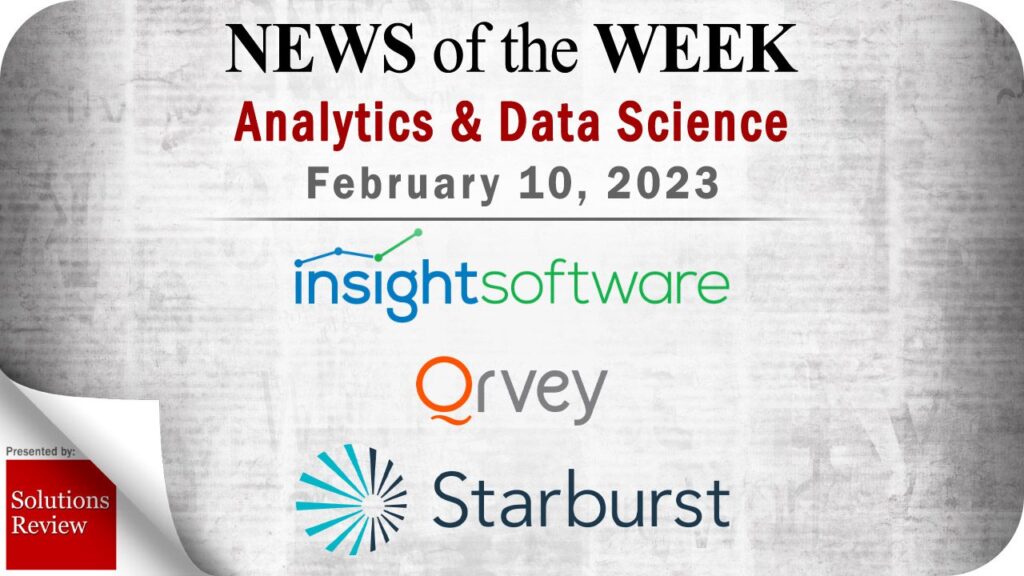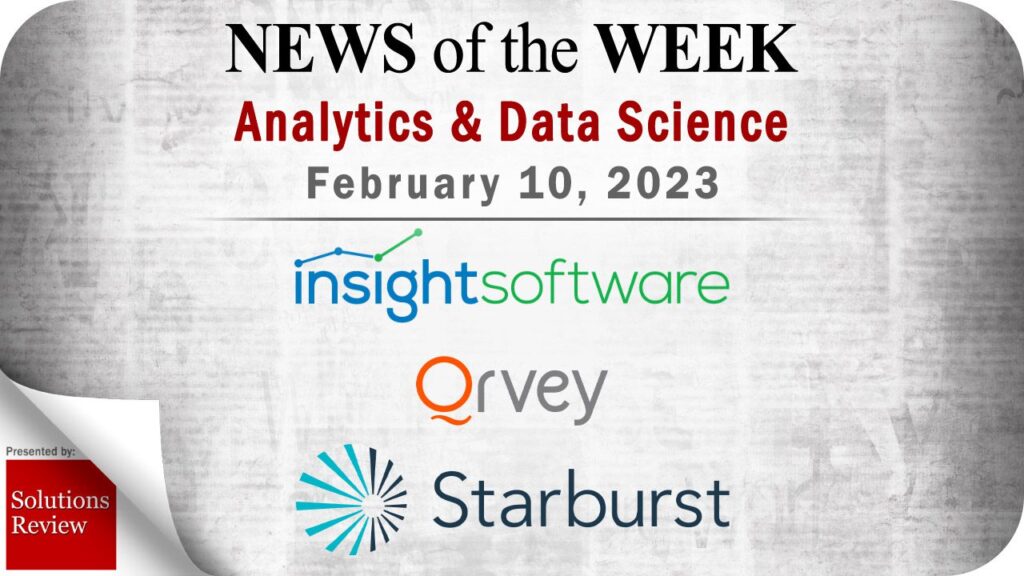 The editors at Solutions Review have curated this list of the most noteworthy analytics and data science news items for the week of February 10, 2023.
Keeping tabs on all the most relevant analytics and data science news can be a time-consuming task. As a result, our editorial team aims to provide a summary of the top headlines from the last week, in this space. Solutions Review editors will curate vendor product news, mergers and acquisitions, venture capital funding, talent acquisition, and other noteworthy analytics and data science news items.
Top Analytics and Data Science News for the Week Ending February 10, 2023
Anaconda Launches New Cloud-Hosted Data Science "Notebook"
Anaconda's Anna Ng announced the news in a blog. Paid plans on Anaconda's cloud platform will continue to include greater cloud-hosted, persistent storage (up to 10 GB) and high-compute seconds (up to 4,000 seconds). Click "Notebooks" in the top navigation bar to access Anaconda's cloud-hosted notebook—or enter "nb.anaconda.cloud" in your browser to navigate to the notebook directly.
dbt Labs is Set to Acquire Transform to Enhance its Semantic Layer
Transform's technology will expand and enhance the functionality of the dbt Semantic Layer, which enables organizations to centrally define business metrics in dbt then query them from any analytics tool. This ensures that critical definitions such as "revenue," "customer count," or "churn rate" are consistent across all applications.
Informatica Releases Findings from 2023 Data and Analytics Executive Leadership Survey
Findings from the report reveal that cloud and data management investments show no signs of slowing down in 2023, and data governance is the #1 priority for U.S. CDOs. Taken in sum, these findings emphasize data management, control, and unification in 2023, pointing to an increasing focus on data leadership driving new data strategies and measurable business outcomes.
insightsoftware Set to Acquire Power BI Solution Vendor Power ON
This acquisition further extends insightsoftware's operational planning capabilities, notably benefiting enterprise customers who leverage Power BI and are looking to streamline and enhance planning and data collection processes across their organization. Founded in 2015, Power ON develops software solutions that extend the features of Power BI, leveraging the benefits of being closely integrated and committed to the Microsoft ecosystem.
Lenovo Partners with WEKA on AI, Analytics & Hybrid Cloud Data Management
These comprehensive solutions will accelerate artificial intelligence (AI) and analytics for high performance workloads, including finance, genomics, life science, media and entertainment applications around the world by speeding time to insights while reducing associated costs. Validated WEKA Ready Node systems can be quickly deployed for all scale-out workloads simplifying deployment and eliminating risk resulting in a faster time to production.
Qrvey Unveils Version 8.0 Embedded Analytics Product
Qrvey 8.0 is a major new release that incorporates features and functionality that further increases the ability of their customers to leverage this complete embedded analytics layer. These key elements make it even easier to optimize data structures and processes, incorporate a wider array of formats, and provide end-users a richer experience that makes the resulting applications "stickier" across organizations.
Starburst Releases a Preview of Low-Code Features and New Data Data Catalog
Starburst is now announcing the private preview of data products and an automated data catalog with the ability to search and discover data across sources in its cloud offering Starburst Galaxy. The new capability includes automated metadata from roles, user queries, and other user behaviors such as adding a new dataset. These features follow the launch of key data and schema discovery and data privileges capabilities that streamline the traditional Extract, Transform, Load (ETL) process.
Expert Insights Section
Watch this space each week as Solutions Review editors will use it to share new Expert Insights Series articles, Contributed Shorts videos, Expert Roundtable and event replays, and other curated content to help you gain a forward-thinking analysis and remain on-trend. All to meet the demand for what its editors do best: bring industry experts together to publish the web's leading insights for enterprise technology practitioners.
Solutions Review Announces Data Demo Day Q1 2023 Featuring Sigma Computing, Decodable, Bigeye, and Prophecy.io.
Data Demo Day for Q1 2023 is an exclusive virtual event featuring an inside look at the technologies of prominent data management and analytics solution providers. Solutions Review is hosting this online event as a way to present the latest data management and analytics tools from the comfort and safety of your own desk, and the best part? It's free to attend!
Qlik Market Intelligence Lead Gives 3 Key Data Trends for Preventing Future Disruption
Between record inflation and supply chain challenges to the sudden shift from rampant hiring to widespread layoffs, the last 12 months have proved to be a roller coaster for businesses. As a result, organizations struggle to determine where to focus their attention beyond just the bottom line. Businesses can't sit idly by waiting for the next disruption. They, instead, must take a closer look at where data can be used to their advantage to mitigate and navigate challenges that are sure to come in 2023.
Expert Tips on How Advanced Displays Can Improve Data Utilization and Responsiveness
A key element of many SOCs are the advanced displays that allow the visualization of disparate sources and information streams to display side by side. When these advanced display systems are combined with a robust IT source management solution and augmented with AI and API integrations – operators within the SOC are empowered to rapidly identify and monitor threats or vulnerabilities, while minimizing risks and enabling early intervention.
Head of Data Product Reveals "Pillars" for Successful Data as a Product Strategy
While this may seem like a complex shift, to make this more attainable and help organizations better benefit from adopting this model, here's an explanation of the four key pillars of data products and what treating data as a product means for the enterprise.
Expert Short: Independent Industry Analyst Philip Russom Outlines Key Use Cases for Data Warehousing
For consideration in future analytics and data science news roundups, send your announcements to the editor: tking@solutionsreview.com.